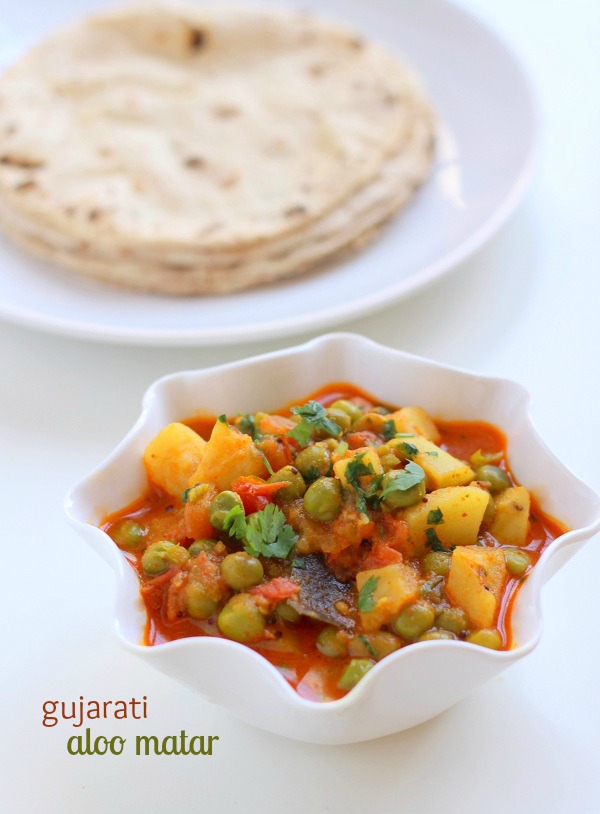 Gujarati Aloo Matar Recipe or Gujarati style vatana batata – A traditional Gujarati curry made from potato & green peas served best with roti/phulka.
I am back with yet another Gujarati cuisine recipe. However hard I try not to write a Gujarati recipe, my heart alway falls back to it. Recently I am trying with new recipes such as labanese, chineese etc. But once a while its good to take break and do what you feel natrual.
Let me share a simple rouite gujarati curry recipe of aloo matar also known as "vatana batata nu shaak" in Gujarati language. I cook this curry almost every week for my hubby's tiffin. It's quite light curry and easy to digest with minimum amount of spices. Thus it makes a great routine sabzi for afternoon lunch.
Related recipes
A regular gujarati meal consist of a curry, roti or phulka, daal, rice and a warm salad called sambharo. The curries are simple with less spices. Usually you won't see the onions in Gujarati curry. This is not hard rule and you might see exception sometimes. But overall the curry is made from one to two main ingredients. Some of the curries such as cabbage potato (aloo patta gobhi), moong dal turai, gawar aloo, baingan papadi  etc are one without onion and little less spicy.
This recipe of gujarati aloo matar goes really well with roti or pad wali roti (layered chappati) and gujarati dal. Do try the recipe of slightly sweet gujarati dal. The combination is good one and overall meal is healthy too.
Recipe of Gujarati Aloo Matar with step by step pictures
To make this simple easy curry of potato green peas, we will following ingredients. Potato, green peas (frozen or fresh), ginger, green chilies, bay leafs, oil and some usual indian spices like mustard, cumin etc. We will also need chopped Tomatoes in this curry. I forgot to add them in this pic. my bad :D. The complete list of ingredients with their exact quantities are given in recipe box at end of this post.


We will prepare this curry in pressure cooker. So heat about 1 1/2 tsp of oil in pressure cooker. Once the oil is hot, add mustard seeds (rai) and cumin (jeera).
Once the mustard starts crackling add bay leaf (tej patta).
Also add finely chopped ginger and green chilies.
Let the ginger and green chilies saute in oil for few seconds and then add green peas (matar).
Add chopped potatoes also in the pressure cooker.
Add chopped tomatoes in the pressure cooker. Give a gentle stir to all the veggies and let them mix.
Now lets add salt, red chili powder (lal mirch), coriander powder (dhaniya) and turmeric powder (haldi) in pressure cooker.
Mix all the dry spices with potato, green peas and tomato.
Now pour around 1/2 cup of water in the cooker and put the gas stove on medium flame.
Cover the pressure cooker with lid and let the curry gets cooked on medium flame for 8-10 minutes or until 3-4 whistles. After that turn off the gas and let the pressure cooker cools down.
Once the pressure cooker cools down, open the lid and check if all the vegetables are cooked properly. Try mashing a potato piece with the help of spoon. The curry is ready now.
Sprinkle some freshly chopped green coriander (cilantro) in aloo matar curry and mix well.
Delicious gujarati style aloo matar sabji (aka vatana batata nu shaak) is ready. Serve this curry with roti, phulka, daal, rice and cabbage sambharo.
Gujarati Aloo Matar Recipe Box
Gujarati Aloo Matar Recipe, Gujarati Style Vatana Batata
Gujarati aloo matar (vatana batata shaak) - A simple gujarati curry made from fresh peas, potato cooked in few indian spices. Perfect for afternoon lunch/tiffin.
Ingredients
Potato (aloo) : 3 medium size, peeled & diced
Green peas (matar) : 1/2 cup
Tomato (tamatar) : 1 medium
Oil : 1 1/2 tsp
Mustard seeds (rai) : 1/3 tsp
Cumin seeds (jeera) : 1/3 tsp
Bay leaf (tej patta) : 1 piece
Green chilies : 1/2 piece, finely chopped
Ginger : 1/2 inch, finely chopped
Red chili powder: 1/2 tsp
Coriander powder (dhaniya) : 1 tsp
Turmeric powder (haldi) : 1/3 tsp
Salt : 1 tsp or to taste
Water : 1/2 cup
Coriander leaves (hara dhaniya) for garnishing
Instructions
Peel off the potato and cut into medium pieces. Chop the tomatoes and also finely chop ginger and green chilies.
Heat oil in pressure cooker and once hot, add mustard seeds (rai) and cumin seeds (jeera).
Once mustard starts fluttering, add bay leaf and finely chopped green chilies and ginger.
Saute ginger and green chilies for few seconds and add fresh green peas, diced potato and chopped tomatoes.
Give a good stir and mix well.
Now add dry spices like red chili powder, coriander powder, turmeric powder and salt. Mix well.
Add water in pressure cooker and close the lid.
Pressure cook the curry on medium flame for 8-10 minutes (3-4 whistles). Then turn off the gas and let the cooker gets cool down.
Open the lid and check with potatoes are cooked well. Mix once.
Garnish the curry with freshly chopped green coriander (cilantro).
Gujarati style aloo matar sabzi is ready to serve. Serve hot with roti, phulka, parathas and daal chawal.
Other Gujarati Curries similar to Aloo Matar Recipe