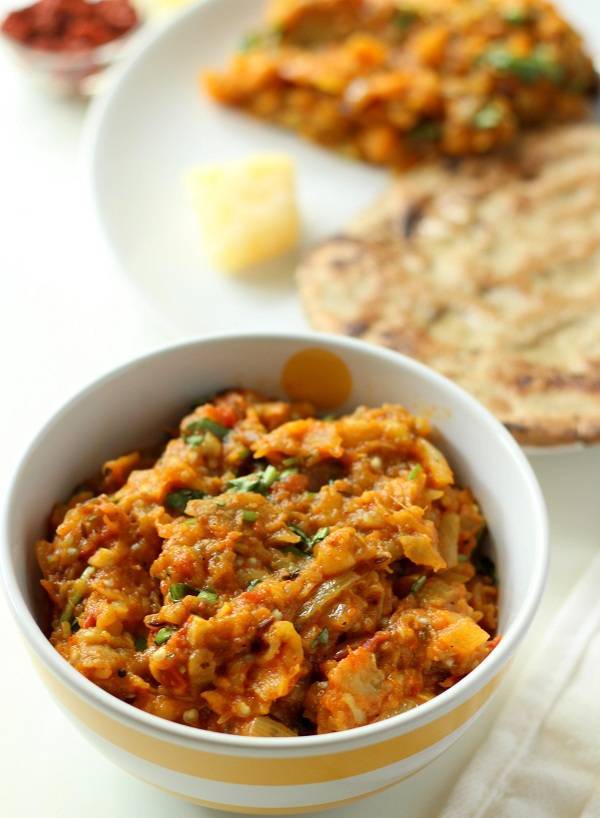 Baingan Bharta Recipe – A delicious Punjabi flavored roasted aubergine sabzi cooked in onion & tomato gravy with aromatic Indian spices. Baingan bharta is a main stream dish loved by many in India. Even those who don't like baingan (eggplant / aubergine) cherish this tasty curry. The smoky flavor of aubergine cooked in Indian spices taste really amazing and is must to cook dish for any Indian food lover.
Baingan bharta gets its smoky flavor from tandoor baked baingans. Traditionally in Dhabas (road side Indian eating joints famous for their spicy food) the baingans are roasted or chargrilled in a tandoor based oven burning charcoal. Roasting the baingan on charcoal give it distinct smoky flavor. At home we don't have charcoal oven / sigri stove so we usually roast the baingan on standard gas stove. It is not as good as tandoor but still it gives the smoky taste. Lot of homes in United states, Europe, Australia etc have hot plates instead of gas stove. You can roast baingans directly on hot plates. It gets a little messy but once the baingan is roasted make sure to let the hot plate gets cool and then clean it thoroughly.

Baingan bharta goes really well with phulkas / chappatis. But my favorite combo is Baingan bharta with Bajra rotla. This is a typical Gujarati version and is very well know across the state. The Gujarati version of Baingan bharta known as Ringana nu bharthu is cooked similar to its Punjabi counter part. But served with thick flat bread made from black millet flour called Bajra no rotlo બાજરા નો રોટલો / (bajra roti). The slightly bitter taste of bajra rotlo complements the spiciness of baingan bharta. Check out in below picture where I have served baingan bharta with bajra rotlo along with some ghee, jaggery and garlic chutney.
This is an easy recipe of Baingan bharta without too many bells and whistles. The spices we used in this recipe are easily available in any Indian house or grocery store.
Here are some good to know tips to make perfect baingan bharta.
Tips to make perfect Baingan Bharta Recipe
If you are cooking Baingan in oven make 2 -3 slits and insert whole garlic cloves into baingan. This way while it is roasting the baingan will get all the nice flavors & aroma from garlic.
If your tomatoes are a bit tart, add a little jaggery to balance its taste.
Grease the baingan with the oil before cooking on stove.
Prick the baingan from all side so that the baingan will cook well from inside and also cook faster.
Once the baingan is roasted and after peeling the baingan wash the baingan so that all the black part is removed.
Baingan can have lot of seeds so make sure you remove them after roasting.
Sometime the baingan / eggplant can be spoiled from inside (quite usual in India :)) so slit the baingan with knife and check inside before roasting it.
I have roasted the baingan on direct gas flame. However you can even roast them in the oven. Just follow these quick steps:
Alternate way to roast baingan in oven
Pre heat the oven at 180 deg C or (350 deg F). In the baking tray place the aluminium foil and spray some non-stick baking spray on sheet if available.
Apply oil on the baingan on all sides. Also prick the baingan with the knife so that the baingan will cook faster and cook well from inside. (Read Tip#1 to make awesome garlicy roasted aubergine)
Once the oven is per heated place the baking tray in the oven for about 45 min. Every 15 min rotate the baingan so that it will cook evenly from all side.
Cover the roasted baingan with aluminium foil or in a zip lock bag. This way the steaming will still continue and will make skin peel off easily.
Now let us check the step by step recipe of restaurant style Punjabi baingan bharta with pictures.
Step by step recipe of Punjabi Baingan Bharta / Chargrilled Eggplant
We will need only following ingredients for this tasty baingan bharta recipe. I have used 2 large baingans (aubergine) that is well enough for 3 persons. Also 1 cup of finely chopped onions and 1 1/2 cup of finely chopped tomatoes. Also grate / finely chop ginger and garlic. You can also use ginger garlic paste. I have seen lot of people not using garlic in baingan bharta but personally I like the garlic flavor. Feel free to omit garlic from this recipe if you want.
Use large baingans (aubergine) for this recipe. Make sure they are shiny and light in weight. Wash the baingan thoroughly in water and dry it out on a kitchen towel.
Using a knife prick the aubergine / baingan on all sides carefully. Apply some cooking oil on baingan and roast them on direct flame as shown below. Alternatively you  can roast the baingans on hot plate or oven or microwave but they wont taste as good as those roasted on direct flame.
Roast the baingan on all sides till they shrink in size a little bit and gives really nice smoky aroma.
Once roasted take the baingans off the flame and submerge them into a bowl filled with water. Once they cooled down completely peel off the skin.
Discard the stem part of roasted baingan and chop them into pieces as shown here with the help of knife.
Now lets start with the onion tomato gravy for our roasted baingan bharta. In a thick-bottom non stick pan heat 2 tablespoon of oil. For this recipe we need a little generous amount of oil for don't worry 🙂 Once the oil gets heated add cumin, mustard and asafoetida. Let the seeds splutter.
Add finely chopped onions and garlic and cook till the onions become translucent.
Throw in the chopped tomatoes and add some salt to taste. Cook till the tomatoes become soft and blends well onion making nice gravy. Now add spices: red chili powder, coriander powder, turmeric powder and garam masala powder. Also add the finely chopped ginger. Mix all the spices well and cook for 2-3 minutes till they spices blends well with gravy.
Let the tomato onion gravy cooks well for 4 minutes. Check the seasoning and add a little salt if required. Now add the chopped roasted baingans in this gravy and mix it well. Let the baingan bharta gets cooked for another 2-3 minute.
Garnish the baingan bharta with some freshly chopped coriander and serve it hot with roti, chappatis, parathas or bajra rotlo. Baingan bharta also goes well with plain rice or jeera rice.
Baingan bharta recipe details
Baingan Bharta Recipe
Baingan bharta - Easy to cook recipe of baingan ka bharta a Roasted aubergine cooked in onion & tomato gravy with Indian spices.
Ingredients
Aubergine (baingan): 2 pieces, large
Onion:1 1/2 cups, finely chopped
Tomato:2 cups, finely chopped
Ginger:1 tbsp, paste or finely chopped
Garlic:1 tbsp, paste or finely chopped
Oil :2 tbsp
Mustard seeds:1 tsp, optional
Cumin seeds: 1 tsp
Red chili powder: 1 1/2 tsp
Coriander powder: 2 tsp
Turmeric powder:1/2 tsp
Garam masala: 1 tsp
Coriander leaves: 1/2 cup, chopped
Salt: 2 tsp or to taste
Instructions
To roast the baingan
Wash the Aubergine (baingan / eggplant) thoroughly in water and wipe them with kitchen towel or paper.
Using a knife prick the baingan on all the sides. Apply some oil on baingan and keep them on open flame for roasting.
Roast the baingan on open flame of all the sides for 2 to 3 minutes until they are nicely cooked.
Once the baingan is roasted it will give nice smoky aroma. Remove the baingan from flame and put it in a bowl fill with water to cool.
Once cooled, peel off the skin and remove the stem part of roasted baingan. Chop the roasted baingan into small pieces using a knife.
To make the baingan bharta
Heat oil in a thick bottom non-stick pan and add asafoetida (hing), cumin seeds & mustard seeds (optional) and let them splutter.
Add finely chopped onion, ginger and garlic and saute it till the onion is nicely cooked.
Add tomatoes and let them get cooked until they are soft. Also add salt to taste.
Now add spices: red chili powder, turmeric powder, coriander powder, garam masala powder and saute for 2 minutes till the spices blends into onion and tomato gravy.
The onion tomato gravy is ready. Add roasted baingan and mix it well and let the baingan bharta gets cooked on slow flame for another 3 minutes.
Garnish the baingan bhartha with some freshly chopped coriander leaves.
The delicious baingan bharta is ready to serve. Serve hot with chappati, phulkas or roti and butter milk (chaas/taak). Baingan bharta also goes well with plain rice or jeera rice.