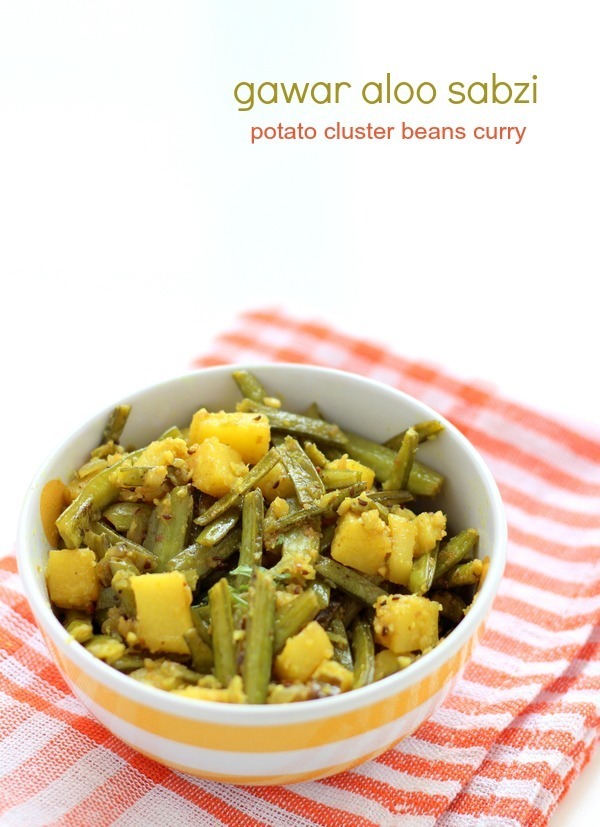 Gawar Aloo Sabzi (Cluster Beans Potato Curry) – A delicious healthy sabji recipe of cluster beans & potato.
Gawar also known as guvar in Gujarati or cluster beans in english and gavar ki phalli is a healthy vegetable. Gawar is not exactly everyones favorite. You wont find big fans of this humble & healthy vegetable. A lot of people do like this sabzi and eat it almost weekly. I myself is not a big fan of Gawar however I do enjoy it occasionally. However my dear hubby hates gawar. He has not eaten it in years before our marriage. I made my mind that I will make him eat this vegetable and finally I got succeeded with this recipe of dry gawar aloo sabzi.
Cluster beans or gavarfali is native to India and is grown and consumed in almost all the states. This little green soft and tender beans contain glyconutrients that help in controlling blood sugar levels in the body. Not many people are aware of the fact that gavar is low in glycemic index and hence, do not cause rapid fluctuations in your blood sugar levels when consumed. Although this is one vegetable you should include in your diet if suffering from diabetes. There are many health benefits of gawar that we are hardly aware of. Check this site to know more about it.
People do not like gawar because it's slightly bitter in taste. It does not taste flavor full on its own and thus required other ingredients to lift up the curry. Therefore I make Gawar always with potato and the combined taste of these vegetables are better then individual. Also I have made this Gawar phali & aloo sabzi in Maharashtrian style. I have added roasted peanuts powder and desiccated coconut. Combining this two ingredients make this curry really delightful.

Usually for any Indian sabzi we temper the vegetables in either mustard seeds (rai) or cumin (jeera). However I have given this gawar aloo sabzi a tempering of carom seeds (ajwain). Ajwain has a strong taste. When it is used in a little quantity can do wonders to a dish. I have used ajwain to make Ajwain paratha which is a great paratha recipe. This little seeds of strong flavor really lift up cluster beans curry.
My mom always cook this gawar aloo sabzi in pressure cooker. However I don't like the taste of it so much. Hence I have cooked cluster beans and potato in pan itself by covering the lid. This way gawar take longer to cook but taste better then the pressure cooker version.
Don't miss: aloo parwal sabji | aloo cabbage sabji
Coming back to the delicious gawar aloo sabzi recipe, let us check the step by step recipe with pics.
Recipe of Gawar Aloo Sabzi with step by step pictures
To make this delicious gawar aloo ki sabzi we will need following ingredients: gawar or cluster beans, potato, onion, desiccated coconut, ajwain (carom seeds), oil and salt. The quantities of all these ingredients are describe in recipe box at end of this post.
Let's start by heating a skillet or pan and adding oil in it. Once the oil is hot add ajwain (carom seeds).
Add hing (asafoetida) in oil.
Add finely chopped garlic and green chilies in oil and saute for 20-30 seconds.
Now add finely chopped onion in oil and saute till they become translucent.
Now add chopped potatoes in pan and mix well.
Mix and saute the potato in oil for few seconds.
Add chopped cluster beans (gawar) and mix well with potatoes.
We will now add seasoning ingredients. Add salt as per taste.
Also add turmeric powder (haldi) and mix well.
Mix well and let the spices blends well in sabzi.
Add around 1/3 cup of water in gawar aloo sabzi and give a quick stir.
Cover the lid of pan and cook the gawar and potato for 9-10 minutes.
After 8-10 minutes open the lid and check if gawar is cooked properly by pressing it with spatula. If gawar or cluster bean looks a bit raw and cover the lid and cook for another 2-3 minutes.
Once the gawar and aloo is cook nicely add roasted peanut powder and desiccated coconut and mix well.
Now add 1 tsp of coriander powder (dhaniya) and mix well. Let the sabzi gets cooked for another 1-2 minutes so that the spices are cooked well.
Delicious homely gawar aloo sabzi is ready. Serve this gawar aloo sabzi with phulka, daal and plain rice.
Gawar Aloo Sabzi Recipe Box
Gawar Aloo Sabzi
Gawar Aloo Sabzi - A delicious cluster bean and potato curry cooked with flavors to carom seeds (ajwain) and peanuts.
Ingredients
Gawar (cluster beans): 200 grams
Potato : 1 medium
Onion: 1 small onion
Garlic : 1 tsp
Oil : 1 tbsp
Turmeric powder (haldi): 1/2 tsp
Coriander powder (dhaniya): 1 tsp
Green chilies: 1 piece
Ajwain (carom seeds): 1/2 tsp
Hing (asafoetida): 1/4 tsp
Desiccated coconut : 2 tsp
Roasted peanut powder : 1 tbsp
Salt : 1 tsp
Water : 1/3 cup
Instructions
Rinse the cluster beans (gawar) thoroughly in water and let excess water drains off.
Once the cluster beans are dry, cut the head and tail part of beans and cut cluster beans into roughly 1-1.5 inch pieces.
Peel the potatoes and chop them into medium cubes. Finely chop the onions.
Finely chop the green chilies and garlic.
Make the powder of roasted peanuts.
Heat a pan/skillet and add oil in it.
Once the oil is hot add ajwain (carom seeds) and hing (asafoetida).
Now add finely chopped garlic and green chilies. Saute them for few seconds in hot oil.
Add finely chopped onions and mix well. Saute till they become translucent.
Now add potato cubes and stir well and cook for few seconds.
Add cluster beans and mix well.
Now add turmeric powder and salt and mix well.
Add water in the curry and close the lid. Cook the cluster bean potato curry for 9-10 minutes.
Check if the cluster bean is cooked by pressing it with spatula.
Now add desiccated coconut and roasted peanut powder.
Add coriander powder (dhaniya) and give a good stir.
Cook the spices in curry for 1-2 minutes.
Delicious gawar aloo sabzi is ready. Serve this sabzi hot along with phulka roti, daal and rice.
Other sabzi recipes similar to Gawar Aloo