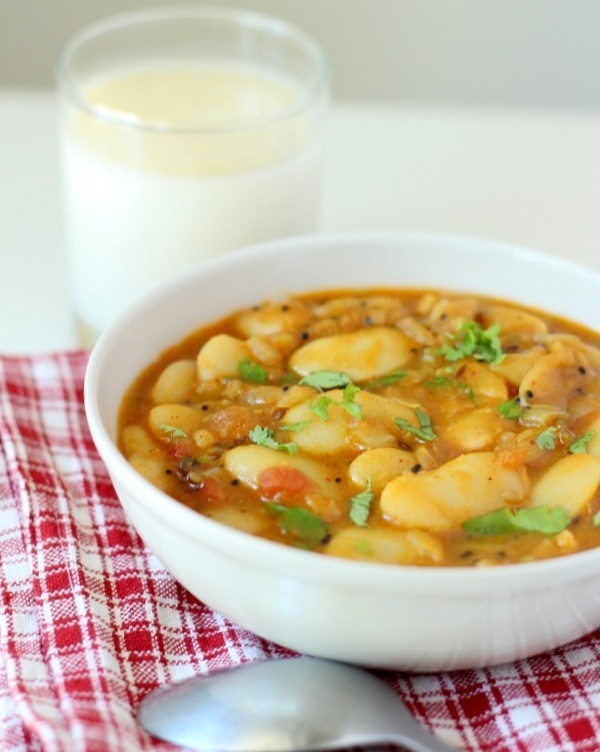 Butter Bean Curry (Vaal Nu Shaak) – Butter bean also known as Lima bean is one of the ingredient not often used in Indian cooking. I haven't seen many recipes made from this tasty protein rich legumes. Actually I didn't even know how to cook this butter bean curry. This recipe is from my mum-in-law. She told me that the butter bean curry also known as Vaal nu Shaak in Gujarati is one of favorite curry of my hubby. This uncommon ingredient is not that easy to get hands on. So I decided to cook this tasty Lima bean curry as soon as I got it in my kitchen.
Like other legumes/lentils butter bean (vaal) takes a lot of time to cook (check out Kala chana masala recipe). So it is common practice to soak these seeds in water overnight and then pressure cooked for another 20 minutes. Hence this vaal nu shaak recipe is a pressure cooker recipe.
Health benefits of Butter Beans
Lima beans / butter beans are very good for your health. For vegetarians they are one of the best source of proteins.  They are also rich in dietary fibers.
The high fiber content in Lima beans prevents blood sugar levels from rising too rapidly after eating them. They can therefore help balance blood sugar levels while providing steady, slow-burning energy, which makes them a good choice for people with diabetes suffering with insulin resistance. They also help to prevent heart disease, and may reduce the medical dosage required to combat cholesterol in the form of natural food.
Read this article for more information about Health benefits of lima beans.
Let us now check the step by step recipe of Butter/Lima bean curry made in spicy tomato and onion gravy.
Butter Bean Curry Recipe (Vaal Nu Shaak)
1. Rinse the butter beans/lima beans (vaal) in water and soak them overnight. The butter beans tends to grow in size as they soak water so make sure to add sufficient amount of water while soaking.
Like many lentils/daals, butter beans (vaal) takes a lot of time for cooking so it is best to use pressure cooker to cook them quickly. Pour the vaals in pressure cooker and cook on medium flame for around 25 minutes. Let the pressure cooker cool down on its own and check if Vaals are cooked properly or not using a fork.
2. The tough part of boiling butter beans is done. Let us start with the simple process of tempering spices in oil and make onion and tomato gravy for Vaal ki sabji.
In a non-stick pan heat a tablespoon of oil and add cumin and mustard seeds. Once the seeds crackles, add a pinch of asafoetida, green chili, ginger / garlic paste and turmeric powder. I have also added garlic red chili chutney in tempering. But this is optional.
3. Throw in the chopped onions and let them saute for 3-4 minutes.
4. Once the onions turns light brown colored, add chopped tomatoes. Cook for another 2 minutes till tomatoes gets soften.
5. Its now time to add final masalas: add coriander powder, red chili powder, garam masala powder and cloves/cinnamon powder and salt to taste. Mix everything well and let the spices get cooked for 3-4 minutes on medium flame.
6. The spicy tomato onion gravy is ready. Add the boiled butter beans (Vaal) in tomato onion gravy and mix it well. Cook for another 4-5 minutes on low flame till all the spices blends in Lima beans. Stir occasionally.
The spicy tasty butter bean curry (gujarati vaal nu shaak) is ready. Serve it hot along with chappati, roti, paratha or puran puri.
Butter Bean Curry (Vaal Nu Shaak), Gujarati Vaal Nu Shaak
Butter Bean Curry (Vaal nu shaak) - A tasty Indian curry of lima beans / butter beans / vaal cooked in onion tomato gravy.
Ingredients
Butter beans: 1 cup, soaked in water
Onion: 1 cup, chopped
Tomato: 1 cup, chopped
Oil:1 tbsp
Mustard seeds:1 tsp
Cumin seeds:1 tsp
Green chili: 1 tsp, finely chopped
Garlic:1/2 tsp, paste
Ginger:1/2 tsp, finely chopped
Red chili powder:1 tsp
Coriander powder:1 tsp
Garam masala: 1/2 tsp
Cloves & cinnamon powder:1/2 tsp, optional
Asafeotida (hing): 1/4 tsp
Salt: to taste
Instructions
Rise the butter beans and soak them in water for 8 hours or over night.
Boil the butter beans in the pressure cooker for about 25 mins. Start the tempering process to reduce the cooking time.
In a pan heat oil and add mustard seeds, cumin seeds and let it temper.
Add asafeotida, green chili, ginger , garlic and cook fro about a min.
Now add the onion and saute for about 3 mins to remove the rawness of the onion.
Add the tomato and then cook for about 4 mins. Stir it.
Once the tomato and onion cook it is time to add all the masalas: red chili powder, coriander powder, garam masala, cloves and cinnamon stick powder and salt to taste mix everything well and cook for about 3 mins so the the masala will blend well with tomato and onion.
Add a cup of water and also the boiled beans and stir it and cook for about 5 mins till all ingredients blends in curry.
Serve the vaal ki sabzi hot with roti, chappthi, paratha.