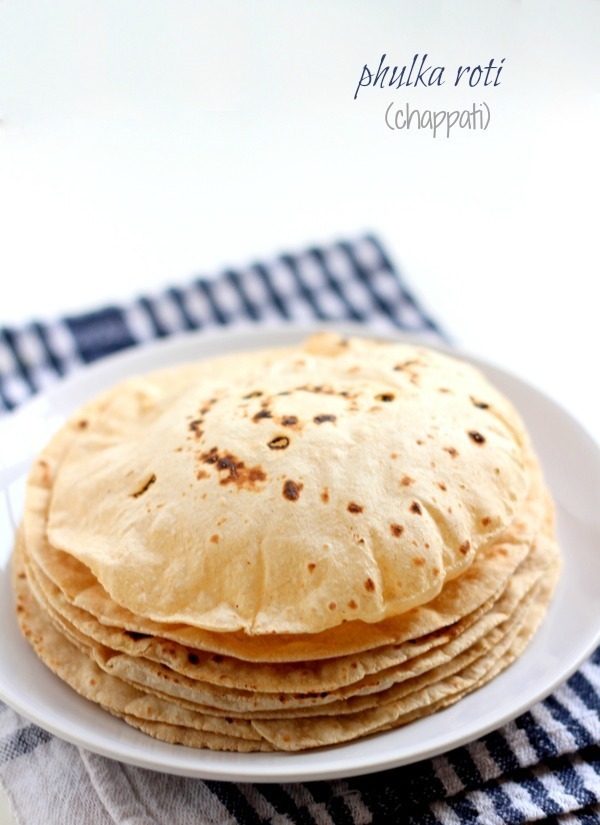 Phulka roti recipe with step by step pictures and tips – Like most of the Indian ladies, I make phulka's everyday. Being bought up in a Gujarati family, phulka is part of our staple diet. They are made for lunch everyday and served with any vegetable curry or lentil/dal recipes. Phulka roti is also known as "rotli" in Gujarati. Rotli and roti are similar. Gujarati phulka roti are smaller in diameter and quite thin too. My mom make much thiner phulkas compared to me. Over the period she has gain the knowledge of making perfect soft phulka rotis. No matter how the dough is she manage to make perfect rotis.
I have learned how to make phulka roti from my mum. Everyday she used to take my class in kitchen carefully checking all my rotis and giving me tips. I guess making perfect phulka roti is just a matter of expierence. Once you practice enough, your rotis will start coming out perfect round and soft. The earlier you get trained the better you become. I started making phulka rotis since my schooling days. So I guess I have got enough hours of practice now.
Related: pad wali roti | roti chivda
Do not worry if you are starting for first time. There are many factors that might go wrong and spoil your first batch. Do not get disappointed. Practice well and soon your roti will change its shape from map of australia to a perfect pi*r*square 😀 I have written few tips for beginners to make soft phulka rotis. Do check those tips.

Sometimes I make extra phulka rotis in the afternoon and in evening use the left over rotis to make a tasty gujrati tea time snack called "vaghareli roti" or roti chivda. Left over roti can be used in making any different dishes. Phulka rotis should be consume on the same day or very next.
The wheat flour being used in making phulka roti plays atmost role in determining the texture and softness of roti. So one needs to be careful while choosing wheat flour for roti.
How to choose/buy wheat flour for phulka roti
The quality of wheat flour used to make phulka roti drives the quality & softness of roti. It is thus important to select your wheat flour carefully. The wheat flour are grinded from wheat and there are several types of flour available. Coarsely grounded wheat flour is used to make crispy bhakri. This type of flour is not suitable for making phulka roti recipe.
In India a lot of people buy whole wheat grains from market and make wheat flour at home or at small mills available in neighborhood. This flour is perfect for making phulka roti as it is grinded specially for that purpose. But if you are one who buy readymade wheat flour then no problem. Go for the well known indian brands like "Ashirwad" or "Pillsburry". The roti made from these store bought flour also comes out soft and flaky.
I have carefully curated few tips that I feel every beginner should know while making soft phulka roti. I learned these from my little expirence of making roti and a lot of teachings from my mum 🙂 I hope these tips are helpful.
Few tips for beginners
Sieve the flour using a siever so that any impurities are removed from wheat flour.
While kneading the dough, add little water at time and mix the water with flour. Do not add all the water at once as it might make the dough soft, sticky and difficult to handle later.
Adding oil helps in making soft rotis so add 1-2 tsp of Oil in the dough and pound well.
Kneading hard is absolutely important. Pound the dough using hand so that it becomes softer.
Once the dough is ready it should not contain any cracks. It should look smooth and softer.
If you are making roti for the first time then do not roll the phulkas very thin. Let them remain little thicker so that they easily get puffed up.
Flip the roti only once on tawa/skillet and roast either side only once. Flipping repeatedly might make roti hard.
Turn the flame to high before you place phulka on direct flame. If the flame is not on high then roti might not puffs up.
You can also knead the dough using warm water. This way the dough become soft.
This is Gujarati phulka roti recipe where I have not added salt. However you can add salt and season your dough while kneading dough for phulka roti.
Tips to make Phulka Roti puffs up
The dough plays an important roll in making soft phulka rotis. Dough should neither be too soft nor too hard.
While rolling the roti make sure you roll it evenly i.e. the thickness across roti remains roughly same. Do not worry about the shape for roti initially.
A perfectly rolled roti will puff up nicely on flame. Flame should be high so that it puffs up phulka quickly without making it hard.
Few tips to store phulka rotis so that they remain soft
Applying ghee makes phulka roti soft & tender. So do apply ghee once they are still hot.
Use a cotton cloth/kitchen napkin to keep the roti on. This way the cloth will absorb any moisture coming out of roti. The lower most roti will not become soggy this way.
Use a casserole to store the cooked phulka roti or cover it using any utensil. If rotis are kept in open then they will get hard/crispier.
Coming back to the basic recipe of making phula roti at home, let's check step by step recipe.
Recipe of Phulka Roti with detailed step pictures
Sieve whole wheat flour (gehu ka atta) in a mixing bowl.
While adding little water at time to the flour start kneading the dough.
Using your hand mix the water and flour and knead the dough.
Knead the dough properly.
Once the roti dough is almost done, make a hole in center and pour oil and knead again.
After kneading the dough let the dough to rest for about 10 min. By giving sufficient amount of time to rest the gluten in the dough make it softer.
After resting the dough for 10 min kneed the dough again so that dough becomes soft.
Divide the phula roti's dough in small lemon size balls of roughly equal size.
Place the dough on rolling board. Dust it lightly with some wheat flour and start rolling the phulka roti.
Roll the phulka to around 3-4 inch in diameter.
Now take some wheat flour in a bowl and place the half way rolled phulkas in it. Dust the phulkas in wheat flour on both sides.
Now roll again and try to make the phulka as round as possible. The trick is to roll the edges while giving it round shape. A little practice would help to make perfect round phulka roti.
Roll the phulka roti to round disc of around 5-6 inch diameter. Phulka roti is ready to get roasted.
Heat a tawa/skillet on medium flame. Once the tawa is sufficiently hot (check by keeping hand 4-5 inch above tawa and feeling the heat) place the phulka roti on it carefully so that it does not get folded. Roast for 20-30 seconds until small bubbles starts appearing on top side.
Once the bubbles starts appearing on roti, flip it on other side. Cook for 30-40 seconds of until the bottom part turns light brown.
Now with the help of tong grip the roti on edge and place it on direct flame (remove the tawa while the roti is roasted directly on flame). Switch the gas on high flame and if roti is evenly rolled it will start getting puffed up as shown in below picture. Roast the roti on direct flame just for 5-10 seconds or until it puffs up completely.
Once the phulka roti get puffed up it is ready to get flipped on other side. This gives the phulka roti its traditional name (phulka = puffed up)
Flip the roti on other side and roast it on direct flame again for 2-3 seconds. The phulka roti is done.
Reduce the gas to medium and take the roti off flame using a pair of tongs. Place the roti on a plate.
Repeat the above steps and make remaining phulka rotis. The rolling and roasting of phula rotis can be done simultaneously to reduce the cooking time. It will need extra practice to master this technique, but once you do making roti is a piece of cake.
Smear some homemade ghee (clarified butter) on each roti.
You can also smear ghee on one roti and press another roti on top to apply ghee on both simultaneously. This way phulka rotis will be in pairs with layer of ghee in between making it easy while serving & eating.
Delicious soft phulka roti is ready to serve. Serve the phulka roti or chappati with any sabzi, dal and steamed rice.
Phulka Roti Recipe Box (Chappati Recipe)
Phulka Roti Recipe
Phulka Roti Recipe - A traditional soft Indian whole wheat flat-bread served best with vegetable curry, daal & rice.
Ingredients
Wheat flour : 1 cup
Oil : 2 tsp
Water : 1/3 cup or as required
Instructions
Sieve the whole wheat flour (chappati flour) in a large mixing bowl.
Now while adding a little water at time start kneading the dough.
Once the dough is almost done, make a well in center and pour Oil.
Knead the dough again and mix oil into it.
Using hand hand pound the dough nicely so that it becomes softer.
Once the dough is ready, cover the dough with damp cloth and keep aside for 10 minutes to rest.
Once the dough is rested, pound again and make soft phula roti dough.
Divide the dough into small lemon size round balls. Roll the balls between your palm and make them into round shape ball. Keep aside.
Before we start rolling the phulka roti, heat a iron tawa / skillet on gas.
Take a rolling board (chakla/patlo) and place a dough ball on it and press and make flat.
Dust the dough ball with some wheat flour and start rolling into 3-4 inch rotis.
Again take the rotis and dust some more wheat flour.
Roll the phulka roti again into 5-6 inch diameter circular disc.
By now the skillet must become hot enough for roasting. Place the rolled phulka on tawa/skillet and roast for 20-30 seconds until small bubbles starts appearing on dough.
Flip the phulka using tongs and roast on other side again for 30-40 seconds until the bottom starts becoming light brown in color.
Turn the gas on high flame and take the phulka off the tawa/skillet and place it on direct flame.
Phulka roti should starts getting puffed up. Roast the roti on direct flame for 5-10 seconds and let it puffs up completely.
Now flip the phulka roti and roast the other side on direct flame just for 2-3 seconds.
Reduce the heat and take the phulka off gas and place it on a plate.
Repeat the rolling & roasting steps and make remaining phulka rotis.
Smear some ghee (clarified butter) on top of phula roti.
Delicious homemade phulka roti on gas is ready. Serve the phula roti hot with any vegetable curry, daal, lentil & steamed rice.
Other Indian flat-bread recipes that goes well with curry/daal