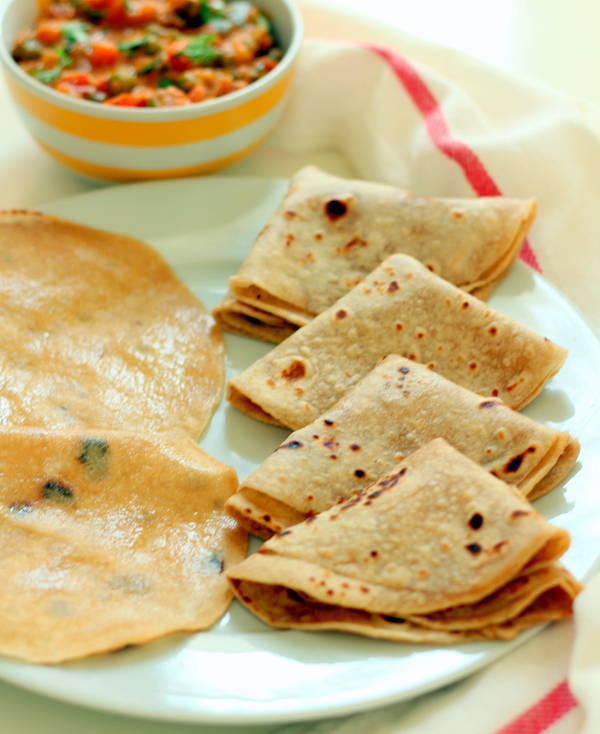 Gujarati Pad Wali Roti Recipe Step by step – Rotis are heart of Indian cuisines if the curries are Soul. Not to forget rice which complements the curries & daals. Rotis or other Indian flat-bread like phulka, chappati, paratha, naan etc are cooked almost daily in any Indian household. Among all the flat-breads the roti / chappati / phulka are considered healthier as they are freshly made from whole wheat flour. And may be that's why we tend to serve daily meals with roti.
At the same time eating Roti daily can sometimes become cumbersome. Especially when there are kids and husbands (old kids :D) to serve. They get easily bored with the daily routine food and always complains about the stereotype menu. That is the reason one should once a while try and make other variations. One such variation in my home is Pad Wali Roti (literrary means layered Indian flat-bread). Pad means layers in Gujarati.
This pad wali roti is also known as Swaminarayan roti as it is mostly served in the Swaminarayan temple across the country. If you visit the famous Akshardham temple in Delhi and planning to take prasaad then you may find pad wali roti being served.
Similar to this recipe of Pad wali roti, I have also used whole wheat flour to make lachcha roti which resembles to lachcha paratha. Both the recipes consist of wheat flour however the pad wali roti is healthier compared to lachcha roti as Oil is involved in later.
The pad wali roti that I have shown today is simple to make and stays fresh for longer time compared to normal phulkas. That's because of the ghee or clarified butter being used in generous amount. That's the reason why pad wali roti is good to carry while travelling or in lunch box too.
Let us check the step by step recipe of Gujarati Pad wali rotli or roti.
Recipe of Gujarati Pad Wali Roti – Step by step
Take whole wheat flour (the same that we use to make chappatis or phulkas) into a mixing bowl. I have used Aashirwad atta. In the 1 & 1/2 cup of wheat flour add around 2 teaspoon of salt. You can add salt as per your taste. Gujarati chappatis are normally prepared saltless. However for this layered chappati we do add a little salt. Next pour 1 tablespoon Oil in the flour. After that start kneading the dough by adding little water at a time. This is the same process as we make normal chappati dough.
Once the dough is ready keep it aside to rest for 10 minutes.
Divide the whole wheat dough into round lemon size balls. The total number of pad wali roti is half the number of balls as 2 dough balls are required to make this chappati. If you want to make thin rotis then make small dough balls similar to size of puris.
Now take two dough balls and place them on rolling board.
Apply some pressure using hand and flatten them as shown in below image.
Smear some ghee or clarified butter on one dough and some dry wheat flour on another.
Combine both dough puris such as the melted ghee layer and dry whole wheat flour layer touches each other. Press both the doughs together.
Place the dough on a rolling board. Sprinkle some dry wheat flour.
Roll the wheat dough into flat disk shape chappati.
While rolling apply as little pressure as possible. Otherwise the layers might get fused into each other.
Pad wali roti is rolled and ready to be roasted. We can clearly see two layers emerging out of the roti.
Heat a flat bottom pan / tawa and once hot place the rolled pad wali roti.
Once the bubble starts emerging out of one side turn the chappati and roast on other side.
Roast like normal chappati until both sides have golden color and are nicely cooked.
Pad wali roti or chappati is ready. Take the chappti off flame and tap using hand on top. This way the layers will get easily separated out.
Smear some ghee or clarified butter and serve hot the pad wali roti gujarati batata sabji, kheer or potato green beans sabzi.
Enjoy the pad wali roti or rotli along with any Indian sabzi and daal.
Gujarati Pad Wali Roti Recipe Box
Gujarati Pad Wali Roti, Recipe of Layered Chappati
Gujarati Pad Wali Roti - A traditional layered chapati smeared with ghee and served as main course with Indian curries & daal.
Ingredients
Whole wheat flour: 1 1/2 cup
Oil: 1 tbsp
Salt: 2 tsp or to taste (optional)
Ghee: 3 tbsp
Water: 1 cup or as required
Instructions
Take wheat flour in a bowl and add oil and salt and mix well all the ingredients.
Once the ingredients are mixed well add water and kneed the dough.
After preparing the wheat dough rest the dough for about 10 min.
Now once the dough is rested make small equal size balls about size of a lemon.
Take two balls at a time and press the balls with your hand and on one ball apply ghee and on other add dry flour.
Now stick both the dough together and again dip the flat dough in the dry wheat flour.
With the help of the rolling pin roll into chapatis.
Heat up a flat bottom pan or tawa and put rolled chapati on it.
Once you see bubbles on top part of the roti, flip the roti.
Cook other side of the roti too. Once roti is cooked properly on both side place the roti in a plate and tap the roti on top so that both the layers will come off easily.
Pad wali roti is ready. Apply some ghee between the layers and serve it hot.

Recipes Similar to Pad Wali Roti Recipe