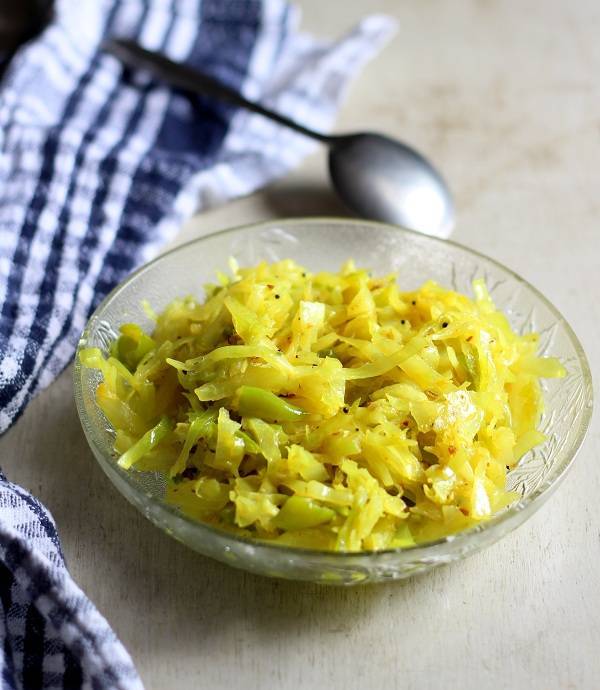 Gujarati Cabbage Sambharo Recipe also known as "kobi no sambharo" in Gujarati language is a well-known traditional side dish that you'll often find in a Gujarati thali or meal. It is a simple side dish made from sliced cabbage quickly stir fried with mustard seeds and green chilies plus some Indian spices. If you are a Gujarati or know someone who is Gujarati chances are that you already know this dish. It is prepared almost daily in a Gujarati house-hold. The crunchy taste of cabbage along with a tinch of spiciness  of chilies goes well with any Indian curry meal.
This cabbage sambharo is a no garlic no onion recipe thus it can be also served along with Jain food. It hardly takes any time to prepare this recipe. Like other gujarati sambharo dishes like carrot sambharo, tindora sambharo, papaya sambharo, green chilies sambharo etc the cabbage sambharo is also under cooked and have a crunchy bite to it.  Lot of people add curry leaves in cabbage sambharo but I honestly think that is not necessary. Also turmeric is optional but I always have eaten cabbage sambharo with a pinch of turmeric powder.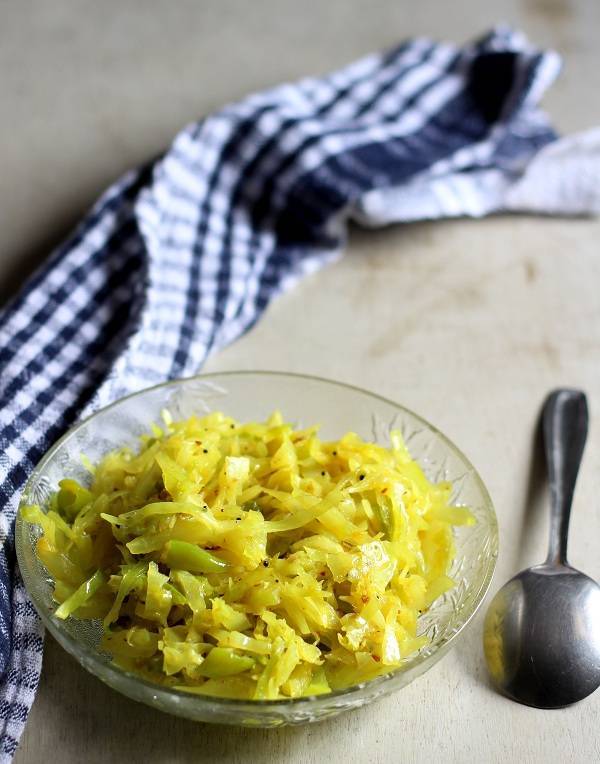 Cabbage sambharo can also be made by adding other vegetables into it like carrot. Cabbage and carrot sambharo is also quite famous side dish served in Gujarati household as specially in a wedding feast. But today let us stick to the basics and make gujarati cabbage sambharo (kobi no sambharo).
Step by step Gujarati cabbage sambharo recipe with pictures
Wash the cabbage thoroughly in water and peel of its outer layer. Finely slice the cabbage or grate the cabbage using a medium size grater. Also de seed the green chili and cut it into halves or quarters.
For quick stir frying the cabbage, heat a tablespoon of oil in a kadhai / pan. Once the oil is hot add mustard seeds and let them flutters.
Once mustard seeds (rai) starts fluttering add fenugreek seeds (methi seeds). Adding fenugreek seeds is optional. But I add some as it makes cabbage sambharo taste good and also it is good for stomach.
Add sliced / grated cabbage and sliced green chilies. You can add green chilies first in oil and saute them for few seconds. But I sometimes cut the corners and add them along with cabbage. They both anyways gonna take equal time to cook.
Add turmeric powder and salt to taste. Mix well the spices along with cabbage and green chilies.
Quick stir fry the cabbage and green chilies in oil for no more than 2 minutes. We want cabbage to remain under cooked.
Gujarati cabbage sambharo is ready to serve. Serve it warm or at room temperature along with Gujarati main course.
Checkout the cabbage sambharo recipe box below.
Gujarati cabbage sambharo details below:
Gujarati Cabbage Sambharo Recipe (Cabbage No Sambharo)
Gujarati Cabbage Sambharo Recipe - Stir fried cabbage with green chilies in Indian spices. A crunchy warm gujarati cabbage salad.
Ingredients
Cabbage: 2 cup
Green chilies: 2 pieces
Oil: 1 tbsp
Mustard seeds: 1/2 tsp
Fenugreek seeds (methi): 1/4 tsp
Turmeric powder: 1/2 tsp
Salt: 2 tsp or to taste
Instructions
Wash the cabbage in water and peel off its outer layer. Cut the cabbage into long thin slices.
Slice the green chilies and remove the seeds. Cut the green chilies into medium pieces.
For stir frying heat a kadhai / pan and add oil in it.
Once the oil is hot add mustard seeds (rai) and some fenugreek seeds (methi).
Let the mustard seeds start crackling. Then add sliced cabbage and green chilies.
Also along with the cabbage add turmeric powder and salt to taste.
Mix the vegetables with spices and saute it for 2 minutes on medium/high flame. Don't overcook the cabbage. Let it have the crunchy bite to it.
Stir fry the cabbage until it becomes soft.
Cabbage sambharo (kobi no sambharo) is ready. Serve it as side dish along with Gujarati main course like roti, sabji (vaal ki sabji, batata ki sabji etc) and butermilk.
If you like this simple Gujarati side dish then also check my other Gujarati recipes: gujarati handvo, gujarati khatta dhokla, masala khichdi & kadhi, baingan palita etc.