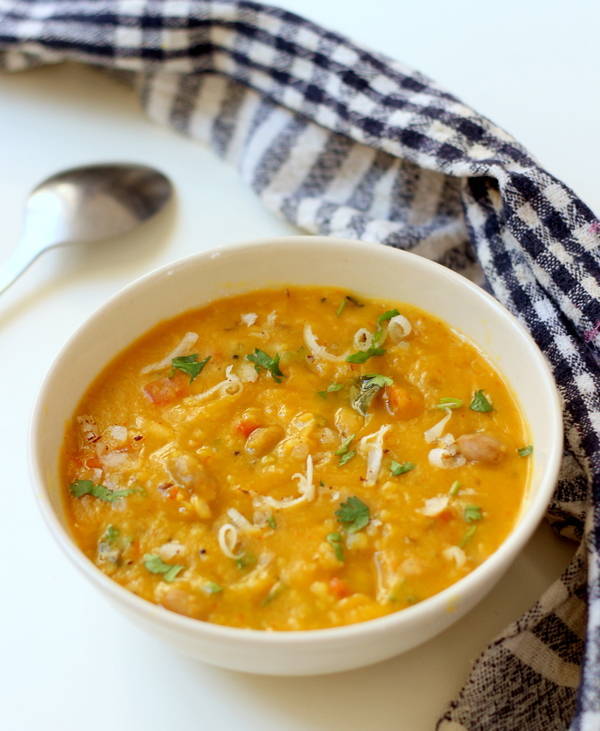 Gujarati Toor Dal Recipe with step by step photos – Let me show you today a simple and delicious dal recipe of toor / tuvar dal (pigeon pea lentil). The toor dal is cooked in almost all the Indian homes and with great different variations. The recipe that I am sharing today is close to my heart recipe of Gujarati daal. The spices are tempered like it is done traditionally in Gujarat. Also compared to the recipes of toor dal from other states, the Gujarati version is a bit sweet and tangy thanks to the jaggery or gudd that is added in daal preparation.
Being a vegetarian I often have a lentil or legume in my diet menu. Lentils and legumes are great source of proteins that one require and also contains dietary fibers that helps digestion. One key ingredient that is unique in today's recipe is Kokam also known as aamsul. It is used in many different recipes in state of Maharashtra and Gujarat. Also it is extensively used in Assamese cuisine in dishes like masor tenga, tenga dali etc. Kokam  adds flavor and tartness in Gujarati dal and balance the sweetness of jaggery.
This Gujarati daal recipe is a no garlic no onion recipe. Hence it is also a Jain recipe. We cook this daal almost daily in afternoon lunch and serve it with steamed rice. Sometimes just to break routine I also cook different kinds of daals like moong dal, chana daal. Check out the recipe of Sindhi moong dal and Punjabi mix dal that I often cook.
Before we dig deeper into recipe of Gujarati dal let us check few tips that are very useful while cooking this dish at home.
Few Tips To Make Perfect Gujarati Toor Dal
While adding wet kokam make sure you add in a little quantity otherwise the color of dal would turn black. Instead you can also add dry kokam.
The sweetness in Gujarati daal comes from Jaggery which is rich in Iron. Instead of Jaggery you can also add Dates if you want.
You can boil both toor dal and peanuts together by placing peanuts in a glass in between the cooker.
Add the lemon juice at the end when daal is almost ready.
To reduce the cook time of toor dal we can soak the daal earlier in water for 10 to 15 minutes.
You can add vegetables like bottle gourd (lauki) or zucchini etc while boiling the tuvar dal.
While adding fresh coriander leaves we always take chopped coriander in a cup full of water. That way the dirt settles down leaving clean coriander leaves on top. Squeeze out the leaves and add them to Gujarati daal.
Let us now check the step by step recipe of sweet and tangy Gujarati toor dal with photos.
Recipe of Gujarati Toor Dal with step by step photos
To make Gujarati Toor Dal we need following ingredients. Peanuts, Tomato, Jaggery, Curry leaves, Ginger, Lemon, Coconut, Kokam, Methi seeds, Green chilies, Cloves and ofcourse Tuvar or Toor dal.
Take 1/2 cup of toor dal in a bowl and wash it atleast 3 to 4 times thoroughly in water till it is clear. To reduce the cooking time you can also soak the toor dal in water for 15 to 20 minutes before cooking. Once the toor dal is washed we can boil it in pressure cooker. I have used a standard 3 liter pressure cooker. Instead of just boiling toor dal in cooker I have also boiled peanuts in it. This is a nice simple technique of piggy backing the peanuts with toor dal. I have placed peanuts in a glass which is placed in center of cooker. This way both toor dal and peanuts gets boiled simultaneously.
Once the toor dal is boiled you can use a hand blender (known as જેરણી or વલોણું  in Gujarati) to blend the dal and water together. Also if required add a little water to achieve desired consistency.
Now lets make tadka for this guajrati toor dal. For tadka I am tempering all spices or dry (sukha) masala in ghee. Traditionally the dal cooked in ghee has a great flavor. However you can also do tempering in Oil. Heat 1 tbsp of ghee or clarified butter in a non-stick pan. Once the ghee melts add mustard seeds, cumin seeds, cloves and fenugreek seeds (methi dana). Let the mustard flutters.
Once the mustard starts crackling add sliced green chilies, grated ginger and curry leaves.
Saute the ginger for 20 – 30 seconds till its nicely cooked. Now add chopped tomatoes and a small piece of kokam. Cook for 1 – 2 minutes until the tomatoes softens.
Now add boiled peanuts that we earlier boil along with toor dal.
Also pour in the blended toor dal and water mixture. At high temperature as soon as you add blended dal it makes a sizzle sound. By hearing this everyone at my home and even neighbors knows that dal is being tempered 🙂
Now add Indian powdered spices turmeric powder and red chili powder. Also add a spoon full of Jaggery (gudd). Without jaggery Gujarati dal seems to be empty. After adding these ingredients give a nice stir and mix everything together.
Add salt to taste and give a quick stir.
Let the dal simmer for 2 to 3 minutes on medium flame. If required add little water and fix the consistency.
In the end add a spoon full of lemon juice to counter balance the sweetness of jaggery. I add lemon just at the end as it tends to retain its taste without getting bitter.
Garnish the gujarati daal with some grated fresh coconut.
And sprinkle some freshly chopped coriander (cilantro) on top of Gujarati toor dal.
The tasty tangy khatti mithi Gujarati toor dal or tuvar dal is ready now. Serve the gujarati dal with steamed rice or in Gujarati thali.
Gujarati thali is a well known full dish that is served in many restuarant and also many Indian homes like ours. The Gujarati thali consist of dal, chawal, chapati or phulka, chaas (butter milk), papad, pickle  and sabzi. A perfectly balanced diet consist of all essential proteins, carbohyderates and vitamins.
Gujarati Toor Dal Recipe Box
Gujarati Dal Recipe, How to make Gujarati Toor Dal
Gujarati Toor Dal Recipe - A traditional sweet & tangy Gujarati recipe of pigeon pea (lentil) cooked in different Indian spices sweetened with jaggery.
Ingredients
Ghee: 1 tbsp
Asafoetida (hing): 1/4 tsp
Mustard seeds (rai): 1 tsp
Cumin seeds (jeera): 1 tsp
Fenugreek seeds (methi): 1/2 tsp
Cloves (laung): 4 pieces
Ginger: 1 tsp chopped
Green chilies: 1/2 chili sliced
Curry leaves: 6 leaves
Kokam: 1/2 piece
Jaggery (gudd): 1 1/2 tbsp
Peanut: 1/3 cup
Toor dal (pigeon pea): 1/2 cup
Red chili powder: 1/2 tsp
Turmeric powder: 1/3 tsp
Lemon: 1 tbsp juice
Salt: 2 tsp or to taste
Water: 1 cup
Coriander (cilantro): 2 tbsp for garnish
Coconut: 1 tbsp for garnish
Instructions
Preparation
Take 1/2 cup of toor dal in a bowl.
Wash the dal in water for 2 to 3 times till its clear.
Also you can soak the toor dal in water for 15 to 20 minutes to reduce the cooking time.
Now take the washed toor dal in pressure cooker and place a stainless steel glass in between with peanuts inside. Add water in the glass full of peanuts too.
Pressure cook both toor dal and peanuts for 10 minutes or 3-4 whistles.
Blend the boiled toor dal with hand blender. Add water if required.
Chop ginger, grate coconut and slice the green chilies. Also chop the tomatoes.
To Make Gujarati dal
Heat a table spoon of ghee in a deep bottom non-stick pan.
Once the ghee is hot add the mustard seeds (rai), cumin seeds (jeera), cloves (laung) and fenugreek seeds (methi).
Once the mustard seeds starts fluttering add ginger, green chili and curry leaves and stir it.
Now throw in chopped tomato, kokam and boiled peanut and cook till tomato become soft.
Once all the ingredients mix well then add the boiled dal and stir it.
Now add Indian dry spices like turmeric powder, red chili powder and jaggery and salt to taste. Simmer it for 3 minutes until it starts boiling.
Once the dal starts boiling turn off the gas add the lemon juice and stir it.
Garnish the Gujarati daal with grated coconut and freshly chopped coriander leaves.
Gujarati toor dal is ready. Serve the gujarati dal along with steamed rice, phulka and gujarati sabzi like sev tamatar or vaal ki sabji.
If you looking for more Gujarati recipes then do check gujarati khichdi, idra dhokla, khatta dhokla, handvo and sabudana khichdi.