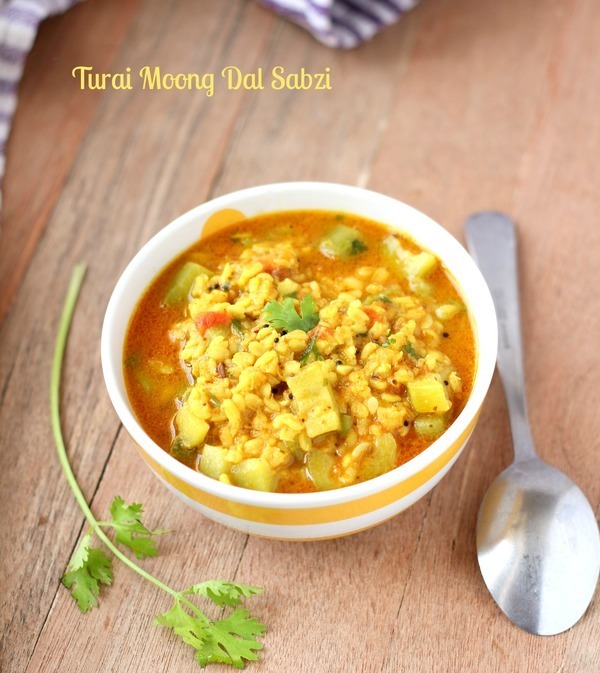 Turai moong dal sabzi recipe – During summer season there are few green vegetables that are commonly available in local indian markets. Turai also known as turiya, tori, beerakai, dodka, luffa or ridge gourd in english is a common summer vegetable. This dark green colored vegetable has tapered ends and thick skin with soft white flesh in between. Although turai is very commonly consumed in India there are a few like me who dont like Turai. Or I thought I never liked it up until I tried it in this recipe along with yellow moong dal.
If you are like me and don't like Turai or turiya then trust me and just try once. Try it with this recipe. I am sure you have to change your mind for this wonder vegetable. I call it so because of its health benefits. I didn't knew turai is a boon for diabetics. Recently I came to know about these benefits and it definitely change my perspective for this vegetable.
Lets check few health benefits of Turai / turiya / tori.
Health benefits of Turai or Ridge gourd
Turai is very good during summer season for its excellent cooling properties.
The presence of insulin and peptides in ridge gourd helps in reducing blood sugar level and thus assist diabetics to control sugar level in both blood and urine.
Natural cellulose present in turai helps in rectifying bowel problems and improve overall health of digestive system.
Turai is also attributed to aide in natural weight-loss abilities. It contains extremely less saturated fat content and offers reasonable amount of fat and calorie.

A few things that one must keep in mind while buying ridge gourd is that it should be dark green in color and also that the skin should be tight. Just press and check if turai is hard. Also it should feel heavier in hand due to presence of water.
Here in this turai sabzi recipe we have used yellow moong dal. It goes really well with ridge gourd. You can also use chana dal instead of moong dal. I will try to post recipe of turai sabzi with chana dal soon.
Below are few tips to keep in mind while making turai sabji with moong dal.
Soak the yellow moong dal just for 5 min and not overnight as they tend to cook quickly.
Just take one or two whistle in the pressure cooker while cooking moong dal. Otherwise it might get mushy soon.
Cut the ridge gourd (turai) into medium size pieces as they cook easily.
Recipe of Turai Moong Dal Sabzi with step by step pictures
To make this delicious Turai moong dal sabji we will need these ingredients: turai or turiya, yellow moong dal, tomato, ginger, garlic, green chili, fresh coriander, oil and some indian dry spices. All the ingredients are shown in the recipe box at the end of this post long with their exact quantities.
Let us start by heating oil in pressure cooker. Once the oil is hot add mustard seeds (rai) and cumin seeds (jeera).
As mustard starts crackling, add finely chopped ginger and garlic.
Saute ginger & garlic for few seconds and then add slit green chilies.
Also add chopped tomatoes. Mix the tomatoes and cook for a minute.
Now add chopped turai (turiya) or ridge gourd.
Now add dry spices like coriander powder (dhaniya) and turmeric powder (haldi).
Add salt as per your taste.
Add roasted cumin powder (bhuna jeera). This is optional however I strongly recommend you to add roasted cumin powder in this turai sabji.
Add water in the pressure cooker. Give a stir and mix all spices along with gravy.
Ops… I forgot to add red chili powder 😀 so I will add it now. You can add red chili along with other dry spices.
Now add soaked yellow moong dal in the sabji.
Give a good stir and mix everything well. Taste the water and check if seasoning is required. Adjust the salt if required. Cover the pressure cooker with lid and pressure cook the sabji for 5-7 minutes (1 whistle). Just take one whistle and turn off the gas.
Let the pressure cooker gets cool off completely before opening the lid.
Add freshly chopped coriander (hara dhaniya) and mix well.
Delicious turai moong dal sabji is ready to serve. Serve turai moong dal sabzi with roti, phulka and steamed rice.
Turai Moong Dal Sabji Recipe Box
Turai Moong Dal Recipe
Turai Moong Dal Recipe - A delicious curry made from ridge gourd (turai/turiya) and yellow moong dal.
Ingredients
Turai (ridge gourd) : 1 cup
Yellow moong dal : 1/4 cup
Oil : 1 tbsp
Mustard seeds : 1/2 tsp
Cumin seeds : 1 tsp
Asafoetida (hing) : 1/4 tsp
Ginger : 1 tsp
Garlic : 1 tsp
Green chili : 2 chilies slit
Tomato : 1/3 cup
Red chili powder : 1 tsp
Turmeric powder : 1/2 tsp
Coriander powder : 2 tsp
Cumin powder : 1 tsp
Fresh coriander : 1 tbsp
Salt : 1 tsp
Instructions
Peel off the turai/turiya and chop them into medium pieces.
Wash the yellow moong dal and soak it in water for 10 minutes.
Heat a pressure cooker and add oil in it.
Once oil is hot add cumin seeds (jeera) and mustard seeds (rai) and let them crackle.
Add finely chopped ginger and garlic in oil and saute for 30 seconds.
Now add slit green chili in the cooker.
Add tomatoes and saute for 20-30 seconds.
Also throw in the chopped turai / turiya.
Then add all the dry spices: turmeric powder, coriander powder, roasted cumin powder, red chili powder and salt as per your taste.
Add water and mix the spices in sabji.
Also add soaked moong dal.
Turn off the lid and pressure cook the turai sabji for no more then 5-7 minutes (1 whistle).
Let the cooker cools off before opening the lid of pressure cooker.
Open the lid and give a quick stir to sabji using spatula.
Garnish the turai moong dal sabji with fresh coriander leaves (hara dhaniya).
Turai moong dal sabji is ready to serve. Serve this sabji along with roti, phula, jeera paratha and gajar sambharo.
Other sabji recipes for lunch