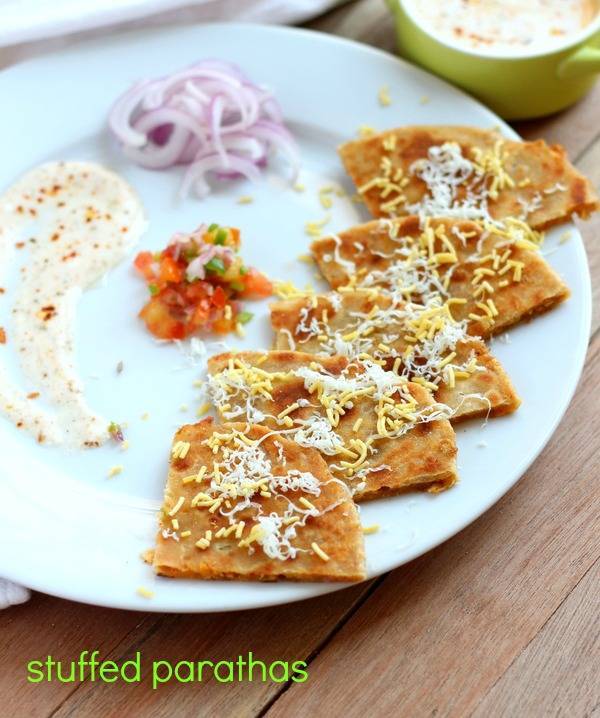 Stuffed Paratha with Papad Filling –  A flaky stuffed Indian wheat bread filled with onion, tomato and roasted papadum filling. Today I am sharing a recipe that you might not have read or seen anywhere yet. I myself never did 🙂 My mother in law tried this and shared her recipe. Everyone loved these parathas so I though of sharing it here.
Parathas are must with any Indian main course curry dish like palak paneer, paneer butter masala, aloo palak etc. We make varieties of parathas at home. The most common parathas are plain paratha, jeera paratha or stuffed paratha with common fillings like aloo paratha, mooli paratha etc. Stuffing can be made with lot of different ingredients. Paneer is also stuffed in paneer paratha which is loved by lot of people. Today I am sharing a different stuffed paratha recipe which you must try at home. I have used roasted papadum or papad (urad dal papad) as stuffing. You can make this parathas for children and also serve as breakfast too.
Related: mooli paratha | vegetable paratha | jeera paratha
Papad or papadum can be fried or roasted. It is eaten as accompaniment with Indian meals. Vegetables, tomatoes or onions are often added on top for flavorand it is called as masala papad. It is usually made from urad flour mostly but can also be made from chickpeas,lentils, rice flour and wheat flour. In some parts of India dried but uncooked papads are used in curries and vegetable dishes. Papad ki sabji is thus famous Rajasthani curry served along with roti.
I have grated some cheese and the sev on top of the paratha for serving. That make these paratha really yummy. If you don't like cheese then it is completely optional and can avoid it.
Tips to roll Stuffed Paratha
Dust the paratha with dry flour and then roll it. That way the stuffing will not get stick to base and paratha will roll nicely.
Always while making stuffed paratha knead the dough little soft but not too soft.
If you are adding vegetables in stuffed paratha, chop the veggies very small or else you cannot roll the paratha.
For this papad filling, crush the papad finely so that it don't come out while rolling.
Always roll the paratha with the soft hand or else the filling will come out.
Alternate way to stuff the paratha
There is another easy way of filling the paratha with stuffing. You can roll two identical rotis. Place the filling in center of first roti and put another roti on top. Seal the sides properly using fork and roll it with soft hand so that the filling gets spread evenly on all sides.
Let us check the step by step recipe of stuffed paratha with onion tomato, papad filling with pics.
Recipe of Stuffed Paratha with Papad filling step by step with pictures
To make these delicious stuffed paratha with papad filling we will need following ingredients. Wheat flour (gehu ka aata), roasted urid dal papad, chopped tomatoes, chopped onions, green chilies and capsicum. Along with these main ingredients we will need oil and some indian spices. In the end we will garnish the parathas with grated cheese and sev.
The list of ingredients along with exact quantities are available in recipe box at the end of the post.
1. Making Dough for Stuffed Paratha
Let us begin by making dough for the stuffed paratha. For this we will take whole wheat flour (gehu atta) in a mixing bowl and add salt and oil. Now start adding little water at time and knead into smooth paratha dough. Make sure to knead for 5-10 minutes so that the dough become soft and smooth. Once done keep the paratha dough aside for 10 minutes to rest.
Our dough for stuffed paratha is ready. Next step is to make urad dal papad filling.
 2. Making Papad filling for Stuffed Paratha
Next let us make the papad filling for our stuffed paratha. For this take the roasted urid dal papad and crush into small pieces as shown here.
Add 1/2 tsp of red chili powder in papad.
Add salt according to the quantity of mixture.
Also pour a tsp of oil in the mixture.
Using a spoon mix well all ingredients and make papad stuffing.
Let us make another filling of tomato, onion and chilies. For this we will take finely chopped tomatoes, onions, green chilies and capsicum into a mixing bowl. Add a tsp of dry mango powder (amchur) and salt and mix well. The onion tomato mixture for stuffed paratha is ready.
Our stuffing is ready. Now let us roll the parathas.
3. Rolling the Parathas with Papad stuffing
Let us now stuff the filling in parathas and roll them. For that take a big ball of wheat dough as I have shown here. The size of the dough should be bigger then roti ball (lohi). Now roll the dough into disc roughly 5 inch in diameter. Place a tbsp full of onion tomato stuffing in center of rolled paratha. Also place 1 tbsp papad stuffing on top of onion tomato stuffing. Fold the edges as shown in the below image and seal the paratha carefully. Turn the paratha and press on top. Roll into 6 inch diameter parathas carefully without letting the filling fall out.
Repeat the step and roll the parathas until remaining stuffing is exhausted. Stuffed parathas are rolled and ready for roasting.
4. Roasting the Stuffed Paratha on Tawa
Now to roast the stuffed parathas let us heat the tawa / pan. Once the tawa is hot place the paratha and let it get light golden on one side.
Flip the paratha and apply some oil. Let it get roast again.
Similarly apply oil on both sides and roast till the stuffed paratha is golden brown in color.
Roast the parathas till they turn golden brown in color.
Stuffed paratha with papad filling is ready. Cut the parathas in quarters and sprinkle some sev and grate some cheese. Serve the parathas hot along with masala dahi, carrot raita, cucumber raita or coriander chutney. Even you can serve these parathas with jeera rice and punjabi dal tadka.
Stuffed Paratha with Papad Filling Recipe Box
Stuffed Paratha Recipe with Papad Filling
Stuffed Paratha Recipe with Papad Filling - A tasty stuffed Indian bread recipe (paratha) filled with onion tomato and papadum or papad stuffing.
Ingredients
Wheat flour (gehu ka atta) : 2 cups
Papadum (papad) : 5 papad
Oil: 6 tbsp
Red chili powder: 1 tsp
Dry mango powder (amchur): 1 tsp
Onion (pyaaz): 1/3 cup
Tomato (tamatar): 1/3 cup
Green chilies (hari mirch) : 1 tsp
Capsicum (simla mirch): 1/3 cup
Salt : 2 tsp
Processed cheese : 2 cubes (optional)
Sev : 2 tbsp (optional)
Instructions
To prepare Stuffed paratha dough
In a mixing bowl take wheat flour, salt and oil. Mix well all ingredients.
Add water and knead well into dough. Dough should not become too soft.
Once dough s ready let dough rest for about 7-9 min.
To prepare Papad stuffing
Take 4-5 urad dal papad and roast the papad on gas.
Take roasted papad in a bowl and crush them very fine with your hand.
Then add red chili powder, salt and oil in the crushed papad and mix well.
Now the papad filling is ready keep aside the filling.
Finely chop the onion, capsicum, de-seed tomatoes.
In another bowl take all veggies and then add amchur powder (dry mango powder) and salt to taste.
Mix all ingredients well and the filling is ready.
To roll Stuffed paratha with papad filling
Divide the paratha dough in equal balls.
Take one dough ball on rolling board and roll like a puri around 5 inch in diameter.
On rolled dough add the stuffing and close from all the side and again make round ball with the soft hand. (Note: If you are not able to roll the paratha then try to use some dry wheat flour)
To roast stuffed paratha
Place rolled paratha on the hot or pre heated tawa and cook for a min.
Then flip the paratha and apply oil on it.
Similarly apply oil on both sides and roast till the stuffed paratha is golden brown in color.
Repeat he above process for rest of parathas.
Stuffed paratha with papad filling is ready. Serve these paratha hot along with Punjabi sabzi, dal tadka and jeera rice.
Other Paratha/Roti Recipes similar to Stuffed Paratha