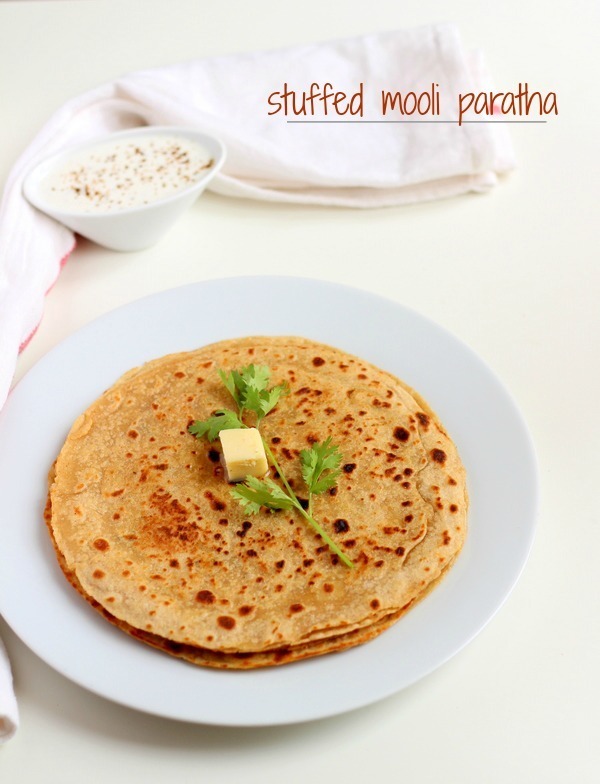 Stuffed Mooli paratha recipe or muli ke parathe – A delicious authentic punjabi mooli paratha recipe.
Mooli paratha is a regular fare in punjabi house hold. The stuffed parathas made with mooli filling and smeared with ghee / makhan on top taste simply lip smacking. One couldn't resist the taste even if not a fan of radish.
Mooli or radish is not very well known vegetable. The reason why a lot of people dislike this vegetable is its pungent smell and strong taste. Inspite of its flavors mooli is regularly consumed in northern states of Punjab and Hariyana. Mooli is used in recipe of sambar and dal. Also it is cut and served as salad in lunch. The stuffed paratha made from mooli filling is tasty because of the way it is prepared. Most of the odour is gone once cooked properly. What remains is the taste of mooli along with indian spices that goes really well in paratha.
Related: vegetable paratha | ajwain paratha
There are so many ways of making Stuffed parathas. The most popular being aloo paratha, gobhi paratha, paneer paratha etc. These are common ones while there are other stuffed parathas that you will hardly see anywhere. I tried one such variation "stuffed paratha with papad filling". Yes a stuffed paratha with papadum, onion & tomato filling. Mooli paratha or muli ke parathe falls under the popular category.

Mooli parathas are prepared in several different ways. One way is by stuffing the mooli inside paratha, another is by mixing mooli right inside paratha dough. Either way taste similar. I pick whatever way I feel like making and also depending on time at hand. If I want to make quick mooli paratha then I simply grate it, squeeze out the water and mix with flour. Try both ways and see for yourself what you prefer.
These mooli parathas goes really well with all kinds of raitas. My favorite is cucumber raita. You can also serve them with pineapple raita. A simple thick yogurt seasoned with red chili powder and salt is just fine to complement these yummy punjabi mooli paratha.
Few handy tips to make mooli paratha
Always dry the radish/mooli nicely after washing it.
Grate the mooli finely or else it would be difficult for you to roll it into paratha.
Once you grate the mooli just squeeze out all the water from the mooli.
Prepare the stuffing only when you want to make the paratha or else it would be difficult to roll.
Reserve the mooli water and use the water in kneading the dough.
Mooli does not take time to cook so cook mooli for few min only. Do not over cook.
While tempering the mooli you can also replace jeera with ajawin.
Let's check the step by step recipe of stuffed punjabi mooli paratha.
Recipe of Stuffed Mooli Paratha with step by step pictures
To make these delicious stuffed mooli paratha we will need following ingredients: grated radish (mooli), wheat flour, ginger paste, green chilies, red chili powder, coriander powder, garam masala powder, amchur (dry mango) powder, salt, oil and freshly chopped coriander (hara dhaniya).
All the ingredients along with their exact quantities are shown in recipe box at the end of this post.
First, peel off the radish (mooli) and grate it using hand grater. Squeeze and remove any moisture from grated mooli.
Now to make mooli stuffing, heat oil in a non stick flat bottom pan. Once the oil is hot add cumin seeds (jeera) and let it change its color.
Add a pinch of hing (asafoetida).
Now add grated mooli (radish) in oil
Mix well and let the mooli stir fry for a minute.
Now add all dry spices like red chili powder, coriander powder, garam masala, amchur powder, finely chopped coriander, ginger paste and green chilies. Also add salt as per your taste.
Mix the spices along with mooli and let them cook for a minute. Check if the mooli is well cooked.
Now let us knead the dough for paratha.  For this we will take whole wheat flour (gehu atta) in a mixing bowl and add salt and oil. Now start adding little water at time and knead into smooth paratha dough. Make sure to knead for 5-10 minutes so that the dough become soft and smooth. Once done keep the paratha dough aside for 10 minutes to rest.
Divide the dough in small round lemon size balls. For making this stuffed paratha we will roll two layers of parathas and seal filling in between.
Start by taking a dough ball on rolling board (chakla). Dust the surface with some flour.
Start rolling parathas roughly 5-6 inch in diameter. Try to maintain round shape and even thickness across the paratha. Repeat this step and roll another side of stuffed paratha. Try to make both parathas equal in diameter.
Now take a tbsp of mooli stuffing and spread evenly on one paratha. Leave the edges from stuffing.
Grease the edges lightly with oil.
Place another rolled paratha on top and carefully seal the stuffing in between.
Gently tap in the center and remove any air from inside.
Using a rolling pin, roll again so that both layer get firmly attached.
We have now prepared the paratha with mooli stuffing. Let us roast the paratha on tawa/skillet.
Let us now roast the stuffed mooli paratha.
Pre-heat the tawa on gas for 2-3 minutes. Once the tawa is hot apply some oil on top.
Place the mooli paratha and let it get roasted on one side.
Flip the paratha and apply oil on other side.
Cook the stuffed paratha on either side till it turns golden brown.
Delicious Punjabi Stuffed Mooli Paratha are ready to serve. Serve these mooli ke parathe with dahi raita, masala dahi or chutney.
Stuffed Mooli Paratha Recipe Box
Mooli Paratha Recipe (Stuffed Mooli Paratha)
Stuffed mooli paratha - A delicious punjabi flat-bread recipe of whole wheat flour stuffed with radish filling.
Ingredients
For Paratha Dough
Wheat flour (atta) : 1 1/2 cups
Oil : 1 tsp
Salt : 1 tsp or to taste
Water : 2/3 cup or as required
For Mooli Stuffing
White radish (mooli) : 1 cup, grated
Jeera : 1 tsp
Hing : 1/4 tsp
Red chili powder: 1 tsp
Coriander powder : 2 tsp
Aamchur powder : 2 tsp
Garam masala powder : 1 tsp
Salt : 1 tsp
Fresh coriander (hara dhaniya) : 2 tbsp
Other ingredients
Oil : 1/2 cup for roasting
Instructions
For Mooli Stuffing
Grate the radish or mooli finely and squeeze the water out from the mooli completely and keep aside.
In a pan heat oil and once its hot add cumin seeds and hing. Cook for about 30 sec.
Then add the grated radish / mooli to oil and stir well.
Add the dry Indian spices like red chili powder, coriander powder, garam masala powder, amchur powder, ginger, green chilies and fresh coriander leaves. Give a quick stir.
Cook the mooli mixture for about 4-5 min.
For Paratha Dough
In a bowl sieve the wheat flour and add oil and salt. Mix well all the ingredients.
Add water to the flour and knead into paratha dough.
Then rest the dough for about 10 min and the dough is ready to make paratha.
To stuff mooli filling in paratha
Divide the dough into equal size balls.
Take two equal size balls and using a rolling pin and board roll into two medium size rotis.
Keep one roti on the rolling board and spread the mooli stuffing evenly and leave some space on the edges. Apply some oil on the corners so that the second roti sticks.
Now cover it with the second roti and seal the sides properly.
Sprinkle some dry flour on the board and again roll gently.
To roast/fry the mooli paratha
Heat a tawa/skillet and grease tawa/skillet with some oil.
Now place the mooli paratha on tawa and drizzle some oil, cook for about 1 min till golden brown.
Turn to other side and again cook for 1 min till golden brown.
Repeat above steps for rest of paratha.
Delicious stuffed mooli paratha are ready to serve. Serve mooli paratha with chutney, pickle, dahi raita or masala dahi.
Other paratha recipes similar to stuffed mooli paratha