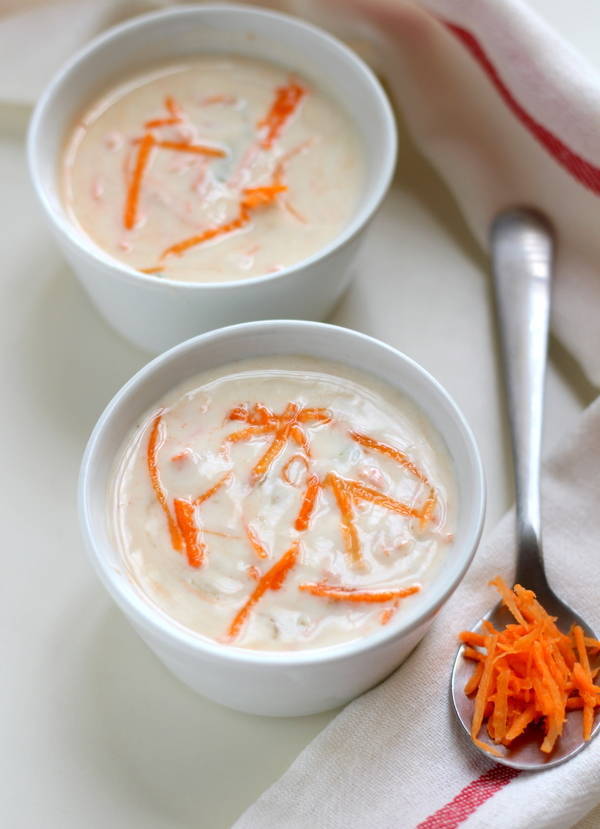 Carrot Raita Recipe –  Indian food is full of spices and flavors. There are so many dishes that one can cook and serve at different occasions. The cooking style, basic ingredients etc changes as we travel from north to south in this vast sub-continent. The spice level also varies with cuisine. Food from North is considered generally spicy compared to other parts of India. For example the staple diet of Gujarati people is mild and sometime sweet. But in states such as Punjab, Hariyana the spiceness of food tends to be on other end of spice spectrum (if there is anything like that :)).
Indian food always have a balance flavour no matter what you cook and how you cook. There is a dish which balances the taste and overall spice of the diet. We cook flavorful daal such as gujarati dal, punjabi mix dal or sindhi moong dal and serve it with plain steamed rice to balance the flavor. Similarly to balance the spice of Indian curries we have dahi raitas.
Dahi raitas are not only popular in India but now a days due to overall popularity of Indian cuisine in foreign countries this dish is also getting traction. You will find dahi or yogurt raitas in any Indian restaurants anywhere in world now. Raitas are nothing but simple yogurt based dish having a vegetable or fruit with some Indian spices.
Related: How to make Yogurt at Home
A raita recipe is always a quick and easy recipe. This dish can be made in no time and can be served along with any Indian main course recipes. There must be hundreds if not thousands of way one can prepare a unique raita dish. The most popular raitas in India are cucumber raita and boondi raita. I consider these two raitas as the Ace of all raitas. Then there are innovative raitas like beetroot raita, onion tomato raita, pineapple raita etc. These raitas are not easy to spot in wild (with certain exception to pineapple raita) but you can make them to impress your guests 🙂
Carrot has many health benefits. Its always advisable to have this vegetable in raw form once a while in your diet. You can simply cut carrot and serve in salads or make delicious yogurt raita like this. Carrots are used to make "Gajar ka Halwa" too 🙂 but I won't consider it healthy. Anyways the carrot contains a lot of vitamins. Half a cup of carrot will provide 210% of the average daily recommended amount of vitamin A, 10% vitamin K, 6% vitamin C, 2% calcium (source). Carrot is good for your eyes and helps to improve your skin. So combining carrot with curd gives us best healthy side dish.
Carrot raita is also known as Gajar ka Raita in Hindi where "Gajar" means carrot if you don't already know.
There is hardly a recipe in making this carrot raita or gajar ka raita. You can combine these ingredients quickly and assemble this raita in no time. Let us check the recipe of carrot raita with step by step photos.
How to Make Carrot Raita (Gajar Raita)
Beat the yogurt well and grate the carrot with the grater. I have used home made yogurt to make this raita. You can also use ready made ones available in market. Add a little water before beating the yogurt to make it a little runny. I have grated the carrot you can also chop them finely into Brunoise (french).
Take the whisked yogurt in a bowl and add roasted cumin powder.
Also add red chili powder to yogurt.
Lastly add rock salt powder.
Mix well all the ingredients with the help of spoon.
The consistency of yogurt should be little runny as shown in below image. If curd is too thick then add a little water (about 1-2 tsp) and whisk again.
Now add grated carrot at the end. Give a gentle mix.
Garnish it with the fresh coriander leaves.
Carrot raita or gajar raita is ready to serve. Serve carrot raita as side dish along with any main course dishes such as mix vegetable paratha, jeera paratha, tawa pulao etc.
Carrot Raita Recipe Box
Carrot Raita Recipe (Gajar Raita)
Carrot Raita Recipe - A yogurt based side dish with carrot & cumin powder.
Ingredients
Yogurt: 1 1/2 cup
Carrot: 1/2 cup
Roasted Cumin powder: 1 tsp
Red chili powder: 1/2 tsp
Rock salt: 1/2 tsp
Green coriander: 1 tbsp finely chopped
Instructions
For Preparation
Peel off the carrot and grate using coarse side of grater.
Whisk the curd. Add water if required.
To make carrot ratia
In a bowl take the whisk curd or yogurt.
Add roasted cumin powder, red chili powder and black salt and mix well all the ingredients.
Now add in the grated carrot. Give a quick whisk.
Garnish carrot raita with coriander leaves.
Carrot raita is ready. Serve carrot raita as side dish with any pulao, biriyani or paratha preparation.
Recipes Similar to Carrot Raita Recipe