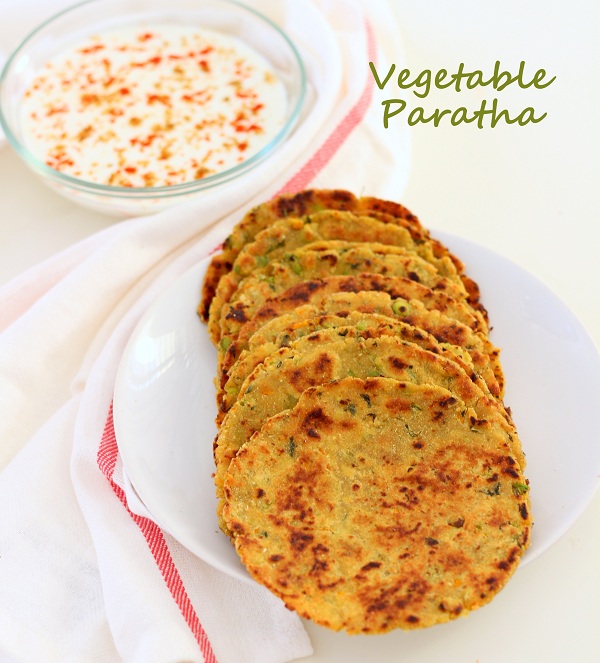 Vegetable Paratha Recipe – South Asians cuisine can be considered as a curry based cusine. Among other South Asian countries India is a true land of curries. Huge landscape and so many diversity and ethnicity made India home to curry lovers. From northern state of Jammu & Kashmir where Dum aloo is popular to southern state of Kerala where coconut based kerala style vegetable curry rules we can see so many varitions in curry preparation. Along with curries the Indian rice preparation and flat breads are also pride of Indian cusine. From different pulao such as vegetable pulav, green peas pulao, tawa pulao, veg biriyani etc to roti, chappati, naan and paratha there are almost endless options to have with curry.
Parathas are thus quite popular flat bread dish that goes along not only with most of the sabzis but also they are served by themselves. The most popular parathas are plain paratha, aloo paratha, gobi paratha, etc. Nowadays you can find parathas with any kind of vegetable stuffed inside. Also paneer parathas are getting traction. Today however I have made a different version of paratha by using different vegetables. Normally parathas are made stuffed i.e. a filling is prepared and is stuffed in wheat flour dough to make parathas. But this recipe is inspired from my mum-in-law who make vegetable paratha by making dough out of vegetables.
This is a simple vegetable paratha recipe. For this vegetable paratha recipe you can use any of your favorite vegetables. I have used cabbage, carrot, green peas and potato. You can also make vegetable parathas by adding cauliflower, broccoli, sweet corns etc.  Also I have used 3 different types of flour to make paratha: whole wheat flour, maize flour and jowar flour. You can make paratha with just whole wheat flour but adding these additional flours make paratha a healthy dish.
Parathas are considered a whole sum meal and thus are quite heavy. In Northern states of India Parathas are served as breakfast dish and also packed in tiffin / lunch box for kids. Recently in one of my favorite food group on facebook I saw idea of making paratha in the shape of fish. These parathas are popular as vegetarian "fish paratha". I made these fish paratha and served to my nephews. They loved it. I will try to share recipe of fish paratha soon.
Try these vegetable parathas along with curd raita of your choice like cucumber raita, onion tomato raita or plain old boondi raita.
Let us check the step by step recipe of vegetable paratha with pictures.
Recipe of Vegetable Paratha with step by step photo
For the vegetable paratha we will need following ingredients. You can use any vegetable of your choice or availability. Here is the list that I used for this veg paratha recipe: Grated cabbage, carrot and onion, boiled and mashed potato, boiled green peas, finely chopped ginger & green chili and finely chopped coriander. You can also use cauliflower or broccoli in this paratha if you want.
First heat a tablespoon of oil in a non-stick pan or kadhai and saute the grated onion until they turn golden.
Once the onions are cooked add all the grated vegetables: cabbage, carrot, ginger and green chilies.
Mix well the ingredients and cook for 2 to 3 minutes until the vegetables are well cooked.
Add par boiled green peas and combine well with other vegetables.
Also add the boiled and mashed potato.
Add salt as per your taste. Mix well the vegetable mixture and taste & check if extra seasoning is required.
Now add remaining spices: garam masala powder, coirander powder and turmeric powder.
Add finely chopped fresh coriander (cilantro).
Combine the spices with vegetable mixture and let the mixture gets cooked for 5 minutes until all the flavors blends and the masala is cooked properly.
Once the spicy vegetable mixture is cooked turn off the gas and let it cool down. Once the temperature comes down add whole wheat flour, maize flour and jowar flour.
Combine the flour into vegetable mixture. Using hand knead the mixture into veg paratha dough. The moisture from vegetables will be enough to prepare the dough. I have not added extra water while making this dough. However if you think the veggies have less moisture then do add 1 or 2 tbsp of water and knead.
Now let us make veg parathas from the mixture. Divide the vegetable paratha dough into small round lemon size balls. Take a ball and place it on rolling board. Spread some whole wheat flour and roll into thin circular disc around 5 to 6 inch in diameter.
Once the parathas are rolled heat a tawa or flat bottom skillet and place rolled parathas on it. Apply some oil on one side and let it cook for half a minute. Flip the paratha to other side and apply oil. Thus cook the paratha on either side by greasing with oil. Cook until the paratha looks golden.
Delicious Vegetable parathas are ready to serve. Serve vegetable paratha hot along with dal fry or cucumber raita, boondi raita or masala dahi / yogurt.
Vegetable Paratha Recipe Box
Vegetable Paratha Recipe
Vegetable Paratha Recipe - A mildly spicy mix vegetable Indian flat bread best served with dahi raita or yogurt.
Ingredients
Cabbage: 1 cup finely chopped
Carrot: 1/2 cup finely chopped
Potato: 1/2 cup boiled & meshed
Green peas: 1/4 cup boiled
Onion: 3/4 cup grated
Ginger: 1 tsp paste
Green chili: 1/2 tsp chopped
Wheat flour: 4 tbsp
Jowar flour: 2 tbsp
Maize flour: 2 tbsp
Coriander leaves: 1/4 cup chopped
Salt: 1 tsp or to taste
Turmeric powder: 1 tsp
Garam masala: 1 1/2 tsp
Coriander powder: 1 1/2 tsp
Instructions
To make Vegetable Paratha Mixture / Dough
Heat oil in a non-stick pan and add grated onion.
Saute the onion in oil until they are golden in color.
Now add grated cabbage, carrot, green chilies and ginger paste and saute them until they are well cooked.
Add boiled green peas and mashed potato and mix well with other veggies.
Season the vegetable mixture with a teaspoon of salt or as per your taste.
Now add finely chopped coriander leaves (cilantro), coriander powder, garam masala and turmeric powder.
Combine the spices with vegetable mixture and cook for 4 to 5 minutes.
Turn off the gas and let the vegetable mixture cool off.
Now add Wheat flour, Jowar flour and Maize flour and start mixing the flour with vegetable mixture and knead into Paratha dough.
We will not need extra water to knead paratha dough. The moisture from vegetable will be sufficient for dough. If you think the moisture is a little less than add a tablespoon of water.
To roast Veg Paratha on tawa
While we start rolling parathas from dough heat a flat bottom skillet / tawa on gas.
Divide the vegetable paratha dough into lemon size balls.
Take a paratha dough ball on rolling board and apply from wheat flour.
Roll into 5 to 6 inch flat circular disc shape paratha.
Once tawa is hot place the rolled paratha on it.
Apply oil on one side and flip paratha on other side.
Cook paratha on each side til it becomes golden brown.
Vegetable Paratha is ready to serve. Serve Veg paratha with yogurt, cucumber raita, dal fry or chana masala.
If you are looking for more Indian flat-bread recipes then do check garlic naan, lachcha roti, methi thepla and gujarati bhakri.