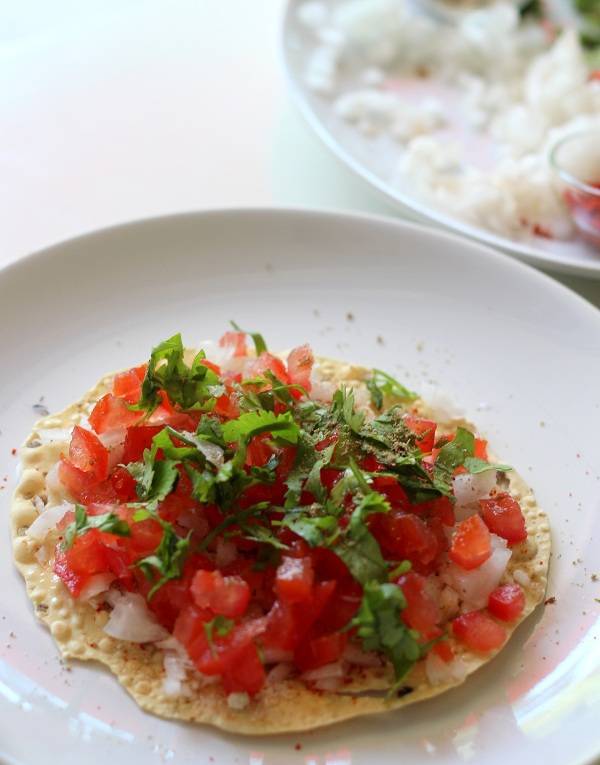 Roasted Masala Papad – Masala papad is a great appetizer often served as starter/side dish in restaurants. Its basically a deep-fried papadum topped with freshly cut tomatoes, onions and drizzled with red chili powder and salt.
Whenever I go out to a restaurant for dinner with my family we always order a masala papad. By the time main course is served we all enjoy the appetizing masala papad. Mostly masala papad is ordered along with Punjabi main course. However this is not always true, I remember once  we were in mood of having Gujarati food in restaurant (my favorite bajra no rotlo, ringna nu bharthu and sev tameta nu shaak) we ordered masala papad.
Masala papad is good to eat only within few minutes it is served otherwise it tends to absorb moisture from topping and quickly become soggy. Also in restaurant they deep fry the papadum for masala papad. But for this simple home made masala papad recipe I have roasted the papad on tawa/pan.
This is a tawa roasted masala  papad recipe for those people who don't have oven or microwave. This is the best way to roast your papad. If you have a griller you can also grill your papad which would give a nice grilled texture on your papad.
Here is a small twist to the classic masala papad recipe. If your local grocery store has nice stock of Italian vegetables than do use San Marzano tomatoes on roasted masala papad to give it really great flavor.
Before we dig into the worlds simplest recipe (common there is hardly any recipe in masala papad :D) let us go through some useful tips that you should keep in mind while making this delicious appetizer for a dinner party.
Useful Tips for making Roasted Masala Papad
Don't sprinkle salt on top of the tomatoes.
De-seed the tomatoes and then chop.
Always put the tomatoes on the top .
Instead of lemon juice add the amchur powder .
Step by step making of Roasted Masala Papad
For this simple roasted masala papad recipe we will need very few ingredients. Finely chopped onion, finely chopped & deseeded tomatoes, finely chopped coriander leaves (cilantro), red chili powder, chaat masala and amchoor/amchur powder (dried mango powder).
Also we will need urud dal papad. I have used here ready made urud dal papad (my favorite Lijjat papad), however you can make these at home if you want.
In a hot tawa or flat bottomed non-stick pan roast the papad. Fold a kitchen towel as shown below and use that to roast the papad.  This is the easiest way to avoid getting burn. A lot of people roast papad directly on burner flame using pair of tongs. But lets leave that for some other day. For this roasted masala papad recipe do as I am doing below.
Turn the papad and roast other side as well.
Place the roasted papad in serving plate and apply some butter. Trust me the butter taste yummmm. Just try once.
Now sprinkle some paprika powder (red chili powder). I have used Kashmir red chili powder as it is less spicy. You can also used smoked paprika powder.
Lets give a slight tangy flavor to our roasted masala papad. Sprinkle some chaat masala. Chaat masala is available in any Indian grocery store and  is must for any chaat recipes.
So far so good. Let us add chopped onions to masala papad.
Now there is a twist. I am adding Amchoor powder or dried mango powder to give that extra edge to our old roasted masala papad recipe.
Add chopped tomatoes. We have de-seeded them to remove that extra moisture that can make our masala papad soft.
Lastly sprinkle some finely chopped coriander leaves (cilantro) on masala papad.
Wow.. look at that! soo yummy. Masala papad goes well with almost anything & everything. Serve it like this with Punjabi curries or masala khichdi or tawa pulao, jeera rice.
Roasted Masala Papad on Tawa| Roasted Masala Papad
Roasted Masala Papad: A roasted mildy spicy papadum served with fresh tomatoes, onions smeared with chaat masala and dried mango powder.
Ingredients
Urad dal papad: 2 piece
Onion:1/2 cup, finely chopped
Tomato :1/2 cup, de seeded & finely chopped
Coriander leaves:1/4 cup, chopped
Butter:2 tbsp
Red chili powder:1 tsp
Chaat masala: 1 tbsp
Amchoor powder: 1/2 tbsp
Instructions
To roast Papadum
Roast the urad dal papad (papadum) on the tawa by sightly pressing hot tawa with a cloth. Do this on both sides.
Once the urad papad is roasted take the papad in the plate and assemble all the ingredients one by one.
Steps to assemble masala papad
Apply butter on top of the roasted papad.
Sprinkle some red chili powder or smoked paprika powder.
Sprinkle some chaat masala.
Add finely chopped onions.
Sprinkle amchur powder (dried mango powder)
Add finely chopped & de seeded tomatoes.
Garnish it with chopped coriander leaves (cilantro).
Notes
You can roast the papad in microwave or oven or you can deep-fry the papad.