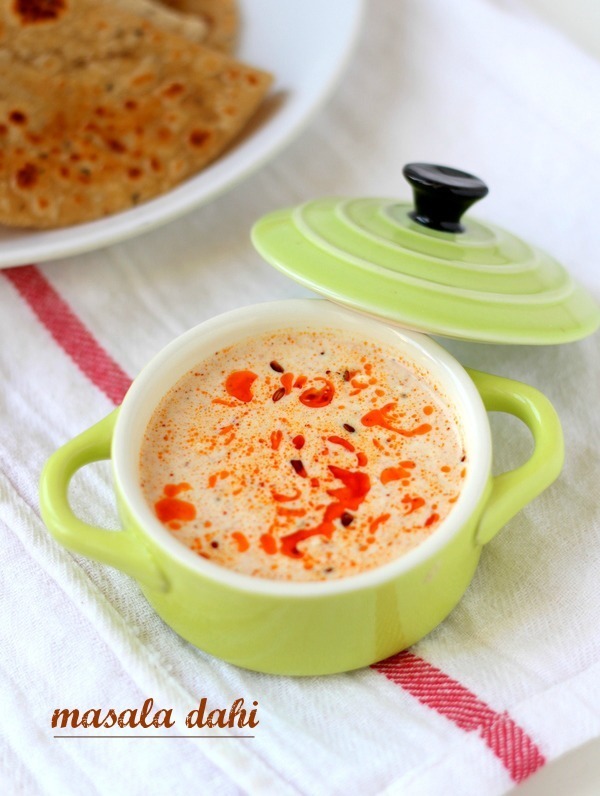 Masala dahi recipe step by step (Indian spicy yogurt dip) – A tangy spicy yogurt dip made with yogurt, garlic & tempered with indian spices, served as a side dish.
Let me share a quick and easy recipe of masala dahi with you all that is made quite often in my home. The reason why it is made so often is that it hardly take anytime to make this spicy yogurt dip. Also it goes really well with all kinds of parathas and thepla. In my home we make thepla for breakfast. With thepla I make either tea/chai or this masala dahi. Before marriage I wasn't aware of the recipe of masala dahi. My mother-in-law showed me this simple spicy yogurt dip recipe one day and it become instant favorite. Since that day I am making this almost every week once or twice.

The garlic-ky taste of this masala dahi highly complements any paratha or thepla. I have used fresh garlic and tempered it in red chili powder and cumin seeds. You can also use red garlic chutney and skip the fresh garlic and red chili powder. Most of the times I prepare this dry red garlic chutney and store it in refrigerator. Then later I just use it in sabzis and other recipes.
Yogurt or curd based side dish is quite popular in Indian sub-continent. Any Indian home or restaurant menu is empty without yogurt based condiment known as "raita". A raita is a yogrut based side dish prepared by adding vegetables or fruits. Yogurt helps in balancing the spiciness of other Indian main course dishes. Also it improves digestion process and aide in digestion. Thus it is quite normal to find raita in any indian thalis. Some of my favorite raita dishes are cucumber raita, carrot raita & pineapple raita.
The recipe of masala dahi is however different from other raita dishes. First it doesn't have any vegetable or fruit. Also it is a bit spicy due to red chili powder. So masala dahi will definitely taste different to your taste buds. Next time if you are making parathas for breakfast then do make this spicy yogurt dip and served it with paratha.
Let us check the simple recipe of masala dahi with step by step pics.
Recipe of Masala Dahi with step by step pictures
To make the masala dahi recipe we will need these basic ingredients: yogurt or whisked curd (dahi), oil, cumin seeds, asafoetida (hing), curry leaves (kadi patta), red chili powder, coriander powder, garlic and salt.
All the ingredients along with their exact quantities are described in detail in recipe box at the end of this post.
Take the yogurt in a bowl. If you have homemade curd then you can use that too. Just whisk the curd thoroughly so that no lumps remains. Add salt in the yogurt and mix well.
Let us make the masala or tempered spices for masala dahi. Take a tadka pan and heat oil in it. Once the oil is hot add cumin seeds (jeera) and let it turn golden in color.
Add asafoetida (hing) in the oil.
Now add curry leaves (kaddi patta) in the tadka. Be careful as the kadi patta can splutter hard in hot oil.
Take the finely chopped garlic and add in oil.
Let the garlic get saute in hot oil for few more seconds.
Add red chili powder (lal mirch powder) in the oil. Also add the coriander powder (dhaniya) and mix well in oil.
Mix well all the spices in hot oil and the tempered spices for our masala dahi is ready.
Pour the tadka on top of yogurt and mix well.
Spicy masala dahi (spicy yogurt dip) is ready. Serve the masala dahi as side dish for any paratha recipes like jeera paratha, ajwain paratha, vegetable paratha or even methi thepla.
Let us check the summary of masala dahi recipe with ingredients & steps.
Masala Dahi Recipe Box
Masala Dahi Recipe (Spicy Yogurt Dip)
Masala Dahi (Spicy Yogurt Dip) - A spicy side dish/condiment made from yogurt and Indian spices.
Ingredients
Yogurt (dahi): 1 1/2 cups
Oil: 1 tbsp
Cumin seeds (jeera): 1 tsp
Curry leaves (kadi patta): 4 leaves
Garlic : 2 tsp finely chopped
Coriander powder (dhaniya powder): 1 tsp
Red chili powder: 1 tsp
Asafoetida (hing): 1/4 tsp
Salt: 1 tsp or to taste
Sugar: 1/2 tsp (optional)
Instructions
Take the yogurt in a bowl. If using curd (dahi) then whisk it gently using whisker so that no lump remains.
Add salt in the yogurt and mix well.
Heat oil in a tadka pan and once hot add cumin seeds.
Once the cumin seeds turn golden brown add asafoetida (hing).
Add curry leaves (kadi patta) in the tadka.
Once the curry leaves flutters add finely chopped garlic and saute for few seconds.
Add the red chili powder and coriander powder in tadka and mix well.
The spicy tadka (masala) is ready. Pour the tadka on yogurt and give a gentle whisk and mix well.
Spicy delicious masala dahi is ready. Serve this masala dahi with jeera paratha or vegetable paratha or methi thepla.
Other related yogurt based side dish