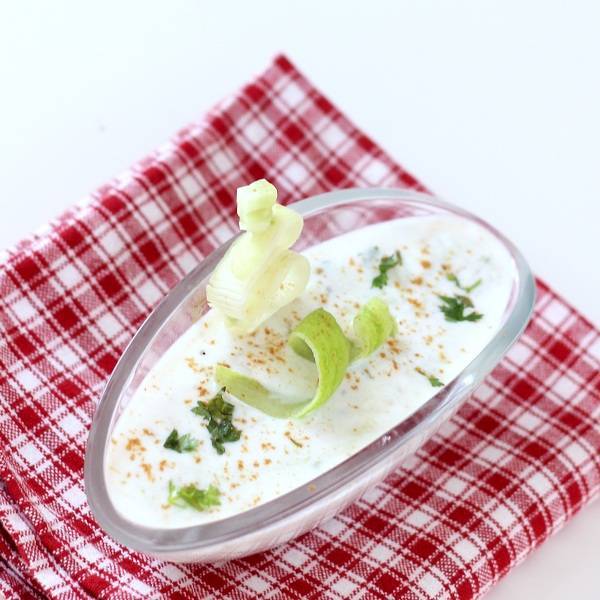 Cucumber Raita Recipe (Kakdi Raita) – Whenever we talk about dahi raita the first raita comes in our mind is cucumber raita. This raita is very simple yet everyone loves it. Dahi raita is extremely popular among Indians and goes well with almost all main course dishes. Raita is prepared by adding different vegetables or fruits to curd. It helps balance the spiciness of Indian cuisine. Indian curries are a bit spicy so most of the time some kind of dahi raita is served along with curries , biryanis etc to mellow down the spicyness.
If we are talking about the benefits of this raita, the two main ingredients curd and cucumber are very beneficial for health. Curd is nutritionally rich in protein, calcium,vitamin D, vitamin C and vitamin B12. Curd helps to improve the digestion as well as boost up our immunity. Cucumber is a member of a guard family which original found in Southern Asia earlier but now in almost all continents. Cucumber aids in digestion and even keeps our body hydrated. This cucumber raita is best served in summer. It helps cooling body and reduces overall body temperature in a hot summer afternoon.
I have used home made curd to prepare this cucumber raita. You can use any kind of ready made yogurt available in market. Lot of people uses Green yogurt for raita dishes as it offers more protein compared to other readily available yogurt. Ready made yogurt is different than curd available in India. It is smooth and already whisked. If you are using curd than whisk it well before adding all raita ingredients.
I make so many different types of raita but cucumber raita is my favorite and I make almost every week once or twice. We serve kheera raita with masala khichdi also.
Let us quickly check the ingredients and steps to assemble cucumber raita (kheera raita).
Steps to assemble cucumber raita (kakdi / kheera raita)
For this simple cucumber raita (kheera raita) we need following ingredients. A bowl of yogurt / curd whisked into smooth paste. Cucumber both grated and diced. I like small dices of cucumber in my raita but you can use cucumber any way. Also we need some black salt (kala namak), salt and roasted cumin powder (jeera powder), freshly chopped coriander leaves and some chopped green chilies. Green chili is optional. If you are making raita for kids than you can avoid using green chilies.
In a bowl take yogurt and whisk it using spoon. Add grated cucumber to yogurt.
Also add the diced cucumber. I have made small dices of cucumber as they are easy for bite.
Now add roasted cumin powder, chopped green coriander, salt, black salt (kala namak) and chopped green chilies (optional).
Mix all the ingredients well with the help of spoon.
Sprinkle some roasted cumin powder on top. Our healthy delicious cucumber raita is ready. Serve the cucumber raita with any pulao preparation like tawa pulao, green peas pulao. Also you can serve this raita with methi thepla, jeera paratha etc.
Cucumber Raita Recipe Box (Kakdi Raita)
Cucumber Raita Recipe
Cucumber Raita Recipe
Ingredients
Curd / yogurt: 1 1/2 cup
Cucumber: 1/2 cup diced
Cucumber: 1/2 cup grated
Salt: 1 tsp or to taste
Black salt (Kala namak): 1 tsp
Cumin powder: 1 tsp roasted
Coriander leaves: 1 tbsp finely chopped
Instructions
In a bowl take yogurt and whip it thoroughly and make smooth paste.
Add grated cucumber and diced cucumber in yogurt and mix it.
Now add the seasoning spices: black salt, table salt and cumin powder. Mix it well.
Garnish it with freshly chopped coriander leaves.
Cucumber raita is ready. Serve raita with tawa pulao, green peas pulav, methi thepla or aloo paratha.
Notes
If the curd seems to be thick then adjust the consistency of cucumber raita by adding 1 or 2 tbsp of water and mixing it well.
If you are looking for more dahi raita recipes then do check boondi raita and onion tomato raita.