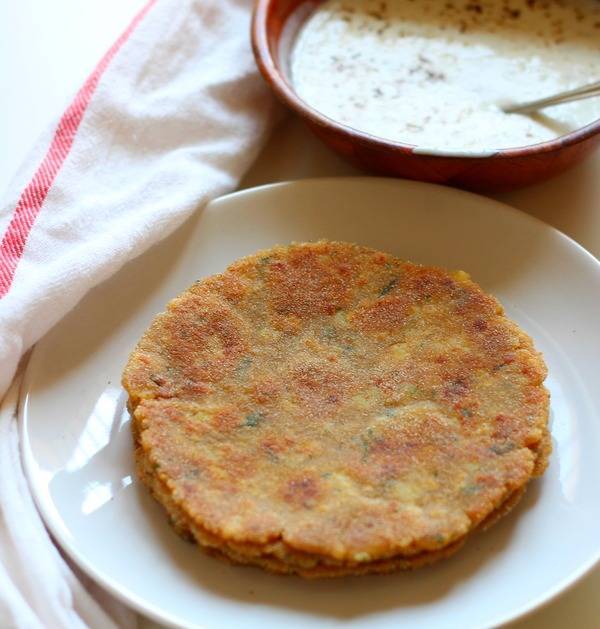 Rajgira paratha recipe for fasting or vrat – A healthy gluten free recipe of amaranth flour and mashed potato parathas served during fasting in festivals such as navaratri. Rajgira or amaranth flour is not what we usually eat in our daily diet. Rajgira is made from amaranth grains which are comparable to rice and maize. This flour is unique in a way that it is gluten free. Hence it is best for those who are gluten intolerant or those who are observing fasting or vrat.
Related: sabudana khichdi | samo khichdi | masala peanuts
During fasting we usually avoid gluten for a day and revive our digestive system. Vrat helps in cleansing both mind and body and has great health benefits. Also it gives us break from routine food of sabzi roti dal chawal. During festive season like navaratri, ekadashi (agiyaras in gujarati) these fasting food (not fast food :D) are served. During navaratri people fast for nine days (called ektana in gujarati) and during these 9 days we can make different varieties of farali recipes.
Rajgira is one ingredient like sabudana and potato that is often used in making vrat recipes. We can make lot of different farali recipes using rajgira flour like rajgira puri, rajgira sheera, rajgira ladoo etc. Rajgira paratha goes really well with a farali potato sabzi known as farali sukhi bhaji. Also during summer when mangoes are in season we always have mango juice (aam ras) which complements this paratha. Rajgira parathe taste really great and hence you can make this paratha even during regular days instead of just fast days. They remains soft after making and hence goes well with any Indian sabji. Also you can serve this parathas in tiffin or dabbas instead of regular chappatis.

Before we dig into the farali recipe of rajgira paratha let us check few tips that will help us in making this recipe.
Tips for making perfect Rajgira Paratha for Fasting
Rajgira paratha is difficult to roll as it get stuck on rolling board. You can you use plastic sheets (cling film) to roll the parathas.
If the dough has become soft then add some extra flour and mix it well. This way you can roll it easily.
Always handle the rolled rajgira paratha with soft hand or else it may break.
Add sufficient quantity of mashed potato as describe in recipe. It gives binding to the flour.
In case if you cannot make the paratha then don't worry. With the same dough make small size puris and roast it as we roast parathas.
This rajgira paratha can also be made by mixing other ingredients like paneer. Rajgira paneer paratha is a different recipe of rajgira where panner stuffing is made and stuffed inside rajgira paratha. Rajgira paneer paratha is also a farali recipe and hence can be served during fasting/vrat.
Getting back to the recipe let us check the step by step vrat or farali recipe of Rajgira paratha with pictures.
Recipe of Rajgira Paratha for Vrat/Fasting with Step by step photos
To make this delicious gluten-free fasting or vrat wali recipe of rajgira paratha we will need these ingredients. Around 1 cup of rajgira atta/amaranth flour.  2-3 boiled and mashed potatoes, ginger and green chili paste, fresh coriander/cilantro, oil and salt for seasoning.
You can find the exact quantities of each of ingredients in recipe box at the end of this post.
First let us make the dough for rajgira paratha.
1. Rajgira Paratha Recipe – To make Dough for Rajgira Paratha
Take rajgira flour or shinghade ka atta in mixing bowl and add ginger paste, garlic paste, finely chopped coriander (cilantro) and boiled and mashed potato. Add salt as per your taste. Now while adding little water at time start kneading the dough for rajgira paratha recipe.
The dough will not become as soft as roti dough. As there is no gluten in rajgira the dough will remain a bit grainy and stiff.
Divide the dough in small round balls roughly size of a big lemon. Make such balls and keep aside for rolling. Let us now roll the rajgira parathas.
2.  Rajgira paratha recipe – To roll Rajgira Paratha
Take a dough ball in hand and press between palms to make it a bit flatter. Coat the dough ball in rajgira flour as shown here and place it on rolling board (chakla). Now with the help of rolling pin (belan) start rolling the paratha. Be careful if you are rolling this paratha for first time. It tends to break 🙂 In sometime you will get hold to it and will make good round disc of paratha.
Rajgira paratha is rolled and ready to roast.
3. Rajgira Paratha Recipe – To roast/fry the rajgira paratha
Heat a flat pan / tawa on gas and place rajgira paratha on it. Apply oil on one side using a spatula and roast it properly. Now flip the paratha and apply oil on other side. This way roast the rajgira paratha like we roast normal paratha.
Rajgira paratha is ready. You can serve this paratha during fasting or vrat for navaratri, ekadashi etc. Serve rajgira paratha with vrat wale aloo or dry aloo sabzi for fasting.
Let us check a recap recipe of rajgira parathe for fasting or vrat.
Rajgira Paratha Recipe Box
Rajgira Paratha Recipe
Recipe type:
Vrat/Fasting
Ingredients
Rajgira : 1 cup
Potatoes : 1/2 cup
Ginger : 1 tbsp
Green chilies: 1 tsp
Oil : 1 1/2 tsp
Salt : 2 tsp or to taste
Fresh coriander/cilantro : 1/4 cup finely chopped
Instructions
Pre-preparations
Boil the potatoes and peel off the skin. Once cool down, mesh the potatoes and keep aside.
Steps to prepare Rajgira paratha dough
In a bowl take rajgira flour and add boiled and mashed potato, ginger paste, chopped coriander, green chili paste, oil, salt to taste and mix well all the ingredients.
While adding little water at time start kneading dough for rajgira paratha. Do not let the dough to become too soft as it will be difficult to roll into paratha.
Now dough is ready make the small lemon size balls and keep aside for rolling.
Heat a tawa/flat pan to roast the rajgira paratha while we roll them.
Steps to make Rajgira Paratha
Take one small ball of rajgira dough and dust it with rajgira flour and place it on the rolling board (chakla/paatlo).
With help of the rolling pin (belan) start rolling the paratha with soft hand or else the paratha tend to berak. If paratha is sticking to the rolling board then dust the board with the dry rajgira flour.
Once the paratha is rolled, put it on hot tawa and cook for about a min.
Then flip the paratha and add oil on top side and cook for another minute.
Again flip the paratha and press the paratha with the help of spatula so that you get nice golden brown color on both side.
This way cook all the parathas .
Rajgira paratha are ready to serve. Serve this vrat wale paratha with aloo sabzi for fasting or dry aloo for fasting.
Other fasting recipes similar to rajgira paratha that you may want to check