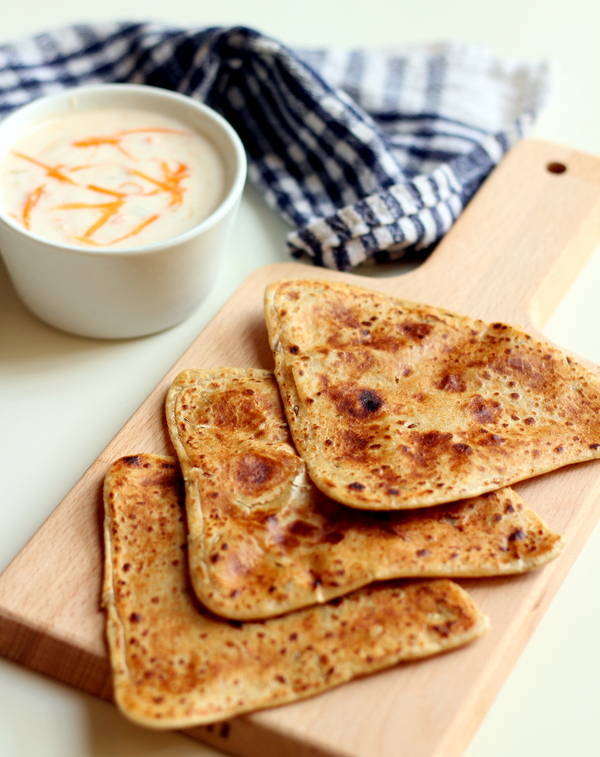 Jeera Paratha Recipe – "Breakfast like a king" – my hubby say that very often 🙂 So I always try to make king size breakfast for him. Be it bread upma, gujarati bhakri, vegetable paratha or these delicious jeera paratha. Jeera parathas make a great breakfast dish or even you can serve them in dinner. These cumin flavored Indian flat-bread tastes so well that you can even eat them on their own. Usually I make these jeera parathas in morning and serve them with any dahi raita dish and a cup of tea.
Mostly in the Northern states of India parathas are made with lots of love & ghee 🙂 People call them by their local name "parantha", "parota" or "parontha" etc. Whatever you call them they still are healthy whole wheat flour (sometimes maida) based flat-bread that might have stuffing in it. Parathas cooked in ghee or clarified butter are very heavy on stomach but then people do exercise well also. Just to cut few calories I make paratha in Oil but its totally ok if you love ghee.
These cumin flavored paratha or jeera paratha are simple and easy to make. I have made them in triangular shape but you can even roll them circular like plain paratha. Also lot of people spread cumin on top of dough while rolling paratha. I find that jeera doesn't spread uniformly if spread like that. So I incorporate jeera while make the dough itself.
Let us quickly check the recipe to prepare jeera paratha from whole wheat flour with step by step pictures.
Recipe of Jeera Paratha – Step by step
Take 2 cups of whole wheat flour (gehu ka aata) in a bowl to make Jeera paratha. From 2 cups of wheat flour we can make around 8 to 10 jeera paratha.
Now add cumin seeds (jeera) and salt in wheat flour. In 2 cups of wheat flour I am adding 2 teaspoons of jeera or cumin seeds. You can ofcourse adjust the quantity of jeera according to your taste. Also add salt as per your taste.
Add 1 tablespoon of Oil in the wheat flour. By adding oil the paratha dough becomes soft and we get nice soft jeera parathas. Once you add oil mix it into wheat flour.
Now adding a little water at time start kneading dough for paratha.
Add water as required while kneading the jeera paratha dough.
Once the dough is ready give it rest for 10 minutes.
Divide the jeera paratha dough into small lemon size balls. Take one paratha dough on a rolling board and make it flat by apply pressure using hand.
Roll the dough into round 4 to 5 inch diameter disc as shown here. Apply some oil on one side and spread some dry flour and red chili powder. Red chili powder is optional. If you are making these jeera paratha for kids then you can avoid red chili powder.
Fold the paratha into half so that the red chili powder layer remains inwards. Apply some oil on semi-circular side and fold into quarters as shown here. Using a rolling pin start rolling the paratha in this shape while maintaining its triangular shape.
Roll the paratha into triangle shape parathas. This might require a bit of practice but once you are used to it you can make perfect triangles.
Repeat the above steps with remaining paratha dough balls and roll triangle shape jeera parathas. Now let us roast the paratha on pan or tawa. For this heat a flat-bottom non-stick pan or tawa and once hot place the rolled triangular jeera paratha.
Once you see bubble start forming on top side apply some oil on this side and flip it over.
Let the paratha gets cooked on each side for around 30 to 40 seconds while you apply oil on each side.
Press the paratha using a flat frying spoon and cook until each side turns golden brown in color.
Once the paratha is cooked properly take them off tawa and place in a serving plate. Repeat the process for rest of rolled triangular jeera parathas and prepare a stack of parathas.
Jeera paratha is ready now. Serve these yummy jeera parathas with simple green chutney or any type of curd raita like carrot raita, cucumber raita etc. You can even serve jeera parathas with daal such as dal palak or lasooni daal.
Jeera Paratha or Cumin Parantha Recipe Box
Jeera Paratha Recipe
Jeera Paratha Recipe - A tasty cumin flavored Indian flat-bread recipe that goes well with yogurt raitas and daals.
Ingredients
For making dough
Wheat flour: 2 cups
Jeera (cumin seeds): 2 tsp
Oil: 1 tbsp
Salt: 1 tsp or to taste
Water: 1 cup or as needed
For making jeera paratha
Oil:6 tbsp
Dry wheat flour: 1 tbsp
Red chili powder: 1 tbsp (optional)
Instructions
In a mixing bowl take whole wheat flour and add cumin seeds, oil and salt to taste.
Mix well all the ingredients.
Once everything is mixed add water as required and knead dough.
After the dough is kneaded rest it for about 5 minutes.
Now divide paratha dough and make small lemon size balls.
With the help of the rolling pin roll the small ball into small 4-5 inch diameter puri.
Apply oil, dry wheat flour and red chili powder and fold into half and again apply oil and fold to forms a small triangle.
Repeat the steps for remaining dough balls and make triangles and keep aside.
Now carefully roll all the triangle into triangle paratha.
Heat a flat bottom non-stick pan or tawa and place the triangle paratha on it.
When you see bubble start coming on top flip the paratha to the other side.
Apply oil on top and again flip the paratha cook properly on both side till golden brown.
Jeera paratha is ready. Server it with veg jaipuri, palak daal or boondi raita or onion tomato raita.

Recipes Similar to Jeera Paratha Recipe
Also check following recipes which are similar to Jeera paratha: