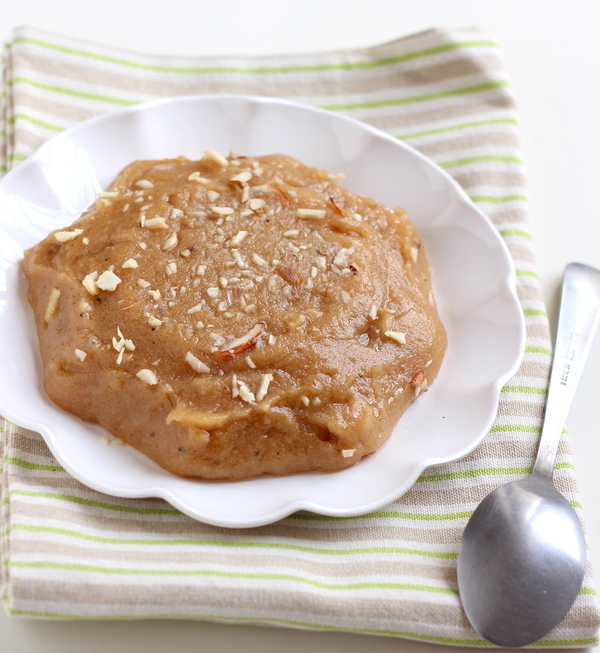 Rajgira sheera recipe or rajgira halwa recipe – Let me share a simple and easy fasting recipe that you can make in no time. Within minutes you can make this delicious fasting or vrat recipe using one main ingredient – rajgira or amaranth.
Amaranth also popularly known as Rajgira in India is the ace of ingredients consumed during fasting. The other ace is sabudana (famous recipes: sabudana khichdi, sabudana vada, sabudana pakoda etc). The amaranth flour is gluten-free and very healthy flour made from amaranth. It's slightly coarse compared to Singhara atta or kuttu flour which gives more texture to this fasting halwa or sheera. I have also shared fasting recipe of rajgira paratha best served with vrat ke aloo on this food blog.
Related: Rajgira Paratha for Vrat/Fasting
Rajgira atta ka halwa or rajgara sheera is usually made during Navaratri festival or fasting on ekadashi. During these 9 days of festival we observe fasting where these kind of food is served. Wheat flour is avoided and we consume gluten-free food that helps in reviving the digestion system. Fasting is good for both body and mind. An occasional fasting is consider quite helpful for body.
This is a easy recipe of rajgira sheera where I have not used milk. You can make this halwa like I have made or also add milk to it. Adding milk will make it richer and heavy. I avoided milk as I think it is better this way during vrat/fast. So either way you cook it taste quite great.

One of the crucial step of making rajgira sheera for fasting is to roast the rajgira flour first without letting it burn. Below are few pointers to keep in mind while making rajgira halwa for the first time.
As you roast the rajgira flour in clarified butter (ghee) it starts oozing out from the sides. That's when you know its done.
You will also start getting sweet smell of the halwa.
Also the color of rajgira changes and becomes a light golden brown. That's when you know its done.
Below are few additional tips that will help you in making perfect rajgira sheera.
Tips to take care while making rajgira shiro
Always roast the rajgira flour on low flame or it will get easily burnt.
Keep on stiring the flour while roasting.
Always add the warm water or milk in sheera.
Always pour water or milk in the halwa from the side of the pan as it releases the hot steam which might give nasty burn.
Do not add more ghee as in the beginning it soaks the ghee but once done it starts oozing it out. So add the given quantity of ghee only.
Let's now check the step by step recipe of rajgira sheera or halwa with pictures.
Rajgira Sheera Recipe with step by step photo
Take clarified butter or ghee in a kadhai and heat it.
Once the ghee is hot, add rajgira flour and roast it. Continuously stir and roast the rajgira flour.
Once the color changes to light golden brown that means rajgira flour is roasted.
In another vessel take water and make it warm.
Add warm water to the roasted rajgira flour.
While adding the water stir it continuously or else the lumps will form in your halwa
Now at the end add sugar to your halwa. Mix well. Cook the halwa until the water evaporates and nice thick halwa remains. By this time, the halwa must start releasing pan sides.
Once the halwa is done it starts oozing out ghee. Add cardamom powder to the sheera. Though its optional, it gives great taste.
Finally garnish the rajgira sheera with slivered dry fruits of your choice.
You vrat ka sheera – rajgira sheera is ready to eat.
Rajgira Sheera Recipe Box
Rajgira Sheera Recipe (Rajgira Halwa)
Rajgira Sheera Recipe for vrat - A delicious sweet recipe served during fasting season of navaratri fast or ekadashi.
Ingredients
Amaranth flour (rajgira) : 1/2 cup
Clarified butter (ghee) : 4 tbsp
Water : 2 cups
Sugar : 1/4 cup
Cardamom (elaichi) : 1/4 tsp
Dry fruits : 2 tbsp. slivered
Instructions
Start by heating the clarified butter or ghee in a deep kadhai.
Once the ghee is hot add rajgira flour in it and start stiring it.
Keep on stiring and mix until the rajgira flour is mixed nicely with ghee. In sometime it starts oozing out ghee & changes its color.
Rajgira is roasted in ghee, now pour warm water or milk into it and stir it.
Mix the water into rajgira. Add sugar at this time.
Heat the halwa on low/medium flame until the water evaporates. Stir the halwa continuously while cooking it.
Rajgira sheera is done once it gets good texture and start releasing the pan.
Delicious sweet rajgira sheera is ready for fasting/vrat. Serve this sheera warm during Navaratri festival.
Other Fasting recipes similar to Rajgira halwa