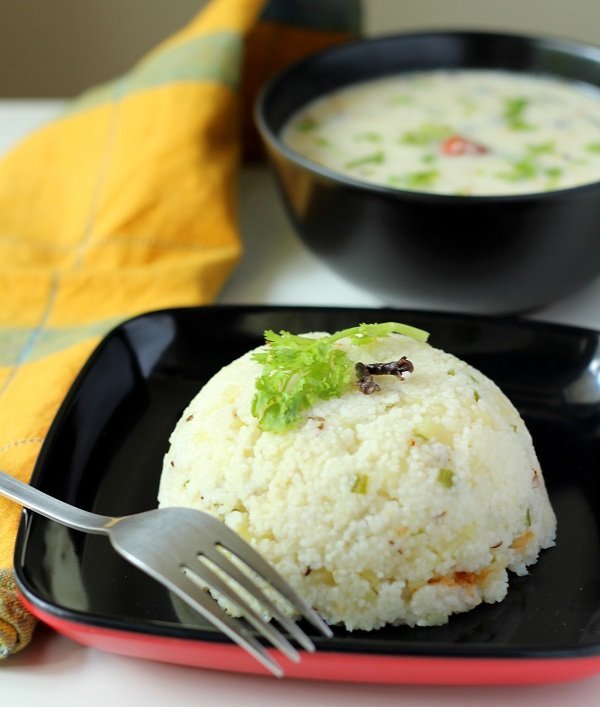 Moriya Khichdi (Vrat ki Khichdi) –  Indian barnyard millet, also known as moriya, varai, samo, bhagar or  "vrat ke chawal" are tiny grains from millet family that are commonly consumed during fasting days like navaratri fasting or ekadashi fasting.
Fasting is an integral part of Hinduism (or for that case any other religion). Individual following different religious views often observe different kinds of fasts based on personal beliefs and local customs. However, fasting is not only a part of worship, but a great instrument for self-discipline too. It is a training of the mind and the body to endure and harden up against all hardships, to persevere under difficulties and not give up. According to Hindu philosophy, food means gratification of the senses and to starve the senses is to elevate them to contemplation. Luqman, the wise once said:
When the stomach is full, the intellect begins to sleep. Wisdom becomes mute and the parts of the body restrain from acts of righteousness.
Moriya also known as in english Indian barnyard millet is great alternative of cereal grains as during fasting days they are commonly abstain from. Hence they are also called as vrat ke chawal (rice for fast).
This Moriya khichdi is a simple dish and easy to cook with no pre preparation. All we need is some chopped potatoes, green chilies and ginger. And of course Moriyo.
Similar to Gujarati khichdi and kadhi, the moriya khichdi is served along with a special farali kadhi that makes a great meal on fasting days. An alternative to moriya khichdi is sabudana khichdi. It is also a fasting recipe and can be served during vrat/upvas.
Let us check the step by step recipe of moriya khichdi (farali khichdi).
Step by step Moriya Khichdi recipe (Farali khichdi/Fasting khichdi)
The key ingredient for this vrat khichdi is Moriya or Samo. It is readily available in Indian grocery stores. Other than moriya we used potato, ginger and green chilies.
Start by pealing off the potato skin and cut it into small dices. Also finely chop green chilies and ginger.
Next start the tempering process. Heat a tablespoon of oil in a thick bottom non-stick pan and add cumin seeds (jeera), cinnamon stick (dal chini), cloves (laung) and dry red chili. Let the spices get tempered in hot oil.
Once the spices starts spluttering and chopped green chilies and ginger. Saute the ginger for a minute to remove the raw flavor.
Next throw in the chopped potato into oil and mix it well. Also add salt to taste. Let the potatoes get cooked on medium flame for 2 to 3 minutes.
Once the potatoes gets soften (check by pressing a piece under spoon or spatula), add around two cups of water. Let the water comes to boil.
Slowly start adding moriya (samo/vari) into the boiling water while stirring it occasionally.
Moriya should start soaking water now. Let it cook on low flame for around 5 to 7 minutes.
Let the water gets dried out a bit. Now add the curd / yogurt in moriya khichdi. Mix everything well and let it cook again for 2 to 3 minutes till water gets evaporated.
Moriya khichdi is ready to serve. This khichdi can be served along with fasting kadhi (vrat ki kadhi).
Moriya Khichdi Recipe, Moraiya Khichdi (Farali Khichdi)
Moraiya Khichdi - Samo/Moriya khichdi for vrat and upvas. Moriya khichdi is light main course khichdi dish served during festive seasons.
Recipe type:
Main,Fasting
Ingredients
Samo (Moriya/Moraiya): 100 grams
Green chili: 2 piece, finely chopped
Potato: 1/2 cup, chopped
Ginger: 1 tbsp, grated
Curd/Yogurt: 2 tbsp
Oil: 1 tbsp
Cumin seeds: 1 tsp
Dry red chili: 1 piece
Cinnamon stick: 1/2 inch
Cloves: 3 piece
Water: 2 cups
Salt: 2 tsp or to taste
Instructions
Rinse the samo (moriya) with water and drain water.
Peal off the potato skin and chop into small dices. Also finely chop the green chili and ginger.
Heat oil in a pan and add cumin seeds, cinnamon stick, cloves and dry red chili. Let the spices get splutter in hot oil.
Add chopped green chilies and ginger and cook for a minute.
Now add the chopped potato and salt to taste and cook for 2-3 minutes till potato gets soften.
Pour water and let it come to boil once.
Now slowly add Samo (Moriya) in boiling water while you stir it.
Samo (Moraiya) will soak the water. Let it simmer in boiling water for 5-7 minutes in low flame.
Then add curd / yogurt and mix it well. Cook for another 2-3 minutes on low flame till water gets evaporated.
Tasty Moraiya Khichdi is ready to serve.