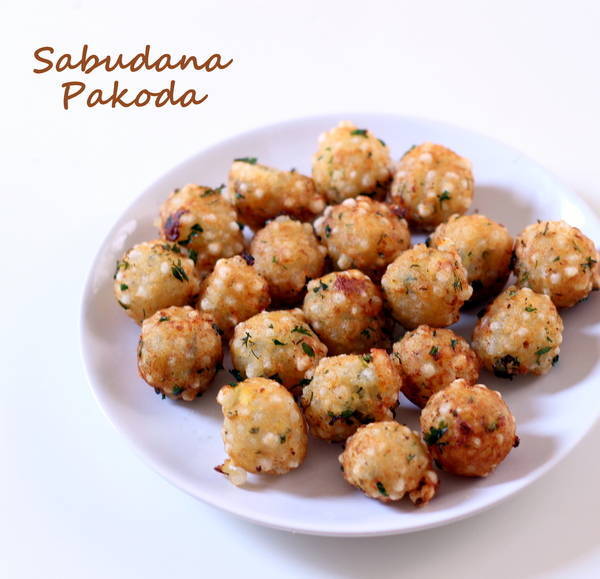 Sabudana Pakoda Recipe (Fasting or Vrat Recipe) – In India we observe fasting during many occasion. Whether it is festivals like Navaratri or days like Ekadashi. Almost all around the year fasting or vrat is observed some of the other day. The best part about fasting is that we tend to break the routine and give a break to our tummy. During this time some food ingredients are not consumed while other fasting ones are served.
The main ingredient that you will find in most of the fasting recipes is sabudana or sago. There are so many fasting / upwas dishes that can be made using this single ingredient like sabudana khichdi, sabudana vada, sabudana kheer etc. Other than sabudana potato and peanuts are also used in fasting dishes. The idea is to prepare simple easy to digest food with less spices making it best for health. Fasting recipes thus are healthy recipes too.
In my home we make sabudana pakoda very often. Everyone likes this sabudana pakora. That's why if someone is observing fast then this pakoda is made for whole family. Mostly I make this sabudana pakoda during ekadashi or navaratri. Even if you are observing fast during weekdays such as monday fast, saturday fast or thursday fast, this recipe is best for you. I have added rajgira atta or amaranth flour in this sabudana pakora recipe. That gives a great taste and binds all ingredients well. Also rajgira (rajigra) is a common fasting ingredients used to make so many different fasting or vrat ki recipes such as rajgira puri, rajigra paratha or thepla, rajgira sheera etc.
This simple and easy to make sabudana pakoda can be served as evening snacks too. If you have prepared lot of them and you have some leftover then don't worry. Just preheat these sabudana pakoda in microwave for a minute and you are good to go.
Getting back to the recipe of sabudana pakoda or pakora. Let us check the step by step recipe of sabudana pakoda.
Recipe of Aloo Sabudana Pakoda – step by step with photos
Take a cup of sabudana or sago and soak it in water. Keep sabudana atleast 1 inch submerge in water for soaking. Soak  the sabudana for over night or atleast for 4 to 5 hours. Sabudana should be soaked well otherwise it tends to splutter once fried in hot oil.
Once sabudana or sago is sufficiently soaked in water it should get almost twice in size and also becomes soft.
Now boil the potato and peel off its skin. Mash the boiled potatoes. In a mixing bowl take soaked sabudana and add mashed and boiled potato. Also add in some chopped fresh coriander leaves (cilantro), finely chopped green chilies and grated ginger or ginger paste. Also add the lemon juice.
Add rajgira flour also known as singhare ka atta or amaranth flour. All the ingredients we have added are good for fasting. Thus this is a great dish to serve during vrat / upwas.
Season the mixture with salt as per your taste and mix well all ingredients with the help of a spoon or with hand. At this point to a taste test and check if seasoning is perfect.
Take a portion of sabudana potato mixture in hand and roll it into round lime size balls. Do this for remaining mixture and make balls.
Now to deep fry the sabudana pakoda or pakora heat around 3 cups of Oil in a deep bottom frying pan / kadhai. Once the oil is hot add sabudana balls. Add around 4 to 5 pakodas at a time otherwise the oil's temperature might go down.
Now using a fry strainer give a nudge to sabudana pakodas so they gets evenly fried.
Once the sabudana pakoda turns golden brown in color strain the excess oil using fry strainer or jaraa and keep them on paper napkin / absorbent paper.
Sabudana pakoda or sabudana pakora are ready now. Serve these declisious sabudana pakoda hot along with green chutney.
Sabudana pakoda Recipe Box
Sabudana Pakoda Recipe, Sago Recipe for Fasting
Sabudana Pakoda Recipe - A delicious crunchy deep fried nuggets of sabudana (sago) and potato. Best served as fastings or vrat recipe during festivals.
Ingredients
Sabudana or sago: 1 cup
Potatoes: 2 cup
Rajgira atta or singhare ka atta: 1/2 cup
Green chilies: 1/2 tbsp
Ginger: 1 tbsp
Lemon juice: 1 tbsp
Coriander leaves: 1/2 cup
Salt: 1/2 tbsp or taste
Oil: 4 cups to deep fry
Instructions
Soak the sabudana or sago over night or atleast for 4-5 hours so it becomes smooth n soft.
Boil the potatoes and peel it and mash it.
Roast the peanuts in a pan, let it cool and peel the skin and ground it coarsely.
Take sabudana in a bowl and add mashed potatoes.
Now add rajgira flour or singhare flour and coarsely grounded peanut in it.
Now add chilli, ginger, lemon juice, coriander leaves and salt to taste and mix it well.
Make even pieces of the mixer and make balls of it.
Heat oil in a pan for frying.
Once its hot put aloo sabudana balls in it and fry till golden brown.
Take out the pakoras in a paper napkin or absorbent napkin to soak excess oil.
Sabudana pakoda or pakoras are ready. Serve hot with green chutney.
Other Vrat / Fast Recipes Similar to Sabudana Pakoda Recipe