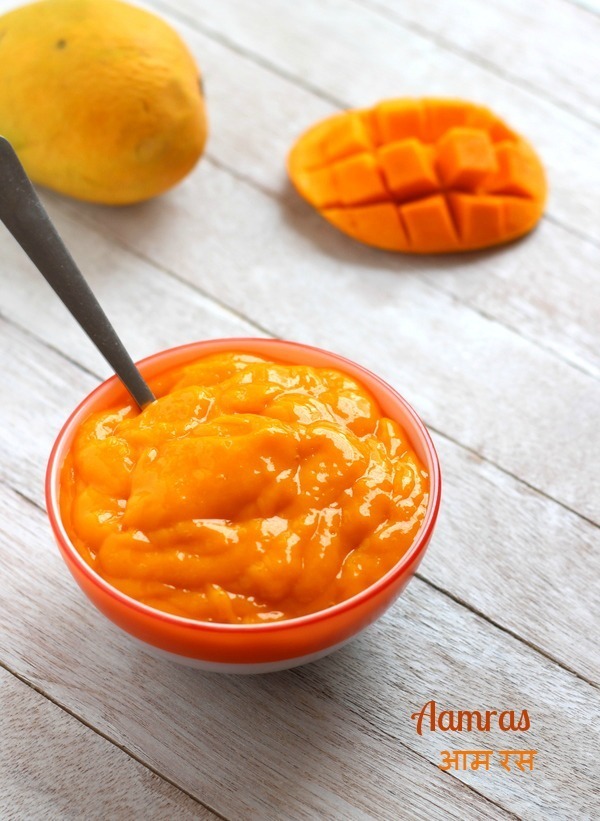 Aamras recipe for puri with step by step pictures – A sweet delicious mango treat made from flavored mango pulp served during summers with poori and sooki moong dal.
Summer is on its peak and our local market is already flooded with best qualities of alphonso mangoes. I normally start buying mangoes in the first batch itself but this year I waited as the first batch was not that good. Finally I bought a whole bunch of mangoes. My mum-in-law sent another batch of Kesar mangoes which are famous in Gujarat. So I have both Ratnagiri hapus / alphonso and talada kesar keri. Normally I make aamras from alphonso. Its too sweet and too mangoey. Also due to the natrual sweetness of alphonso we do not have to add extra sugar.
Aamras is nothing but mango juice. "Aam" means mango and "Ras" means juice. During summer season aamras is popular in western states of Maharashtra and Gujarat. In Gujarati it is also known as "keri no ras".  Aamras is also popular in Rajasthani cuisine. It is usually prepared during festival season and is flavored with different flavoring ingredients. Traditionally aamras used to get prepared by extracting the pulp of ripe mangoes using hands and passing it through muslin cloth to remove any fibrous strands. However now we just blend the fruit pulp in mixture.
Related: aam panna | kachi keri sherbet
Aamras recipe is prepared with different types of mangoes available in market. You can make aamras from Kesar or Alphonso. Alphonso is easily available in India whereas Kesar we get only in Gujarat and difficult to get in other part of India. However it is difficult to get these Indian varieties of mangoes abroad. These days Indian mangoes are being exported in quantity so it is available at many places.
I like aamras without any flavoring. I am used to that as I have grown eating aamras that way. However a lot of people like different flavors of aamras. The most popular ones being cardamom (elaichi), soonth (dry ginger powder) and also kesar (saffron). You can add these flavoring ingredient in little quantity while making aamras.

Aamras is best prepared with ripe mangoes or overripe too. Usually in my home we cut mangoes into slices and eat along with lunch. However if they are too ripe then it is best to make aamras instead of eating slices. Aamras goes really well with sookhi moong dal and puri. This is one of the traditional lunch menu in Gujarat. Even if we have guests at our home for lunch we prepare aamras, puri and sookhi moong dal.
Aamras taste best when eaten fresh. It is possible to store the aamras in refrigerator for many days however I like to consume it fresh. Other day aamras changes its color and also taste a bit different. However my mom and my bro as so used to aamras that my mom freeze the mango slices in refrigerator and make aamras from this frozen mango slices when mangoes are not in season anymore.
Let us get back and check the step by step recipe of aamras for puri or mango ras (keri no ras).
Recipe of Aamras or aamras for puri
Peel the mangoes using knife.
Using a knife, make horizontal and vertical slices as shown in below image.
Now cut the mango across as shown below. Using the same technique cut the mangoes.
Cut the remaining mangoes. Remove the stone from center and keep it away. You can make other recipes from mango seed (stone) like "mukhvaas" or mouth freshner. I will share that recipe soon.
Now using a hand blender blend the mango pulp in smooth puree. You can also use juice to make mango aamras.
Blend until mango become smooth puree.
Add a little water or milk to reduce the consistency of aamras. Optionally you can add different flavoring agent like saunth (dry ginger powder), eliachi (cardamom) or saffron (kesar).
Serve the aamras along with wheat poori or ajwain poori or phulka roti and sooki moong dal.
Aamras Recipe Box (Aamras for Puri)
Aamras Recipe (Aamras for Puri)
Aamras - Sweet flavored mango pulp served with poori and sookhi moong dal.
Cuisine:
Gujarati, Mahashastrian
Ingredients
Mangoes : 4 medium alphonso
Sugar : 1 tsp optional
Water : 1/4 cup
Dry ginger powder (saunth) : 1/4 tsp
Instructions
Peel the alphanso or kesar mango using knife.
Cut the mango into pieces and remove the center stone.
Blend the mango with the help of hand blender or juicer.
Add water or milk as per taste. If mango is sour then add a little sugar.
Blend again until it becomes smooth puree.
Add additional flavoring agent such as soonth (dry ginger powder), saffron (kesar) or cardamom powder.
Pour the aamras into serving bowl, add few ice cubes (optional) and serve the aamras with puri or phulka roti.
Other Summer recipes similar to Aamras