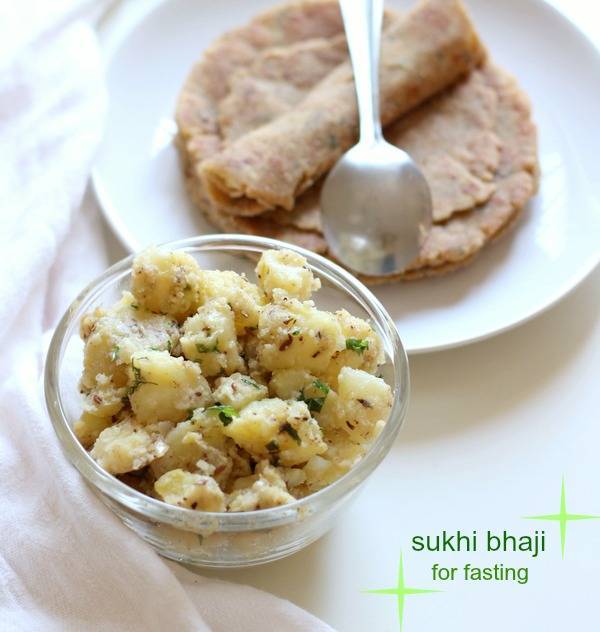 Farali Sukhi Bhaji (Dry Potato Sabji for Fasting) – A tasty dry potato curry made during fasting or vrat for festivals such as navaratri, maha shivratri, ekadashi,  janmashtami, or shravan maas upwas. I am sharing this recipe of farali sukhi bhaji as it is commonly referred to in Gujarat. This dish is a must in our home when any of the house member is observing fast.
Related: aloo ki sabji for fast with gravy
I made this farali sukhi bhaji recipe along with rajgira paratha. Rajgira also known as amaranth flour is commonly used in India in fasting recipes. It is gluten-free and is used in dishes like rajgira paratha, rajgira puri, ladoo etc. The dry potato sabji that I am sharing today goes really well with rajgira paratha.

During upwas or vrat we make so many different varities of dishes that we do not include in our day to day diet. On the fasting day we take break from usual roti sabji dal chawal and make some simple easy to digest gluten-free dishes. Potato, peanut, sabudana etc are commonly used in fasting recipes. Thus potato sabji is a must recipe for fasting.
There are different ways potato sabji is prepared for fasting. You can make potato sabji with gravy or dry. Also in dry aloo sabji there are so many variations. I have added roasted cumin and peanut in this dry potato sabji. It taste really well. Peanut gives a crunchy taste to this sabji. However peanuts are optional. You can omit them if you want.
Recipe of Farali Sukhi Bhaji step by step with photo
To make this tasty farali sukhi bhaji (dry vrat aloo sabji) we will need boiled potatoes, roasted peanut powder, ginger paste, green chili paste, roasted cumin powder, cloves, cumin seeds, oil and fresh coriander leaves.
All the ingredients along with their exact quantities are shown in the recipe box at the end of this post.
Boil potato and peel off the skin then cut them into diced.
In pan heat Oil. Once the oil is hot add cumin seeds (jeera) and cloves (laung) and cook for half a min.
Then add ginger and green chili paste and cook till the raw flavor goes off or till a min.
Let the ginger and green chili get saute in oil for sometime.
Time to add the boiled and chopped potatoes and mix well.
Then add the peanut powder (optional) to the sabji and mix well.
Peanut powder in nicely mixed with the boiled potatoes as you can see in the below picture.
Time to add salt to the sabji. (Note: You can even add the sendha namak as some people do not eat normal salt during fasting).
Add sugar to sabji to give it mild sweetness.
By adding lemon juice you get the tangy flavor in the sabji.
Now add the roasted cumin powder which gives the nice flavor to the sabji.
Once the sabji is done in the end sprinkle some finely chopped fresh coriander leaves.
Give a quick stir and the farali sukhi bhaji or dry potato sabji for fasting is ready to serve. Serve this farali sukhi bhaji along with rajgira paratha or rajgira puri, vrat ki kadhi and moriya khichdi.
Farali Sukhi Bhaji Recipe Box (Fasting or Vrat Recipe)
Farali Sukhi Bhaji (Dry Potato Sabzi for Fasting)
Farali Sukhi Bhaji - A tasty easy recipe of dry potato sabji served during fasting or vrat season in navaratri / mahashivratri / ekadashi etc.
Recipe type:
Vrat/Fasting
Ingredients
Potato (aloo): 2 cups boiled
Peanut (shingdana) : 1/2 cup roasted & powdered
Oil : 1 tbsp
Cumin seeds (jeera): 1 tsp
Cloves (laung): 2 pieces
Ginger (adrakh): 2 tsp paste
Green chilies (hari mirch): 1 tsp paste
Lemon juice: 1 tsp
Sugar : 1tsp
Roasted cumin powder : 1 tsp optional
Fresh coriander (hara dhaniya): 1 tbsp chopped
Salt : 2 tsp
Instructions
Pre preparation
Boil around 3 large potatoes. Let it cool and then peel off the skin of potato and cut into medium pieces.
Dry roast peanuts in a pan and grind it into coarse powder.
Also dry roast cumin seeds in a pan and coarse ground it too.
To make Farali Sukhi Bhaji
In a flat bottom non-stick pan or skillet heat 1 tbsp of oil.
Once hot add cumin seeds and cloves. Let the cumin seeds get flutters.
Then add ginger paste and green chili paste. Saute the ginger for a minute till the raw flavor is gone.
Add boiled potatoes and coarsely grounded peanuts and mix well.
Add salt as per your taste and stir so that potatoes are nicely seasoned in it.
Also add sugar and combine it with potatoes.
Squeeze half a lemon juice in the sabji.
Then add coarsely grounded roasted cumin seeds in the sabzi on top.
Let the sabji gets cooked for 3-4 minutes. Stir a couple of times while dry aloo sabji is getting cooked.
Farali sukhi bhaji is ready. Garnish the dry vrat aloo sabji with freshly chopped coriander (dhaniya) and mix well.
Serve the farali sukhi bhaji along with rajgira paratha or rajgira puri, sabudana khichdi and farali kadhi.
Other Vrat/Fasting recipes similar to this farali aloo sabji