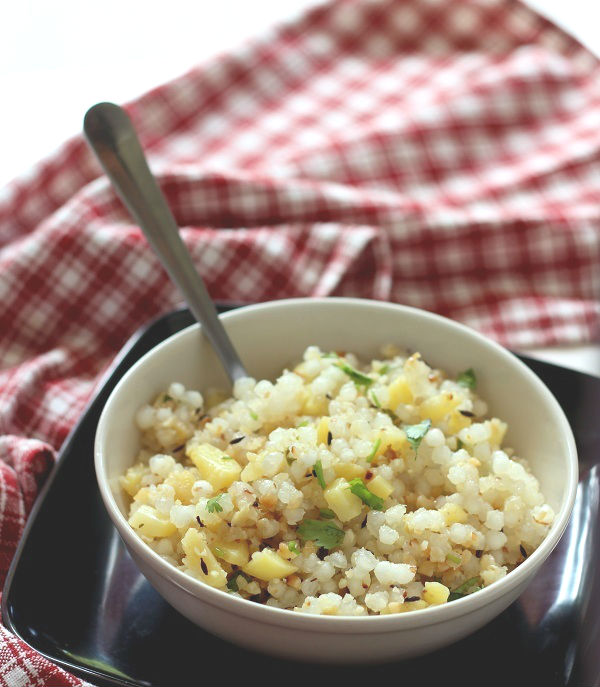 Sabudana Khichdi Recipe – There are so many different variation of khichdi recipes that are cooked in India. Khichdi is a comfort dish that usually is cooked with rice and lentils. But the word khichdi is not just confined to rice & lentils, there are so many other ingredients that are often used to make different varieties of khichdi.
One such ingredient is Tapioca sago or commonly known in Indian subcontinent as Sabudana. The sabudana khichdi also known as vrat ki khichdi is cooked using tapioca pearl with potato and peanuts. This dish is generally prepared during festival season like navaratri, ekadashi, poornima, ramnavmi etc when wheat based dishes are willingly abstinence. The sago is rich in starch forms the healthy base of this nutritious dish.
This is a gujarati style sabudana khichdi. As I mentioned earlier there are different variations of this dishes. I have stick to the old traditional gujarati version. You can also make sabudana khichdi in maharastrian style. Scroll to the end of the post to see alternate maharastrian recipe. When I cook this sabudana khichdi during fast or festival I always cook gujarati farali kadhi (vrat ki kadhi) along with it. Like sabudana khichdi there is another version of khichdi called moriya khichdi which usually is made during fasts / upwas.
Sabudana is a must have ingredient in your kitchen if you are vegetarian. You can make lots of dishes using this simple yet nutritious ingredient. Other recipes like sabudana kheer, sabudana vada, sabudana pakora, sabudana bhel etc.
Other ingredients that are often using in different fasting / vrat recipes are potato and peanuts. Here we have added coarsely grounded roasted peanut powder.
I have used coarsley pounded peanut in this recipe but you can also make sabudana khichdi without peanut. Lot of people have peanut allergy so feel free to avoid that ingredient from this recipe.
Also I have not tried but I know people making sabudana khichdi in microwave! I cannot comment until I try it once.
Here is a quick recipe box of sabudana khichdi. Scroll below to see step by step recipe with pictures.

Sabudana Khichdi Recipe, Gujarati Fasting Vrat Khichdi
Sabudana Khichdi - A tasty gluten free fasting recipe of tapioca sago (sabudana) cooked with potato & peanut.
Ingredients
Tapioca Sago (sabudana): 1 cup, soaked
Potato: 1/2 cup, chopped
Oil:1 tbsp
Cloves (laung):2 piece
Cinnamon stick (dalchini): 1/2 inch piece
Curry leaves (kadi patta):5 leaves
Ginger: 1 tsp, finely chopped
Green chili: 1 tsp, finely chopped
Peanut: 1/3 cup, roasted & coarsely grinded
Lemon: 1 tsp
Sugar:1 tsp
Salt: to taste
Instructions
Wash the tapioca sago / sabudana and soak it in water for 4 hrs.
Next day drain the excess water from sabudana and keep aside in a bowl.
Wash the potato and peel off the skin. Chop them into medium size pieces.
Coarsely grind roasted peanuts in a grinder after removing the skin. Use ready made roasted peanuts or else dry roast it on pan for 2 min.
Now heat oil in pan and add cloves, cinnamon stick, cumin seeds(jeera), curry leaves.
Once the cumin seeds flutters add chopped potato, green chili , ginger, salt to taste and cook for about 5 min till the potato are cooked.
Add the roasted peanut powder and sabudana , lemon juice, sugar and mix everything well and cook for about 7 mins.
Sabudana Khichdi is ready. Sprinkle some chopped green coriander (cilantro) on top and serve hot.
Notes
Check the end of the post for another variation of this recipe: Maharastrian Sabudana Khichdi.
Now let us check step by step recipe of Sabudana khichdi with pictures.
Step by step Sabudana Khichdi Recipe
Sabudana (Sago) needs to be soaked in water for about 4 hours before making khichdi. So wash the tapioca sago (sabudana) in running water until the starch run outs. And soak it water for 4 hrs in a bowl.
Next day strain the excess water from sabudana and keep aside in a bowl. Make sure you remove all the excess water otherwise when we cook the khichdi it will become mussy.
Now let us prepare rest of the ingredients. We need coarsely grinded roasted peanut. Roast the peanut on hot pan, peel off the skin and then coarsely grind it in a mixer/grinder. Check farali kadhi recipe to see the step by step photo of roasting peanuts and coarsely grinding them.
Also peel off the skin of potato and cut it into medium size pieces. In maharastrian version of this recipe the potato are boiled and then used. But I like to add the potatoes as is without boiling.
Last but not least, finely chop the green chili and ginger. You can de-seed the green chili if you don't want your khichdi mild in taste.
Now heat a tablespoon of oil in pan and add cumin seeds (jeera). Let the seeds crackles. Then add clove, cinnamon and bay leaf. Cloves and cinnamon gives really good flavor to sabudana khichdi.
Now add diced potato in pan and also finely chopped green chilies and ginger. Mix all the ingredients well and cook for 4-5 minutes until potato get softens. Also add salt to taste. Adding salt speeds up the cooking of potato.
Once the potato is cooked nicely, add peanut and sabudana. Also squeeze half lemon juice and add a teaspoon of sugar and mix well.
Add salt to taste and mix the khichdi well and cook on low flame for 6-7 minutes.
The sabudana khichdi is ready. Garnish it with chopped green coriander leaves (cilantro) and serve hot. Serve the sabudana khichdi with sing ki kadhi (farali kadhi).
Another Variation: Maharastrian Style Sabudana Khichdi Recipe
Alternately you can cook sabudana khichdi in Maharastrian style using boiled potato. Instead of mixing sabudana and peanut in pan as we did above, in this maharastrian sabudana khichdi we mix it before hand and keep aside so that flavor of peanut gels into sabudana.
Soak the sabudana in water and leave it overnight (for 4-5 hours).
Boil the potato and while it is warm peel off the skin and cut into pieces.
Dry roast the peanuts on a hot pan. Remove the skin once it cools down and coarsely pound the peanuts using a pestle and mortar (or in mixture grinder).
Strain the access water from sabudana and check if they softens.
Mix the coarsely pounded peanuts, salt and sugar with the soaked sabudana and leave aside for some time.
In a pan heat oil and add cumin seeds. Once cumin seeds crackles add curry leaves, chopped green chilies and grated ginger. Cook until raw taste of ginger goes away.
Add boiled potato and cook for a minute.
Now add sabudana and peanut mixture that we prepared earlier and cook until sabudana is cooked well.
Finally add some grated fresh coconut on sabudana khichdi and mix well.
Maharastrian style sabudana khichdi is ready. Drizzle some lemon juice and serve the khichdi hot.
Try both the variations Gujarati as well as Maharastrian and let me know how it tastes 🙂