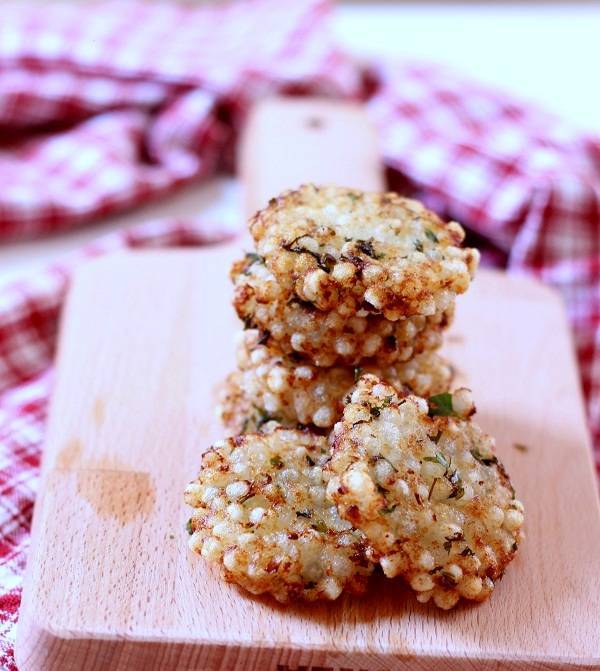 Sabudana Vada Recipe (Sago Patties) – Sabudana vada also known as sago patties  is one of the famous crunchy snack found all over the India but particularly it is a maharashtian deep fried dish.You can see the stall of sabudana vada in all the state and specially in Mumbai and Pune.  You can find authentic taste of vada here. It is a best option when you are fasting as it is full of deliciousness. Even if you travel in train you may find vendors selling sabudana vada.
Sabudana vada are the best option to have when fasting. Also it is served usually during religious festivals and during fast/vrat/upvaas especially in Navratri vrats. In my home we make this vada during Navaratri when my mum-in-law observe fasting through out the festival.
Sabudana pearls also known as sago is used in many Indian fasting recipes. Sabudana khichdi is one such fast recipes that is quite common in India and is made in all states. There are different variation of these recipes but all have sabudana as common ingredient. Sabudana kheer is also another Indian dessert recipe.
Sabudana vadas are so delicious that we make them not only on fasting day but anytime. People even enjoy them as morning or evening snack. I often enjoy this vada with evening tea. If you are health conscious than you can enjoy this dish shallow fry instead of deep frying.
Getting back to the recipe of sabudana vada let us check the step by step recipe with photos.
Recipe of Sabudana Vada for Fasting with Step by step photo
Wash the sabudana or sago properly and soak in water. Add water double the amount of sabudana. Soak it overnight or atleast 4 to 5 hours for the best result.
Once the sago pearls are properly soaked they will increase in size. When you press the sabudana between your fingertips it should get mushed. Drain the excess water from sabudana using strainer or colander. Let the sabudana strain for atleast 10 minutes. Remove all the moisture from sago so that sabudana vada does not get soggy from inside.
Dry roast the peanuts on a pan and peel the skin off. Roast until the color changes to light brown.
Once the groundnuts / peanuts cools gown take them in mortal pestle or dry grinder or food processor and coarsely grind them.
Let peanut be coarsely grounded. Peanuts gives wonderful texture along with a delightful crunch to the vadas.
Also boil the potatoes peel off its skin and mash the boiled potatoes. Apart from the main ingredients like sago, boiled potatoes, grounded peanuts we need following ingredients. Freshly chopped green coriander, finely chopped green chilies, lemon juice, ginger paste and salt. If you are making this sabudana for fasting then replace plain salt (table salt) with sendha namak (Himalayan rock salt).
Take the soaked sabudana in a mixing bowl and add boiled & mashed potato.
Add ginger paste, green chilies, fresh coriander leaves and crushed peanuts.
Add salt to taste and squeeze half a lemon juice. Mix well all the ingredients and check the seasoning. If require add a little salt and mix again.
Take some portion of sabudana peanut mixture in hands and shape them into shape of vada / tikkis. Repeat this for remaining sabudana mixture and make flat disk shaped vadas.
Heat oil in a pan for deep frying the vadas. Drop 2 to 3 vadas at a time or as much as the vessel can accommodate. Adjust the heat accordingly.
Flip the vadas and fry evenly on either side until they become golden brown and crispier.
Take out the vadas from oil using  a strainer mesh / zara spoon.
Sabudana vada is ready. Place the fried sabudana vadas on kitchen towel / paper napkin to soak excess oil. Serve sabudana vadas hot with yogurt / curd, green chutney, tomato ketchup or even hot tea.  If you are preparing sabudana vada for fast then serve it with fasting peanut chutney.
Sabudana Vada Recipe Box
Sabudana Vada Recipe For Fasting
Sabudana Vada Recipe For Fasting - Crispy fried patties / vadas made from tapioca pearl (sabudana), mashed potato, roasted peanut served during festivals / fasting season.
Ingredients
Sabudana / Sago: 1 cup
Potato: 2 cup boiled and mashed
Peanut: 1/2 cup roasted coarsely grounded
Ginger: 1 tbsp paste
Green chili: 1/2 tbsp finely chopped
Lemon: 2 tsp juice
Coriander leaver: 2 tbsp
Salt: 1 tsp or to taste
Oil:4 cup to deep fry
Instructions
Wash the sabudana and add double water to it and soak over night or about 4-5 hrs for best result.
Boil the potato and once boiled remove skin, mash it and keep aside.
Roast the peanut in a pan and let it cool down then peel the skin off and ground it coarsely .
Once sabudana is soaked strain the excess water using a strainer. Let the sabudana get strained atleast for 10 minutes to remove any moisture.
Take soaked sago / sabudana in a bowl add mashed potatoes and coarsely grounded peanut in it.
Add green chilli, ginger and lemon juice. Also add salt to taste and mix well.
Take some portion of sabudana mixer and shape into flat vada / patties. Repeat this for remaining portion of mixture.
Heat oil in pan and drop the vada / patties and fry it till golden brown. Flip and fry evenly on either side.
Take out the vada and keep it on paper towel / kitchen napkin to remove excess oil.
Sabudana vada is ready to serve. Serve hot with green chutney or tomato ketchup.
If you are searching for more fasting recipes then do check sabudana khichdi, farali kadhi and moriya khichdi.