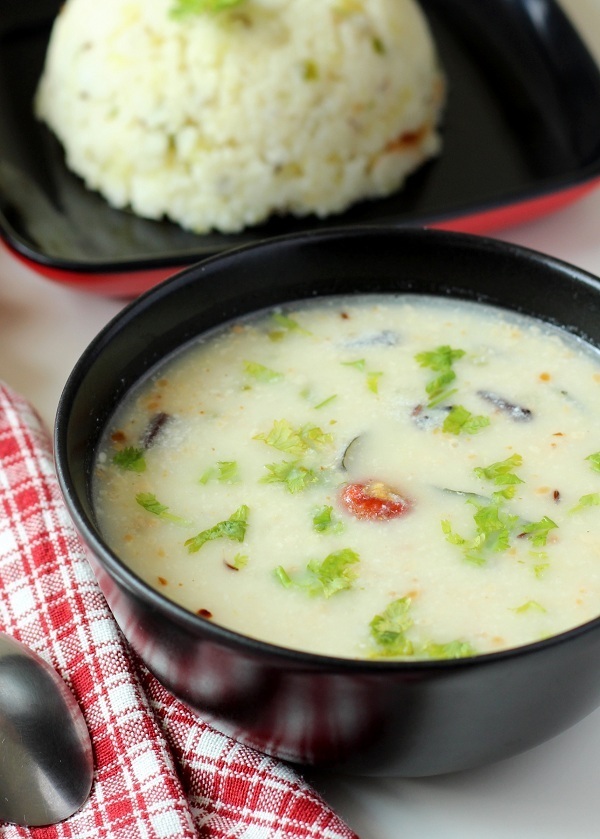 Farali Kadhi (Vrat ki Kadhi): Here is a quick and easy version of Kadhi that can be served for fasts. Fasting also known as Vrat has many health benefits. Once a while cleansing the body by fasting is a natural way of de-toxicating and helps in improving several bodily functions.
The idea is to avoid heavy gluten rich food so that digestive system gets boost. Whatever be your reason to fasting, religious or health, fasting always helps improving once mental and physical health.
Related: vrat ki khichdi (moriya khichdi) | farali aloo ki sabzi
During religious festivals like navaratri, ram navmi, ekadashi etc lot of Indian families practice the traditional form of fasting where they consume only some of food items and fruits. There are several Indian recipes for fasting. One of my favorite Gujarati dish that I often prepare during fast is Farali kadhi (Vrat ki kadhi) and farali moriya khichdi (vrat ki khichdi). Not only during the fasting days but I love the taste of these dishes so much that I also prepare them on regular days. Sometime I also make Sabudana khichdi along with the farali kadhi.
For this easy and simple farali kadhi I am using very basic ingredients that are readily available. Potato, peanut and yogurt with some Indian spices.
Let us check the step by step recipe of Farali kadhi or vrat ki kadhi.
How to make Farali Kadhi (Gujarati Farali Kadhi Recipe)
Dry roast the peanuts in a pan. Once the peanuts are roasted they gives nice aroma. You can also use ready made roasted peanuts that are available in market.
Once roasted, peal off the skin and let it cool down. You can easily peel off the skin but taking few peanuts in hand and rub against your palm.
Now put the roasted peanuts in a mixer grinder and roughly grind them. Do not make fine powder we just want coarsely ground peanuts.
To make Gujarati Farali kadhi recipe, we need few ingredients. Boiled and smashed potato, coarsely ground roasted peanuts, chopped ginger and green chilies (or you can use ginger green chili paste), yogurt and salt.
In a bowl take yogurt and whisk it thoroughly. Make sure all the lumps are removed and smooth curd water is made.
Now add roasted peanut and boiled potato in curd water.
Mix the curd, boiled potato, peanut mixture well and keep aside.
Now for tadka (tempering) take a deep thick bottom non-stick pan and heat oil in it. Add the Indian spices: cumin seeds (jeera), cloves (lavang, laung), cinnamon (dalchini) and curry leaves (kadi patta). Let the spices get splutter.
Once the cumin seeds crackles add chopped ginger and green chilies. Let the ginger gets cooked in hot oil for some time.
Now just pour the curd, boiled potato and peanut mixture that we prepared earlier in this tempered spices. Mix everything well and cook the farali kadhi for some time. Also add salt to taste.
Let the kadhi comes to boil. Cook the farali kadhi for 7 to 8 minutes while stirring  it occasionally.
The tasty farali kadhi (Gujarati farali kadhi) is ready. Serve it hot with fasting dishes like farali moriya khichdi during festival season.
Farali Kadhi Recipe
Farali Kadhi Recipe: A traditional Gujarati kadhi for upwas and vrat. Kadhi cooked in potato & peanut mixture.
Recipe type:
Main, Fasting
Ingredients
Main Ingredients
Peanut (sing dana):1 cup, roasted
Potato:1 cup
Ginger (adrakh):1/2 inch finely chopped
Green chili:1 teaspoon
Yogurt/Curd: 1 cup, whisked
Water: 1 1/2 cup
Salt: to taste
For tempering
Oil:1 tablespoon
Cumin seeds (jeera):1 teaspoon
Curry leaves (kadi patta): 5 leaves
Cloves (laung, lavang):3 piece
Cinnamon (dalchini):1/2 inch stick
Instructions
In pan dry roast the peanut and then let it get cool for sometime.
Peel off the skin and roughly grind the peanut in the mixture.
Keep the potato to boil. Once boiled peel the skin off the skin and mash it.
In bowl put the yogurt and whisk it.
Add the roasted peanut and smashed boiled potato and mix well and keep the mixture aside.
In another pan add oil and add cumin seeds, cloves, cinnamon stick, curry leaves and let the cumin seeds become light brown in color .
Add chopped ginger and green chili and cook for a min.
Now time to add the yogurt mixture and continuously stir it till it boil then add the salt to taste.
Cook for about 7-8 min and the tasty farali kadhi (fasting kadhi) is ready to serve.