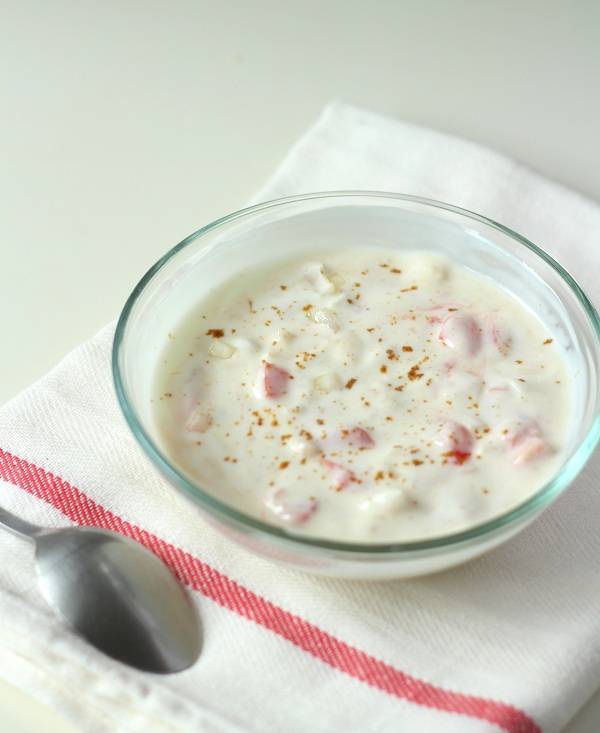 Onion Tomato Raita is a quick an easy to make yogurt based raita dish / side dish that goes really well with lot of Indian main course dishes. Raita is served to cut the heat and balance the taste of curry based dishes like biriyani or pulao.
Yogurt raitas have so many variations and can be made by adding lot of different vegetables / fruits to yogurt. Other than plain old onion tomato raita, the boondi raita is quite famous as well.  These yogurt based side dishes are so easy to make and counter balance the Indian cuisines quite well.
I made this delicious raita along with tawa pulao recipe. Tawa pulao being a version of Indian street food dish is a little spicy and serving raita is best way to balance the heat.
The real tastemaker for this onion tomato raita is the roasted cumin powder. The cumin seeds (jeera) are roasted first before grinding into fine powder. That gives really nice flavor to raita.
Simple Onion Tomato Raita recipe
Whisk the curd or yogurt in a bowl so that it becomes smooth. Also finely chop onion and tomato. Now mix chopped onion, tomato, roasted cumin powder and salt in yogurt and give nice whisk. Tasty simple onion tomato raita is ready.
This is the simple recipe of onion tomato raita. Serve this raita with any rice based dish (pulao, biriyani) like tawa pulao, jeera rice & mix dal fry.
Simple Tomato Onion Raita details below:
Onion Tomato Raita, Simple Onion Tomato Raita Recipe
Onion Tomato Raita: Simple Indian curd based side dish with freshly chopped tomato & onions spiced up with cumin powder.
Ingredients
Yogurt: 1 cup
Tomato: 1/2 cup, chopped
Onion : 1/4 cup, chopped
Cumin powder: 1 tsp
Salt: to taste
Instructions
In a bowl add the yogurt or curd and whisk until it becomes smooth.
Finely chop the tomatoes and onion.
Then add the tomato and onion in yogurt and give it a whisk.
Now add cumin powder and salt to taste and mix well all the ingredients.
Simple Indian tomato onion raita is ready.
You can serve this raita cold or at room temperature. Onion tomato raita goes well with all different rice dishes.