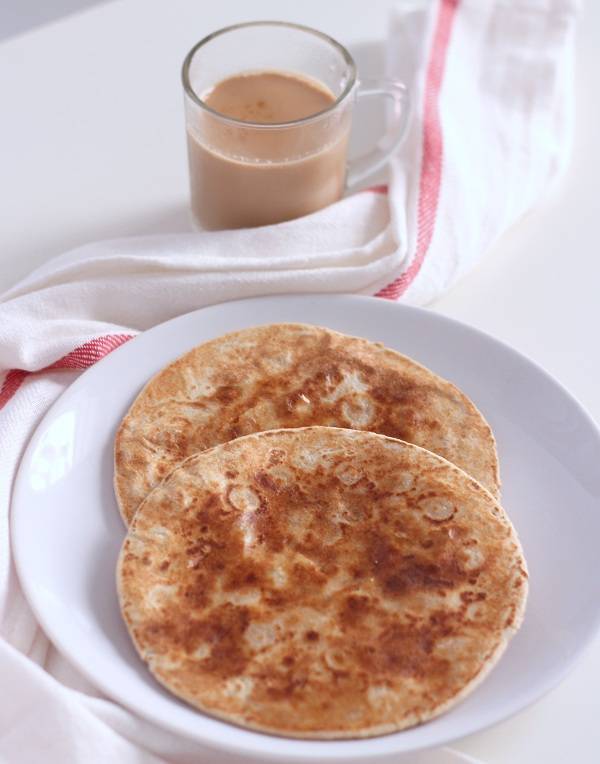 Gujarati Bhakri Recipe – Bhakri or bhakhri is basically from Maharashtra but well adopted by Gujarat. In most of the Gujarati home they have bhakri as a day starter / breakfast and in dinner they some time make this bhakhri with sabzi like sev tamatar, rasawala aloo, baingan bharta  and many more. There are different ways of making bhakhri as masala bhakhri, bhakhri roasted in oil but here I have written basic simple and very traditional version of bhakhri.
In our home we usually make bhakhri as morning breakfast (if not bhakri then we make methi thepla in breakfast :)) since we should start our day with the heavy breakfast. Bhakri taste amazing along with red chili pickle in the morning.  You can also add the toppings of grated  processed cheese on top of the bhakhri which would give the cheesy flavor  to the bhakhri. If you have any left over bhakhri then not to worry you can make four equal parts of the bhakhri and deep fry it and sprinkle some chat masala on it and enjoy the crunchy bite of the bhakhri. Also left over bhakri can be used to make another Gujarati traditional dish of bhakri churma.
To make Gujarati bhakri we need very minimal ingredients. You might already have all these in your kitchen. The main ingredient is wheat flour which is coarsely grinded. We must not use normal chapati flour like Aashirwad aata or Pissbury Aata to make Bhakri. For bhakri ready made flour is available in many local supermarkets which is coarsely grounded.
Getting back to the recipe of Gujarati bhakri, let us now check step by step recipe of bhakhri with pictures.

Recipe of Gujarati Bhakri – Step by step with pictures
Take bhakri wheat flour in a mixing bowl. Add 2 tbsp of oil in the flour.
Now add little water at a time and knead bhakri dough. Knead thoroughly for better result. The consistency of bhakri atta should be a little harder than chappati aata.
Divide the bhakri dough into small round bhakri dough balls. Place one dough ball on rolling board and with the help of rolling start rolling bhakri.
Now using rolling pin press the dough and roll into round disc shape bhakri. The bhakri should be thicker than paratha. Also the width should be even across bhakri.
Using the edge of rolling pin, press small groves as shown here. By doing so bhakri will get good texture and will absorb clarified ghee once cooked.
Heat a flat bottom pan now to roast bhakri. I have used traditional Iron pan called "lodha ni tavi" literary mean "iron pan" 🙂 However for bhakri there is clay based tawa available in India which is best. Bhakri cooked in this clay based tawa called "taavdi" is best.
Place the bhakri on hot tawa and roast on one side.
Flip Gujarati bhakri is cook on other side till it becomes golden brown.
While roasting press the bhakri using a bhakri presser. Alternatevely you can also use Pav bhaji smasher.
Cook on either side until bhakri is even cooked from inside.
Gujarati bhakri is almost ready. Place bhakri on a plate and using a spoon prick the bhakri. Smear some clarified butter (ghee) on ghee.
Gujarati Bhakri is ready now. Serve the bhakri hot in breakfast with a cup of tea. Also you can serve bhakri in dinner with Gujarati curries like Rasawala Aloo Sabji or Sev tamatar sabji.
How to make Gujarati Bhakri
Gujarati Bhakri Recipe, How to make Gujarati Bhakri
Gujarati Bhakri Recipe - Indian whole wheat flat bread traditionally made on clay based pan & served with Gujarati curries.
Recipe type:
Indian bread
Ingredients
Wheat flour: 1 1/2 cup
Oil: 2 tbsp
Ghee: 1 1/2 tbsp for smearing
Water: 1/2 cup for kneading
Salt: 1 tsp or to taste
Instructions
To knead Gujarati Bhakri Dough
In a mixing bowl take wheat flour. Wheat flour must be coarsely grounded for bhakri.
Now add 2 tbsp of oil and 1 tsp salt. Add salt as per your taste.
Mix well oil with wheat flour using hand.
By adding little water at time knead the bhakri dough. Knead properly the dough so that the bhakri will become softer.
The dough for bhakri should be a little harder than regular Roti / Chappati dough.
Dough for Gujarati bhakri is ready. Let us roll and roast bhakri from dough now.
To roast Gujarati Bhakri on tava / taavdi
Divide the wheat bhakri dough in round balls. The size of bhakri dough ball should be bigger than the roti dough balls.
Take one bhakri dough ball on rolling board (chakla) and roll in round dish shape using rolling pin (belan). Bhakri should be thicker than normal paratha.
Roll evenly so that the thickness is even across bhakri.
Now using edge of rolling pin press small pit like groves on bhakri. This way bhakri will absorb more ghee once cooked.
Heat a flat bottom pan / tawa. If you have clay based tawa called taavdi than you can also use that.
Once the pan is hot place the rolled bhakri and roast it. Flip to other side and roast till it becomes golden brown.
Use a bhakri presser or even a pav bhaji mesher to press bhakri while roasting.
Bhakri is ready once it is evenly roasted and cooked from inside.
Place the bhakri in a serving plate, smear some clarified butter (ghee). Bhakri is ready.
Repeat the process for remaining bhakri dough.
Gujarati bhakri is ready. Serve bhakri hot with a cup of tea or with sabji like sev tamatar, aloo sabji, aloo baingan sabji etc.
Notes
1. Use coarsely grounded wheat flour for better result. This way Gujarati bhakri will become crunchy.

2. While kneading dough, knead hard so that bhakri will become crispier.
If you are looking for more
Gujarati recipes
then do check
Sev tamatar sabji
,
Gujarati khichdi
,
Kadhi
and
Rasawala Aloo Sabji
.