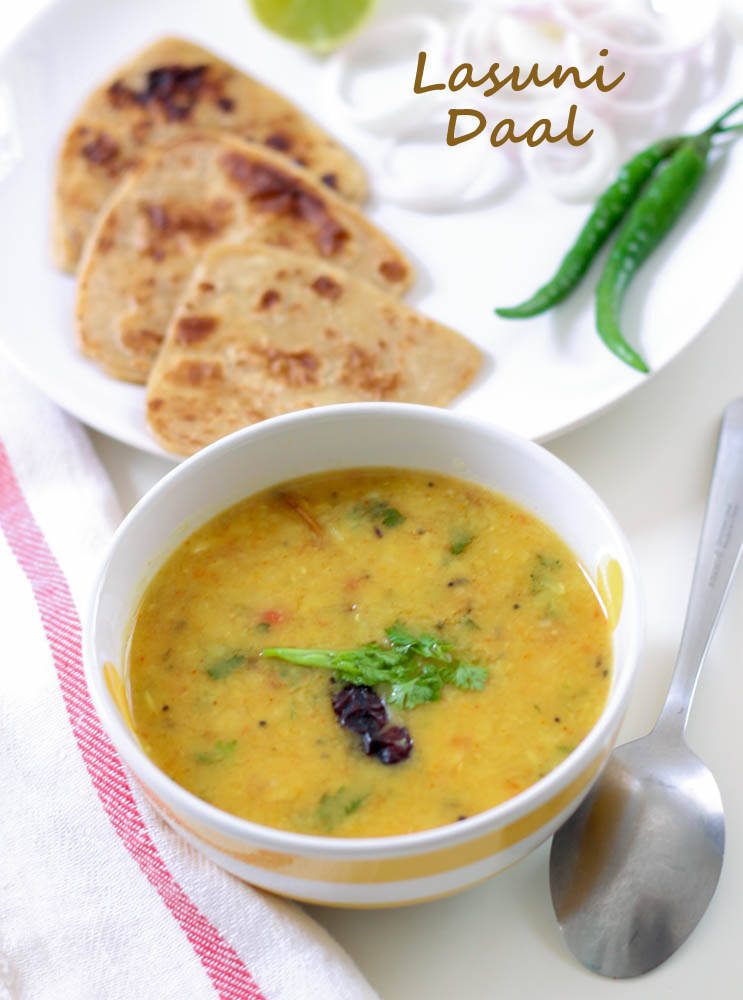 Lasooni dal recipe or garlic daal – I don't often cook Punjabi recipes for my routine lunch and dinner. Mostly the lunch and dinner consists of plain Gujarati flavored simple dishes such as toor dal, chapati, sabji etc. But once a week or so I break this routine and make Punjabi flavored daals and sabzis too. This garlic flavored lasooni daal is one such recipe that I make once a while.
Lentils are full of protein and being vegetarian its one of the few source of protein that we take in our regular diet. I make all kinds of lentil daals such as toor dal or arhaar dal, moong dal, chana dal  etc. Thus daals or lentils forms a key diet supplement in my home.
This is a simple quick and easy recipe of lasooni dal or lehsuni dal. Its full of garlic flavor which is quite tasty if you are serving this daal with steamed rice. Not everyone likes garlic but if you do then you'll definitely like this recipe.
Normally while preparing any kind of daal we make tadka i.e. we temper some Indian spices in oil or ghee and then mix it with boiled lentil to give it a distinct flavor. For this lasuni dal I have used two types of daal: yellow moong dal and toor or tuvar dal. You can use either of them but I like to mix these two dals for this recipe. Once the dal is boiled we simple prepare a tadka of garlic.. lots of garlic. And then mix this tempered garlic with boiled lentil. That's it. Lasooni dal tadka is thus quite simple to make.

You can make this lasuni dal and pack it in tiffin for kids and hubby. A flavorfull dal with rich thick texture goes really well with any kind of rice dish. Thus it makes a great lunch box recipe.  Also If you have your toor dal boiled and frozen in the refrigerator then you can use that too. Take it out and just add the tadka of lasoon and your dal is ready. By this way you can prepare the dal the previous day and make the tadka next day. This would make work easy . In this busy world every one wants to make there work easy specially cooking because in the morning you have to cook food and pack lunch for kids / hubby.
In this dal I have not used any tangy flavor of lemon rather I have just used the tomatoes. But if you feel like adding sourness to your dal you can add little lemon juice on top, it is optional.
Lets get back and check the step by step recipe of lasooni dal with pictures.
Recipe of Lasuni Dal or Lasooni Daal (Garlic Daal) – Step by step pictures
For this simple recipe of lasuni daal I am using yellow moong dal  as well as toor dal (pigeon pea). The quantity of toor or tuvar dal is twice that of moong dal. Thus if you are taking 1/2 cup of toor dal then take 1/4 cup of yellow moong dal.
Also we will need following spices and ingredients to make tasty lasun ki daal. We will need a lot of garlic ofcourse. The garlic is chopped in slices. Other then garlic we will need dry red chili, red chili powder, coriander powder, turmeric powder, cloves (laung), cinnamon (dal chini), bay leaf (tej patta), salt, tomatoes and some freshly chopped coriander leaves.
Let us boil the lentils first. Take both toor dal and yellow moong dal in a pressure cooker and wash thoroughly with water. Once washed pour twice the quantity of water. We will add all dry spices while boiling the lentils. So add turmeric powder.
Add red chili powder, coriander powder to pressure cooker.
Also add chopped tomatoes.
Now mix well all ingredients and let the pressure cooker boil for atleast 6 to 7 minutes (around 3 whistles in standard 3 liter pressure cooker).  Once boiled turn off the gas and let the cooker gets cool down. Open the lid once pressure cooker cools down.
Now lets make tempering for the lasuni or lehsuni daal. For this we will heat a teaspoon of oil in a non-stick pan. You can also make tempering or tadka with ghee (clarified butter). But as both ghee and garlic have strong flavor I tend to temper garlic daal in oil rather then ghee.
Heat oil in a non-stick pan or kadhai and temper mustard seeds (rai).
Also add cumin seeds (jeera) in oil and let them crackle.
Once the mustard seeds starts crackling add clove (laung), cinnamon (dal chini), bay leaf (tej patta) and dry red chili.
Now add sliced garlic. We are using lots of garlic as this lasuni dal is full of garlic flavor.
Saute the garlic for a minute till its starts giving away the raw flavor. Then pour in the boiled lentil (toor dal and yellow moong dal).
Give a stir and mix lentil will other spices and garlic.
Let the daal get simmer on medium flame for around 2 to 3 minutes. Add water if required to change the consistency of daal.
Garnish the lasuni daal with freshly chopped coriander. Delicious lasuni daal or lehsuni dal is ready to serve. Serve this daal hot along with steamed rice, jeera rice, paratha or jeera paratha, roti or naan.
Lasuni Dal or Lasooni Dal Recipe Box
Lasooni Dal Recipe (Lasuni Daal), How to make Lasuni Dal
Lasuni Dal Recipe - A punjabi style mildly spicy garlic flavored lentil soup cooked with Indian spices.
Ingredients
Tuvar dal (Pigeon pea): 1/2 cup
Moong daal: 1/4 cup
Tomato: 1/4 cup, chopped
Garlic: 1 tbsp cut into julienne
Oil: 1 tsp
Mustard seeds: 1 tsp
Cumin seeds: 1 tsp
Red chili powder: 1 tsp
Coriander powder: 2 tsp
Turmeric powder: 1/2 tsp
Dry red chili: 1 piece
Cloves: 3 piece
Cinnamon: 1/2 inch piece
Bay leaf: 1 leaf
Fresh coriander leaves: 2 tbsp for garnish
Salt: 1 1/2 tsp or to taste
Water: 2 cup
Instructions
Wash thoroughly moong dal and tuvar dal with water and take it in the presser cooker.
Add water, chopped tomato, red chili powder, coriander powder, turmeric powder and salt to taste and cook for about 7-8 min (around 3 whistles in standard 3 liter cooker).
Heat a pan and add a tsp of oil and once the oil is hot add mustered seeds, cumin seeds, dry red chili, cloves, cinnamon stick and bay leaves.
Once the mustard seeds flutters add the sliced garlic.
Cook until the raw flavor of garlic is gone then pour in boiled daal.
If you feel that the dal is thick then you can even add little water to it.
Let the dal cook for about 5 min.
Lasooni daal is ready. Garnish it with freshly chopped coriander leaves.
Serve lasooni dal hot with steamed rice or jeera rice, roti or paratha.
Recipes Similar to Lasuni Dal or lasooni daal