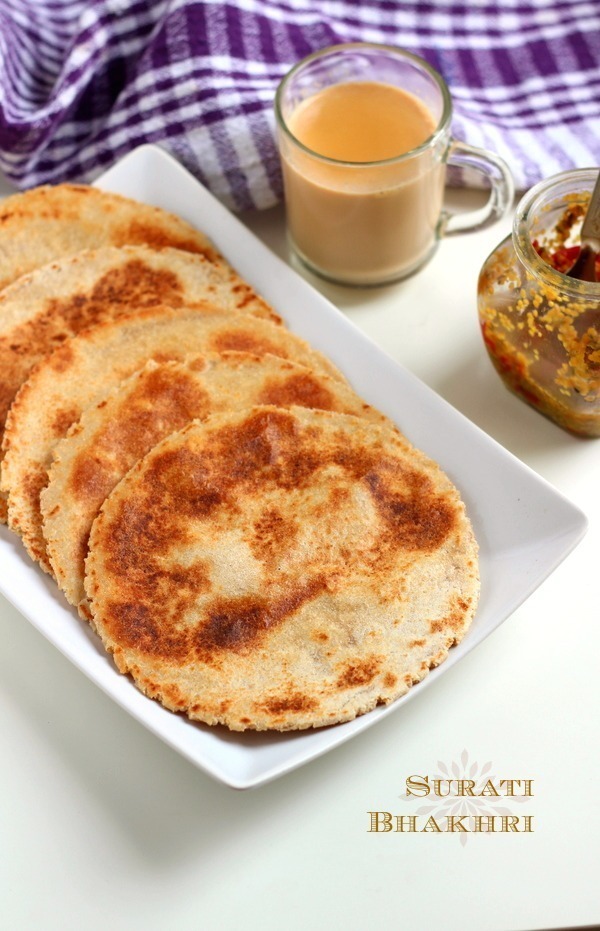 Surati Bhakhri Recipe – Bhakhri is little thicker than roti or phulkas. Bhakri can be made with different flours like wheat flour, jowar flour and bajra flour. Today I have made bhakri using wheat flour. The dough we make for the surti bhakri is just same as gujarati bhakri only the difference is the way of cooking. In surati bhakri we cook it they we cook parathas with some oil.

In olden days farmers used to make this bhakri in the morning and take along with them and have it for lunch. Traditionally this has been the farmers food. Olden days farmers use to carry this bhakri to the farm and also used to use it as a plate and add chutney on top.
Related post: Bajra Rotla, Gujarati Bhakri
Surat is the place of food lovers and there is an old saying 'Surat Nu Jaman Ane Kashi Nu Maran' which means Eat in Surat and Die in Kashi for the ultimate experience of the soul. Popular gujarati recipes with the strange names like locho, ghotalo etc. are common slang used in a Surati's day to day life. Not only people love to prepare recipes at home, but they do love to eat outside on Road side and Restaurants. If you are new in Surat and move out on a Sunday Eve, you might get a feeling that the city is in Panic mode. So next time you come to Surat, don't miss out the taste of the road side lauries and restaurants. Surat people like to make more spicy food compared to other parts of Gujarat.
Coming back to Surati bhakri recipe, let's check few tips to make good bhakri.
Tips to maker good bhakri:
Try to use fresh flour.
Flour should not be finely grinded.
Knead the dough not to soft nor to hard.
Knead the dough nicely till the dough is soft.
Let's check the step by step recipe of Surati bhakri with pictures.
Step by step recipe of Surati bhakri with pictures:
Take wheat flour in a mixing bowl. Add 1 tbsp of oil in the flour.
Now add little water at a time and knead bhakri dough. Knead thoroughly for better result. The consistency of bhakri dough should be a little harder than chapatti aata.
Divide the bhakri dough into small round bhakri dough balls. Place one dough ball on rolling board and with the help of rolling pin start rolling bhakri.
Now using rolling pin press the dough and roll into round disc shape bhakri. The bhakri should be thicker than paratha. Also the width should be even across bhakri.
Place the bhakri on hot tawa and roast on one side.
Flip Surati bhakri and cook on other side till it becomes golden brown.
Then add oil to the surati bhakri.
Now flip the bhakri again.
Press with the help of the frying spoon and cook till golden brown.
Now again flip and cook the bottom part of the bhakri nicely.
Surati bhakri is ready to serve.
Accompaniments:
Surati Bhakhri Recipe Box
Surati Bhakhri Recipe
Surati Bhakri Recipe - A simple whole-wheat flour flat bread popular in Surat, Gujarat.
Ingredients
Wheat flour : 1 1/3 cup
Water : 1/3 cup or as required
Salt : 1/2 tsp
Oil : 1 tbsp
Instructions
To Knead surati bhakri dough
In a mixing bowl take wheat flour. Wheat flour must be coarsely grounded for bhakri.
Now add 1 tbsp of oil and 1/2 tsp salt. Add salt as per your taste.
Mix well oil with wheat flour using hand.
By adding little water at time knead the bhakri dough. Knead properly the dough so that the bhakri will become softer.
The dough for bhakri should be a little harder than regular Roti / Chappati dough.
Dough for surati bhakri is ready. Let us roll and roast bhakri from dough now.
To Roast Surati bhakri on tawa
Divide the wheat bhakri dough in round balls. The size of bhakri dough ball should be bigger than the roti dough balls.
Take one bhakri dough ball on rolling board (chakla) and roll in round dish shape using rolling pin (belan). Bhakri should be thicker than normal paratha.
Roll evenly so that the thickness is even across bhakri.
Heat a tawa/skillet.Once the tawa is hot place the rolled bhakri and roast it.
Apply oil and then flip to other side and press with help of frying spoon till it becomes golden brown.
Bhakri is ready once it is evenly roasted from both side.
Bhakri is ready to serve.
Repeat the process for remaining bhakri dough.
Surati bhakri is ready. Serve bhakri hot with a cup of tea or with sabji like sev tamatar, aloo sabji, aloo baingan sabji etc.
Other Indian flat-bread similar to bhakhri