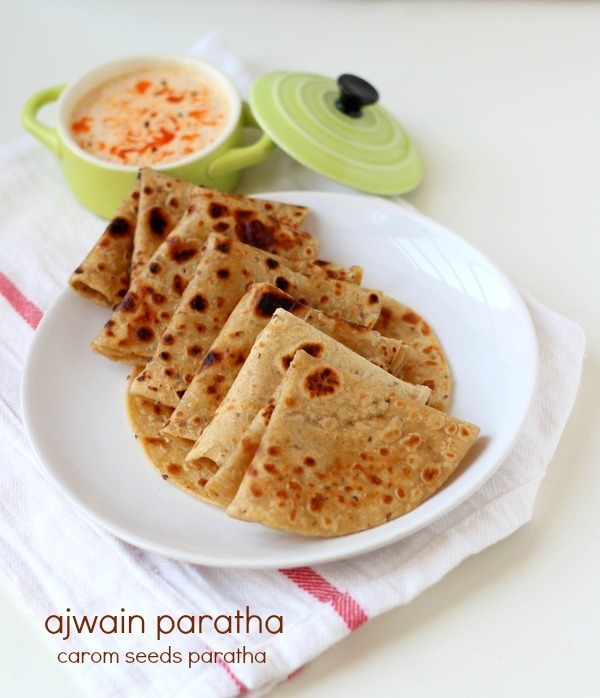 Ajwain paratha or carom seeds paratha recipe step by step – A simple & easy recipe of ajwain (carom seeds) flavored Indian paratha.
Let me share a simple variation of plain paratha (sada paratha) with a little twist today. Instead of making the plain paratha, I have added a magic ingredient known as Ajwain in the paratha dough. This ajwain paratha recipe is similar to jeera paratha recipe that I shared earlier. Instead of adding cumin seeds I have added carom seeds in the dough. Just one small change of ingredient and the result is totally different.
For this recipe of ajwain paratha, I have rolled the parathas in round shape. However you can roll the parathas in any shape of your choice (triangle, square). As the ajwain is incorporated right inside the paratha dough, it is easy to roll them into different shapes. Instead of making ajwain paratha you can also make ajwain puri and serve it with aloo sabji. The combination is superb.

So we use Ajwain quite often in Indian home. But what is Ajwain seeds?
What is Ajwain?
Ajwain or carom seeds also known as bishop's weed (don't ask me why :D) are small khaki/brown colored seeds resemble to cumin seeds. The taste and smell of these little seeds differs greatly from cumin. Ajwain's taste can be compared with thyme but with lot stronger flavor. If you crush a handful of these seeds with your teeth you might find them a bit spicy. Ajwain seeds are good for digestion and hence are used in Indian household since centuries to cure upset stomach. Due to its strong flavor ajwain seeds are used in smaller quantity.
Don't miss: Jeera Paratha Recipe
Health benefits of Ajwain or carom seeds
Ajwain contains high levels of thymol, a chemical, which aids the release of gastric juices from the stomach and thus, speed up the process of digestion.
Due to its great anti-inflammatory and curative properties, ajwain is great for pregnant and lactating mothers.
The thymol, present in ajwain makes it a great local anaesthetic, anti-bacterial and anti-fungal compound.
Due to its anti-inflammatory and anaesthetic properties, ajwain is a good way to get rid of pain due to rheumatism and arthritis.
Earache is commonly caused due to cough and cold or inflammation of the ear lobes. However, ajwain contains antibacterial and anti-inflammatory compounds that help in relieving congestion.
Let us get back to the recipe and check the step by step process of making ajwain paratha.
Recipe of Ajwain Paratha with step by step photo
Let us start with the recipe of ajwain flavored paratha. Take the whole wheat flour (gehu ka atta) in a mixing bowl. Pour in 1 tbsp of oil in the wheat flour. By adding oil the dough will become softer and parathas will come out nice.
Sprinkle the ajwain or carom seeds in wheat flour. For 1 cup of wheat flour you can add 1 tsp of ajwain seeds.
Add salt as per the wheat flour. For 1 & 1/2 cup of wheat flour I  have added around 1 tsp of salt.
Start pouring the water in wheat flour and mix well into it.
Using your hand dip into the flour and knead the dough for paratha.
Add water as required while kneading the dough for paratha.
Once the dough is ready pound it for a while and keep it aside for resting for 10-15 minutes. Cover the dough with a cloth while it is resting.
Now divide the dough into small lemon size balls of roughly equal size. Keep aside.
Let us now roll the parathas. Take a dough ball on rolling board (chakla/paatlo) and flatten it by pressing on top.
Start rolling the paratha same as we roll roti/phulka. If the paratha is sticking with rolling board then dust some wheat flour (palothan) and then roll.
Roll the parathas so that it has even thickness across its surface.
Now to roast the paratha, heat a tawa or griddle and once it is hot place the rolled paratha on it.
Once the bubbles starts forming on top, flip the paratha and cook on other side.
Apply oil on one side and flip again.
Apply oil on either side and roast the ajwain paratha.
Roast the ajwain paratha on either side until it gets golden brown in color.
Repeat the above steps and roll and roast remaining ajwain parathas. Ajwain parathas are ready to serve. Serve the ajwain paratha with masala dahi, kakdi raita or mirchi achaar (red chili pickle) and any choice of indian curry.
Ajwain Paratha Recipe Box
Ajwain Paratha Recipe, How to make Ajwain Paratha
Ajwain paratha recipe - Flavorful carom seeds paratha recipe.
Ingredients
Wheat flour (gehu ka atta) : 1 1/2 cup
Carom seeds (ajwain) : 1 1/2 tsp
Salt : 1 tsp
Oil : 1 tbsp
Water : 1/2 cup or as required
Instructions
To make ajwain paratha dough
Take the whole wheat flour (gehu ka atta) in a mixing bowl and add oil in it.
Add ajwain (carom seeds) in the wheat flour.
Season the flour by adding salt as per your taste.
Now while adding water in the dough start mixing using hand.
Knead the flour into paratha dough which is not too stiff and not too loose.
Leave the dough aside for 5 min to rest.
Divide the paratha dough into small lemon size balls. Keep aside.
To roll the ajwain paratha
Take paratha dough ball on rolling board (chakala) and press in center.
Apply some wheat flour if required & start rolling into round paratha.
Roll the paratha into roughly circular disc or 5-6 inch diameter.
To roast the ajwain paratha
Preheat the tawa or griddle pan and once hot place the rolled paratha on it.
Once bubble starts forming on top, flip the paratha and roast on other side.
Apply oil on both sides and roast till paratha turns golden brown in color.
Delicious ajwain paratha is ready to serve. Serve the ajwain paratha with pickle, raita or masala dahi.
Other parathas & roti recipes similar to ajwain paratha
References