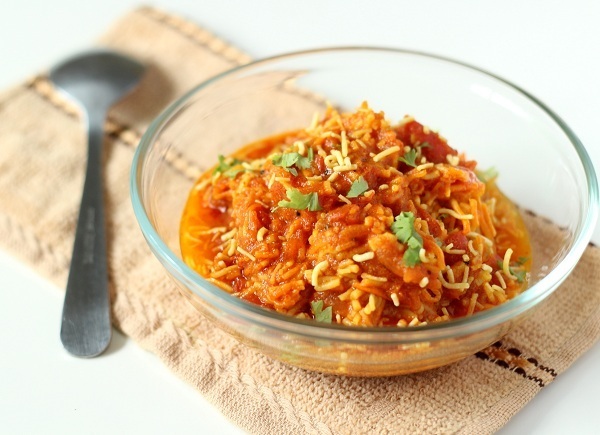 Sev Tamatar Sabji recipe is one of all time favorite Gujarati sabzi that I cook often at home. Sev is fine vermicelli made from deep-fried gram flour paste. So Sev Tameta nu shaak as its called in Gujarati is a sweet and sour curry made from tomato, Sev, garlic and other curry spices. Lot of Gujarati curries are sweet in taste. Sev tameta curry is one of that sweet/sour curry. Often sev tameta nu shaak is eaten with traditional gujarati bread called bhakhri. Sev tameta nu shaak ane bhakhri (Sev tamatar curry and bhakhri) is my favorite dinner menu.
Sev tamatar ki sabji is an easy recipe and hardly takes minutes to prepare. There is no special preparations needed for this recipe. Just some chopped tomatoes and minced garlic, that's it and you are in business. The Sev as I mentioned earlier is vermicelli made from gram flour is often used in lot of Indian dishes. Sev is considered to be an important ingredient in Indian street food, especially sev puri, pani puri, etc.
Back to sev tamatar sabji, for this curry normally we use thick sev and not the normal or nylon sev.
Similar to normal Sev, we can also use Ratlami Sev to make Ratlami Sev ki Sabji which is quite similar to this sev tamatar sabji yet taste spicy.
p.s. If you like Gujarati cuisine, also check my other Gujarati recipes: Gujarati Handvo, Gujarati Sandwich Dhokla, Gujarati Kadhi and Khichdi.
Let us check the easy to cook recipe of Gujarati Sev tamatar ki sabji (Sev tameta nu shaak).
Step by step Gujarati Sev Tamatar Sabji (Sev tameta nu shaak) recipe
1. Wash the tomatoes nicely and chop them in medium size pieces. Also finely chop the garlic for sev tamatar sabji.
2. Heat some oil in a pan and put mustard seeds (rai) and cumin seeds (jeera). Once the seeds are tempered add a pinch of asafoetida (hing) and chopped garlic. Let the garlic gets cooked for a minute or so just to remove the raw flavor of garlic.
3. Now add chopped tomatoes. We don't need to finely chop the tomatoes as everything is anyway going to get cooked up nicely. The tomatoes will reduce in form of tomato gravy.
4. After adding tomato add all spices: turmeric powder (haldi), red chili powder and salt to taste. This recipe is one of the simplest recipe which require base minimum number of spices. Let the tomatoes get nicely cooked with spices. Add a teaspoon of Sugar and mix well again.
5. Once the tomatoes are cooked it will make a nice tomato gravy. This tasty tomato gravy is the base for tamatar sev sabji. Pour half a cup of water and simmer for 5 minutes.
All we need to do final step of throwing in Sev and mixing it well.
6. Just before serving, add Sev (fried chickpea floor noodle) in the tomato gravy and mix it well. Cook for about half a minute and serve it hot along with chappati/roti.
Sev tameta nu shaak is ready to serve. Serve it hot with chappati, roti or puran poli.
Sev Tamatar Sabji, Sev Tameta Nu Shaak | Sev Tamatar Bhaji
Sev Tamatar Sabi, Sev Tameta Nu Shaak - A sweet & sour Gujarati sabji made from tomato, Sev, garlic and other Indian spices.
Ingredients
Tomato: 2 cups chopped
Sev: 1 cup, thick
Garlic: 3 cloves finely chopped
Oil: 1 tbsp
Mustard seeds: 1 tsp
Cumin seeds:1 tsp
Asafeotida (hing): 1/4 tsp
Red chili powder: 1 tsp
Turmeric powder (haldi): 1/2 tsp
Coriander powder (dhaniya): 1 tbsp
Water: 1/2 cup
Sugar: 1 tsp or to taste
Salt: to taste
Chopped coriander leaves (Cilantro) for garnishing
Instructions
Wash the tomatoes and chop them finely. Peel and chop the garlic.
In a pan heat the oil and add mustard seed, cumin seeds and let it temper . Then add asafeotida, chopped garlic and cook for about a minute.
Then add tomato and all the masalas like turmeric powder, red chili powder, coriander powder, salt to taste and cook for about 10 min till the tomatoes are well cooked. Add a teaspoon of sugar and mix it well.
On the time of serving add the sev and cook for a half a min and serve hot.
Garnish it with some chopped green coriander leaves (cilantro).
Notes
1. Add the sev just before serving or else the sev tamatar sabzi will become mushy.
2. Use thick sev for this Sev tamatar sabji.