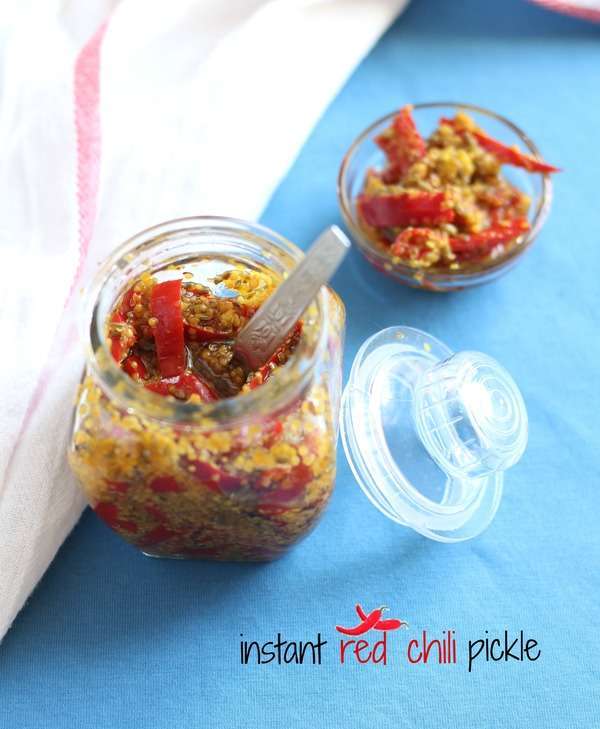 Instant red chilli pickle recipe or recipe of lal mirch ka achaar – step by step: A quick n easy recipe of red chilli pickle with mustard and fennel seeds. Pickles also known as achaar, athanu etc are great condiments in Indian cuisine. You will find them almost in all states from north to south. A traditional thali consist of several specialities of any Indian state cannot be complete without achaar or pickle. Today let me share with you pickle recipe in its simplest form: instant red chili pickle.
Usually we make pickles from seasonal ingredients such as mango/kachchi keri. Thus most of the pickles are seasonal as we tend to make them in summer. However this instant red chilli pickle can be made throughout the year. If you don't get fresh red chillies then you can even make the same pickle using fresh green chilies. Also in case you are not a great fan of spicy food then just replace the red chillies with capsicum or simla mirch.
This instant red chilli pickle stays fresh for a long time. That makes it best companion for train journey/travel. You can take this pickle in a seal pack jar and carry it on your next long journey trip. Thus insted of sabzi you can carry this pickle for long distance journey. Red chilli pickle or lal mirch achaar goes really well with methi thepla. Both remains fresh for long time and hence are must for any train journey.

Even you can have this pickle in breakfast along with crispy gujarati bhakri. I know it sounds strange but trust me a lot of people enjoy pickle in breakfast along with parathas or bhakri. Have a break from your usual breakfast dishes like aloo poha, upma etc and try this red chili pickle along with bhakri.
In my home you will always find this pickle in refrigerator along with other companions like sweet mango pickle (keri no chundo), sweet mango pieces or keri katki, murabba, mango pickle, mix pickle etc. For each dish we have a pickle that complements the dish. Each pickle taste totally different from one another yet they enhance the flavors of main course dishes.
Some Tips to Make a Perfect Red Chilli Pickle
Pickle cannot be made with lesser oil. Oil helps to preserve the pickle. So always add enough oil to pickle.
Pickles are salty as salt too act as preservative. So add sufficient amount of salt to pickle. This way pickle will not get spoil.
Remove the seeds from red chillies to reduce the heat from pickle.
The ground yellow mustard seeds also known as rai na kuriya or rai ki dal if added more can make pickle taste bitter. So add only given amount.
In case if you have added more of ground mustard seeds/rai na kuriya and by that if the pickle got bitter then balance that bitterness with fennel seeds/saunf.
Heat the oil and let it get warm. Add warm oil in the pickle. This way the raw flavor of oil will go away.
You can add more of fennel seeds then mustard seeds. That way you get different flavor of pickle.
Storage tips: Always keep the pickle in an air tight container and store it in refrigerator to increase its shelf life.
Recipe of Instant Red Chilli Pickle (Lal mirch ka achaar) with step by step photos
Wash and wipe the red chilies so that no moisture is left on them. Cut the red chilies lengthwise as shown here. You can remove the seeds from red chilies or even keep them if you like hot pickle.
Add salt in the red chilies. For around 1/2 cup of red chilies I have added around 3 tsp of salt. Salt will help in taking out all the moisture from chilies. That helps in increasing the shelf life of red chilli pickle.
After adding salt, keep aside the red chilies at least for 1 hour. It will start oozing out water and all the moisture will be gone.
Now with the help of a strainer remove all the water from red chilies. With water some of the spiciness of chilies will also go away.
Now take the powdered or grounded yellow mustard seeds in a mixing bowl. Nowadays you can find these mustard seeds in any Indian grocery store. You can also use whole yellow mustard seeds and pound them in pestle and mortar to get semi powder.
Now add fennel seeds or saunf in powdered mustard seeds. You can crush or pound the saunf/variyali a bit before adding into mustard. Also add a little salt for this mixture and hing / asafoetida.
Give a good stir and mix well mustard, hing, salt and fennel seeds. Now heat oil in a container. I am using sunflower refined oil to prepare this instant red chilli pickle. Traditionally mustard oil is used to make this achaar. However you can use any oil of your choice. We will heat the oil until it becomes warm and then add it into mustard/fennel mixture. If you are using mustard oil/sarsoon ka tel then you should heat it until it become smoky and then turn off and let it cool. That way the pungent smell of mustard oil will be gone.
Using a spoon mix well all the ingredients so that oil is coated properly.
Now add the red chilies in this mustard-fennel mixture.
Give a good stir again and coat the mustard mixture properly on red chillies.
Squeeze 1 lemon in this much quantity of achaar. Lemon juice and oil will act as a natural preservative and will keep the pickle fresh for months.
Now take a glass pickle jar and fill it with the red chilli pickle.
Add remaining warm oil on top and close the lid. Keep the jar aside for atleast 2-3 hours to let chili get soften.
Our instant red chilli pickle or lal mirch ka achaar is ready. The pickle remains fresh for 2-3 months when refrigerated. Use this pickle with paratha, thepla, gujarati bhakhri, khichdi or any way you like 🙂
Let us quickly check the recap recipe of red chilli pickle.
Instant Red Chilli Pickle Recipe Box (Lal Mirch Achaar)
Instant Red Chilli Pickle (Lal Mirch Ka Achaar)
Instant Red Chilli Pickle (Lal Mirch Ka Achaar): A quick n easy recipe of red chilli pickle or lal mirch achaar with yellow mustard, fennel seeds and oil.
Ingredients
Fresh red chili : 1/2 cup cut lenghwise
Rai na kuriya : 3 tbsp
Saunf : 2 tbsp
Oil : 1/4 cup
Asafoetida/hing: 1/4 tsp
Salt : 3 tsp
Lemon juice: 2 tbsp
Instructions
Wash the fresh red chillies and wipe them thoroughly with kitchen towel.
Cut the red chilli lengthwise and de-seeds the chilies.
Take chilies in a bowl and add salt. Keep aside for 1 hour.
Drain the water from chilies using a strainer and keep chillies aside.
In a separate bowl take powdered mustard seeds/rai na kuriya/rai ki daal and add saunf/fennel, salt and pinch of asafoetida/hing. Mix well all ingredients.
Add red chilies in mustard/fennel mixture and mix well.
Pour warm oil in red chilies and mix well.
Squeeze a lemon into pickle and give a good stir.
Take a pickle jar and fill it with red chili pickle.
Pour remaining warm oil from top and leave aside for 2-3 hours.
Instant red chilli pickle or lal mirch ka achaar is ready now. Serve this pickle with paratha, thepla, khichdi etc. You can store this pickle in refrigerator in an air tight container. The pickle remains fresh for 2 to 3 months.