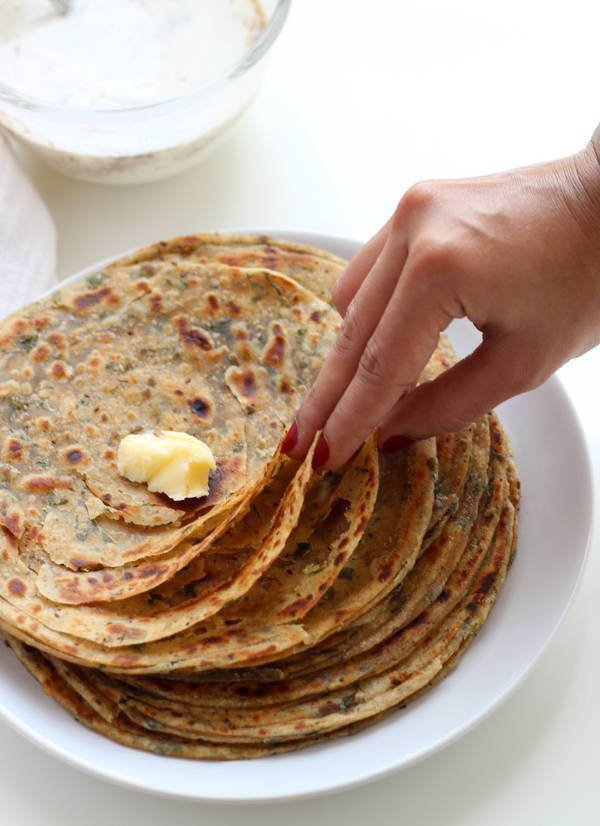 Pudina paratha recipe or mint lachha paratha – A delicious multi-layered Indian paratha made from mint (pudina) and few spices.
Here is a paratha recipe that one can die for. No literary, the texture and taste of this paratha is simply tantalizing. Lachha paratha or multi-layered paratha is quite famous in Indian sub-continent. These flavorful flat breads are served even in Indian restaurants across the globe. In this recipe I have tried infusing the texture of lacha paratha with flavor or mint. The end result is simply superb. Mostly in restaurant when you order mint paratha they serve it this way. At home if you are running a little short on time then you can make plain parathas instead of lachha.
Mint leaves or pudina has very strong flavor that goes well in many Indian recipes especially chutney. Mint is used in many beverages due to its cooling properties. I have made mint cucumber juice and also used mint in kachi keri sherbet. Also mint is used in making of pani puri flavored-water. Pudina pani or mint pani is must when I am making pani puri at home.
This pudina paratha recipe although looks lengthy but is very easy to make. If you are used to make parathas and roti then you will find this recipe quite simpler. As this recipe is made using lachha it will take sometime in rolling & folding the parathas. Otherwise making dough and roasting is quite straightforward. I have added chaat masala in making a spice mix that I have applied on paratha. This gives a slight tangy touch to taste and enhances the mint flavor nicely. You can also experiment with different spices.
Don't miss: lachha roti (lachedar roti) | ajwain paratha
The pudina paratha recipe I have shared is a restaurant style mint paratha recipe. If you order pudina paratha in a hotel, they usually make it as lacha paratha and serve this way. There are many ways of making lachhas or layers in the flat-bread. The one that I have shown here is the most basic way of folding layers in paratha. I have shared a recipe of lachha roti where I showed a different way of making lachha or layers.


Coming back to the recipe of pudina paratha let us check step by step recipe.
Recipe of Pudina Paratha or Mint Lachha Paratha with step by step pictures
To make pudina lachha paratha we will divide the recipe in 4 sections. First we will knead the dough for pudina paratha. Next we will make a spice mix using roasted cumin, chaat masala & pepper powder. Then we will roll the pudina paratha in lachha paratha style. And in the end we will roast the parathas on tawa. Let us proceed with first by making dough for mint paratha recipe.
Sieve the whole wheat flour (chappati aata) in a large mixing bowl. Add salt and oil in the flour.
Add finely chopped mint or pudina in flour.
Mix the flour and mint leaves together using hand.
While adding little water at time start kneading dough for pudina paratha.
Knead the dough for paratha. Pound the dough with hand so that it become softer.
The dough for pudina paratha recipe is ready. Cover the dough with damp cloth and keep aside for resting for 10 mins.
Let us now make the spice mix for pudina paratha or mint paratha recipe. We will mix 3 spices for this mix. In a bowl take roasted cumin powder (bhuna jeera) and add chaat masala and black pepper powder (kali mirch powder). Mix well and our paratha spice mix is ready. We will use this spice mix to enhance the flavor of pudina paratha while rolling it.
Once the dough is sufficiently rested, divide the dough into lemon size balls.
Take one paratha dough ball on rolling board and start rolling into circular round 5-6 inch diameter disc.
Roll the paratha dough into 5-6 inch round roti.
Apply some Oil or ghee on paratha surface. The oil layer helps in making different lachhas come out while roasting the parathas. So be generous on it.
Now sprinkle the spice mix we made earlier. Sprinkle nicely all across the paratha.
Make pleat in the rolled paratha by taking 1-2 cm wide paratha strip and folding it zig zag as shown in below picture. Alternately you can make lacha as I have made in lachha roti recipe.
Once the pleat is done the paratha will look like below. Make sure the spiced layer remains on top.
Now roll the paratha inward as shown in below picture.
Once the paratha is rolled, push the outer edge of paratha inwards so that it get pressed below center of rolled paratha.
Place the rolled mint lachha paratha on a rolling board. Press it using palm and make flat. Optionally you can sprinkle some dry flour on dough.
Start rolling the lachha pudina paratha using rolling pin with soft hands. Do not apply too much pressure as the layers might get infused making it difficult to separate while roasting.
Roll the pudina lacha paratha for 5-6 inch circular flat bread. The lachha paratha is ready for roasting. Repeat these steps and roll remaining pudina paratha.
Now let us roast the pudina paratha
To roast the pudina paratha, heat a tawa / skillet to medium-high flame. Wait till the tawa is hot.
Once the tawa is hot, place the rolled paratha on top and roast it.
When bubble starts appearing on top, flip the paratha and apply oil on top surface.
Flip again and roast the paratha on both side with oil.
Roast the paratha until it turns golden brown in color.
Remove the paratha from tawa and place it on kitchen countertop and using both hands press slightly across paratha so that all the layers get separated.
Delicious hot pudina lachha paratha or mint paratha is ready to serve. Serve this pudina paratha with masala dahi, onion tomato raita, pickle or any curry.
Let us check a recap recipe of restaurant style pudina paratha or mint lachha paratha.
Restaurant Style Pudina Paratha Recipe Box
Pudina Paratha Recipe (Mint Paratha)
Pudina Paratha Recipe (Mint Paratha) - A multi-layered mint flavored Indian flat bread with spices.
Ingredients
Ingredients for Mint paratha dough
Wheat flour : 1 1/3 cup
Oil : 1 tbsp
Mint leaves: 1/3 cup finely chopped
Salt : 1 tsp
Water: 1/2 cup
Ingredients for paratha spice mix
Roasted cumin powder: 1 tsp
Chaat masala: 1 tsp
Pepper powder: 1/2 tsp
Other ingredients
Oil : 1/3 cup for roasting
Instructions
Take a large mixing bowl and sieve whole wheat flour (chappati flour) in it.
Add salt and oil in the wheat flour.
Also add finely chopped mint leaves and mix well using hand.
Now while adding little water at time start kneading the dough for paratha.
Knead thoroughly into soft dough while adding water as required. Cover the dough with damp cloth and keep aside for resting.
Now to make pudina paratha spice mix, take roasted cumin powder in a mixing bowl.
Add chaat masala and black pepper powder and mix well. The spice mix is ready.
To roll the paratha divide the dough into lemon size paratha ball.
Take the dough ball and roll it into 5-6 inch circular chappati.
Apply some oil or ghee on top.
Start making pleats from one side approximately 1-2 cm in thickness. Hold the strip with your fingers, lift and fold backwards in a manner that the first strip remains on top.
Repeat above step and make pleats with remaining paratha until it become pile of strips.
Now roll the right end of paratha strip inwards and make circular disc. Once rolled, press the left end of paratha strip below the center of rolled disc.
Now place the paratha on rolling board and roll into 5-6 inch circle flat bread. Pudina paratha is ready to get roasted. Repeat above steps and roll parathas from remaining dough.
Heat a cast iron tawa or skillet and once hot place the rolled paratha on top.
Once bubbles appear on top, flip the paratha and apply oil or ghee on top side.
Apply oil or ghee and roast the paratha on both sides until it turn golden brown.
Take the paratha off the tawa and put on kitchen countertop / plate. Using both hands gently push the paratha on edges so that layers get separated.
Delicious pudina paratha or mint lachha paratha is ready. Smear some makhan/butter on top and serve these parathas hot with curd, pickle or curry.
Other paratha recipes similar to pudina paratha