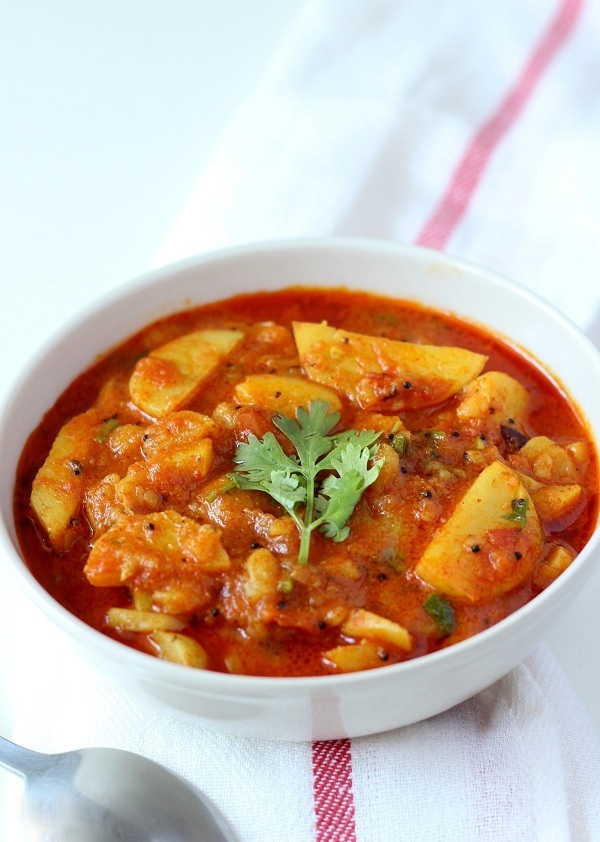 Rasawala Bateta nu Shaak literary means potato curry with gravy. This curry is very well known in Northern and Western India especially in the state of Gujarat where it is served in good occasions / weddings. Also this curry is often prepared in any Gujarati house hold. This sabji is often served in Gujarati thalis in restaurants.
This is a quick rasawala aloo recipe. There is hardly any preparation and it takes less than 15 minutes to prepare. Also as this is a pressure cooker recipe the overall cooking time is cut in half.
The simple and easy rasawala bateta recipe can be served hot and goes really well with phulka, chappati and puri. I also make this curry when I prepare Gujarati puran puri. The spice & tangy taste of rasawala bateta sabji goes well with sweetness of puran poli.
Let us check step by step recipe of easy rasawala bateta shaak.
P.S. check out my other Gujarati curry recipes: vaal nu shaak (butter bean curry), sev tameta nu shaak and aloo french beans.
Recipe of Rasawala Bateta Nu Shaak (Rasawala Aloo)
Wash the potatoes in running water and wipe out extra water using a kitchen towel. Cut the potato into cubes or slices. I have cut them here in slices.
Now heat some oil in a pressure cooker. Once the oil is hot add mustard seeds, cumin seeds, fenugreek seeds, bay leaf and dry red chili. Once the spices crackles add grated ginger and cook for a minute till the raw flavor of ginger goes away.

Add sliced/chopped potato in pressure cooker and add all Indian spices red chili powder, turmeric powder, coriander powder , salt to taste and some garam masala.
Mix all the spices well with potato and let it cook for 1-2 minutes. Now add water to the pressure cooker and mix again everything well. Close the lid of pressure cooker and cook it on medium flame for 5 minutes.
The tasty potato sabji (rasawala bateta nu shaak) is ready. Garnish with some fresh coriander leaves (cilantro) and serve hot with chapati, roti or some gujarati puran puri.
Rasawala Bateta Nu Shaak
Rasawala Bateta Nu Shaak - Indian potato curry cooked in spicy gravy.
Cuisine:
Gujarati, Indian
Ingredients
Potato: 2 cups
Tomato: 1 cup (optional)
Oil: 1 tbsp
Mustard seeds (rai): 1 tsp
Cumin seeds (jeera): 1 tsp
Fenugreek seeds (methi): 1/2 tsp
Bay leaf (tej patta): 1 leaf
Dry red chili: 1 piece
Red chili powder: 1 tbsp
Garam masala: 1 tsp
Turmeric powder (haldi): 1/2 tsp
Coriander powder (dhaniya): 1 tbsp
Ginger: 1/2 tbsp, grated
Green Coriander (cilantro): 1/2 cup
Instructions
Wash the potato well and then along wilh the skin slice the potato.
In a pressure cooker heat oil and add the mustrad seeds, cumin seeds, bay leaf, dry red chili, fenugreek seeds and let it temper.
Once tempered add ginger and cook for a min.
Add the potato slices and mix well.
Add all the masala red chili powder, coriander powder, garam masala, turmeric powder and salt to taste mix well all the ingredients.
Add chopped tomatoes in the spices and cook until tomato is softens (adding tomato is optional)
Finally add the water and presser cook it for about 5 min. Potato curry (Aloo sabzi) is ready to serve.
Garnish it by sprinkling some chopped fresh coriander on top. Serve hot with chappati or phulkas.
Notes
1. I have used unpeeled potato. You can peel off the skin if you want.
2. Add a teaspoon of chopped garlic to give nice spicy aromatic flavor.
3. Add a tablespoon & half of sugar to this sabji like Gujarati people to give it authenticity. Avoid sugar if you want.