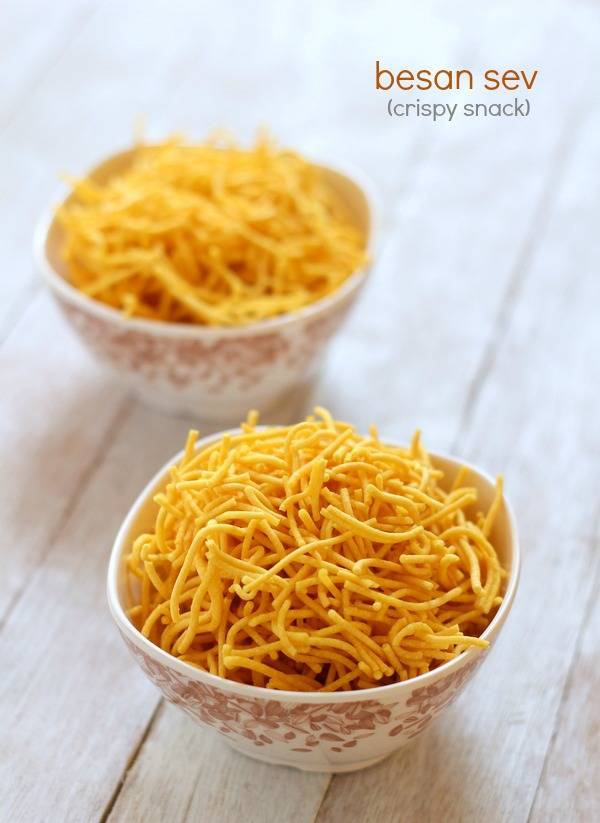 Sev Recipe or Homemade Besan Sev (Plain Sev) for Diwali – Sev is a deep fried crispy noodle like snack made from gram flour (besan). Sev has soft crispy texture with yellow color due to turmeric. It comes in different varities with different thickness. The thinner one is usually used in garnishing of various chaats & street food while the thicker one is served as snack.
As the preparation for festival such as Diwali, we make all different kinds of snacks. Every Indian home has this age old tradition of making lovely homemade snacks and serve it to guests for Diwali. This Diwali it was no exception. I have made a few of snacks recipe and wanted to share it before. But got so busy that didn't get time only. Finally I am sharing the snacks recipes after Diwali 😀 I hope you won't mind. Anyways, coming back to the point that I wanted to share. While making snacks for Diwali always plan in a way that you can make batches of Sev or other snacks and use it in other dishes. For instance, I make the sev recipe not just for serving it as snack but also use it along with murmura (mumbra or mamra) and make sev mambra. This way you can save a little effort too 🙂

In state of Gujarat the Sev is usually the thinner one with different thickness ranging from fine to medium. The thicker one is known as "gathiya" and has different texture. The sev recipe that we are making today is called "plain sev" or "sadi sev" as we are not adding any flavoring to it. Sev is not only used in chaats such as sev puri, sev papdi, etc but also in some of the curry recipes such as sev tamatar ki sabji and sev hare pyaaz ki sabzi.
This sev recipe is very easy and simple one. You can make it in no time at all. Also the sev remains fresh for months so you can prepare in bulk too.
Let me share a few tips and tricks that you might want to have in mind while making besan sev (or in that matter any other snack).
Storing tips for Besan Sev
After deep frying, once the sev comes to room temperature, always store it in an air tight container to keep it crisp.
Make sure that the container you store the sev is moisture free.
Store it in the refrigerator to keep it good for a longer period of time.
If there are any sev lumps then remove it before storing the sev in container. Otherwise it might make whole batch soggy.
Homemade snacks such as sev, gathiya, chakli, etc are made in a sevai maker machine (also known as chakali presser) which has various pre-fabricated molds with varying thickness. The sevai maker machine is filled with the dough for sev or gathiya and then manually pressed or rotated. This way fine strands of sev can be directly prepared in hot oil.
Let's begin with the simple traditional stepwise recipe of besan sev.
Recipe of Besan Sev with step by step pictures
To make this delicious crispy snack we need very few ingredients. The main ingredient is gram flour (chickpea flour) or besan. And some flavoring ingredients like salt, turmeric powder and a pinch of asafoetida (hing). You can check the exact quantities of these ingredients in the recipe box at the end of this post.

Let us begin by preparing the dough for plain sev.
1. Dough for Besan Sev
Let us first start by kneading the dough for sev. Take the gram flour (besan) in a large mixing bowl.

Add turmeric powder in the besan.
Also add a pinch of hing (asafoetida).
Now season the flour with salt.
Finally add the oil as mentioned in the recipe box at the end.
Now mix all the ingredients and flour together.
Start adding little water at time and knead the dough. Mix well all the ingredients.
The dough consistency should be a little softer then the roti dough as shown here.
Check the consistency of the sev dough. It should be little sticky as shown in below image.
Now prepare the sevai maker (chakli maker) machine. Add the sieve with smallest holes in the machine. Now transfer the sev dough in the sev maker.
Fill the sevai maker machine with the sev dough.
Close the lid and prepare it for making sev.
The dough for sev is ready. Let us now deep fry the sev.
2. Deep frying the Besan Sev
Heat the oil in a large kadhai. Once the oil is hot, start by making sev by rotating the sevai machine. Follow a circular path will dropping the sev strands.
Let the sev gets deep fried in oil for few seconds.
Using a pair of tongs, carefully lift the sev mesh and turn it to other side. Deep fry the other side as well.
Let the sev get fried in hot oil until it looks a little dark.
Once sev is fried, remove it from hot oil and let the excess oil gets drained on kitchen towel/paper napkin.
Repeat above process with remaining sev dough. Our delicious besan sev also known as sadi sev (plain sev) is ready to serve. Serve delicious crispy sev as garnish on any chaat or as snack on festivals such as Diwali.
Plain Besan Sev Recipe
Plain Besan Sev Recipe
Besan Sev Recipe - A delicious crispy gram flour noodle like snack served with chaats and as snack during festivals.
Ingredients
Gram flour (besan) : 1 cup
Oil : 1 tbsp
Hing (asafoetida) : 1/8 tsp
Turmeric powder (haldi) : 1/4 tsp
Salt : 1/2 tsp or to taste
Water : 1/3 cup
Instructions
In a bowl take basan flour and all seasoning ingredients such as salt, turmeric powder, oil and hing. Mix well all dry ingredients.
Add water slowly and kneed the dough soft and smooth.
Prepare the sevai machin by using ready made mold with smallest diameter for sev.
Put enough dough to fill the cylinder of sev maker and close it.
Heat the oil for frying the sev on the other side.
Once the oil is moderately hot, hold the sev maker over frying pan and rotate it clockwise so sev will start coming out into the oil..
As sev comes out move the sev maker in the circular motion, once you complete a circle stop. (Note: To stop the sev coming from sev maker rotate it anti clockwise)
Fry both sides till they become light golden brown, (Note: when the sev is done the oil will stop sizzling)
Take the sev on to the kitchen towel.The crispy sev is ready to eat.
You can store the sev in air tight container. It remains fresh atleast for a month.
Other Diwali Recipes similar to Besan Sev