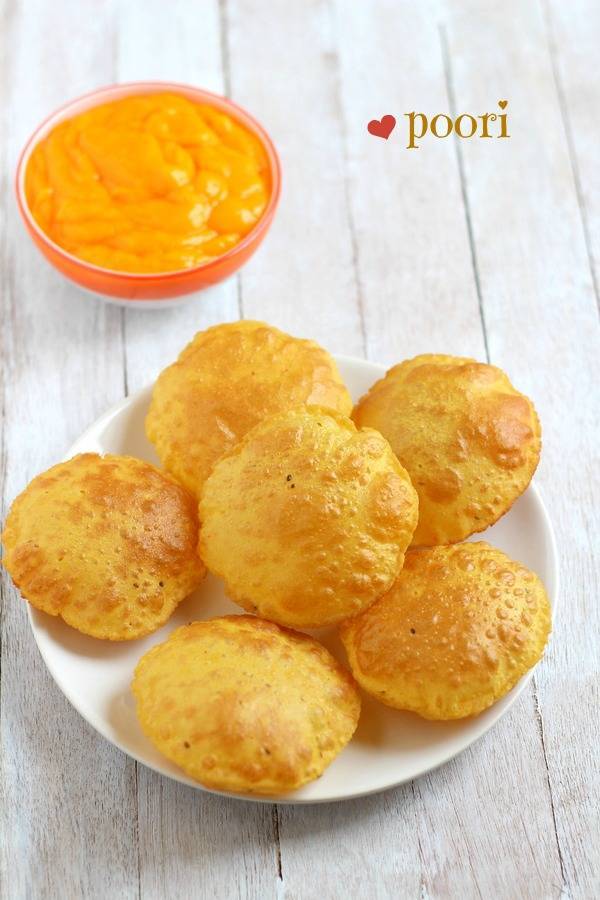 Poori recipe for aamras with step by step pictures – A whole-wheat flaky deep fried bread recipe served with aamras in festivals.
Yesterday I shared a delicious Aamras recipe that I made earlier this week. Along with aamras I had made wheat poori or puri and sookhi moong dal sabzi. This combination is really delicious and is often prepared during summer time in my home. I grew up with strong liking of mango and other recipes that goes along with it. Being a seasonal fruit it is always a forbidden fruit to me. It's the best thing that can happen in summer for me (except for the summer vacations when I was in school ;-))
Earlier I made poori recipe that can be served with puri bhaji for breakfast. This poori recipe is slightly different than that. In this puri recipe I have used some dry spices like turmeric powder, red chili powder. Also the size of puri is little smaller than the puri bhaji pooris. This puri recipe is normally prepared for guests in our home during summer season. Puri and aamras combination is everyones favorite. Also I have added Ajwain (carom seeds) in this puri recipe. Ajwain being strong in flavor adds to the taste and also it is good for tummy and hence help in digestion.
Making puri (rolling and frying) is not an easy task I must admit. I have had too much practice before I got decent batch of puris. My mum used to stand and guide me while I was learning this art of making pooris. But with little practice it is easy to learn and master this. The criteria of best poori is that it should puffs up. Poori is suppose to be perfect round. But with practice it will come. If you are trying these poori for first time then try rolling it a bit thicker. That way it will puffs up.

This puri is also served with shrikhand (called shrikhand puri) or dudhpak during rakshabandhan. You can even make this combination of shrikhand puri and aloo sabzi for lunch menu. Also these poori goes well with chana masala and chole paneer.
Storage tip – These deep-fried puri for aamras remains fresh for 1-2 days when stored in an air tight container.
Let's get back and check the step by step recipe of wheat poori for aamras.
Recipe of Poori with step by step pictures (Aamras Puri Recipe)
To make delicious poori sieve the whole wheat flour (gehu ka atta) in a mixing bowl. Then add 1/2 tsp of Ajwain (carom seeds). Add turmeric powder (haldi), red chili powder (lal mirch) and coriander powder (dhaniya). Also add salt as per taste. Check the recipe box at end of this post to know exact quantities of each ingredients.
I have added turmeric powder in this poori dough. Normally I don't add turmeric powder when I am making puri for puri bhaji. However for this poori recipe I am adding a little turmeric powder.
Now add oil in the poori dough. Oil will make the poori softer and its texture better.
Now mix all the spices in wheat flour using hand.
Adding little water at time, start kneading the dough for wheat poori recipe.
Add water as required.
Knead the dough for poori. Using hands pound the dough to make it softer. Once the dough is ready keep it aside to rest for 10 minutes.
Once the dough is rested, divide the dough into small lime size dough balls for poori. Take each dough ball in hand and give it round shape and press it. We have prepared all the poori dough balls this way.
Now take a poori ball on rolling board and without applying any wheat flour roll it into poori. Alternatively you can use a poori press or poori maker to make pooris. Also you can roll the dough into big roti and then using a circular cutter cut small small discs.
Prepare the poori this way. Roll all the pooris and keep it aside.
Now to fry the poori, heat oil in a deep kadhai. Pre-heat the oil and check by putting a small dough piece if oil is hot enough. Once the oil is ready, carefully place the poori in hot oil.
Let the poori gets fry for 5-10 seconds. Press the poori on top using a frying spoon so that it puffs up.
Tap the poori on top using frying spoon so that it puffs up.
Flip the poori on other side.
Fry the wheat poori in oil until it turns golden brown. Take the poori out of kadhai and place it on kitchen napkin or paper to soak extra oil. Repeat these steps and deep fry remaining poori in oil.
Delicious wheat poori is ready. Serve the poori along with aamras and sookhi moong dal sabzi.
Wheat Poori Recipe Box (Aamras Poori)
Poori Recipe (Wheat Poori for Aamras)
Poori Recipe - A traditional deep-fried whole wheat bread recipe served during summer season & festivals with aamras.
Ingredients
Wheat flour : 2 1/2 cup
Ajwain (carom seeds): 1/2 tsp
Turmeric powder : 1/2 tsp
Red chili powder : 1/4 tsp
Coriander powder: 1 tsp
Oil : 1 tbsp
Salt : 1/2 tsp
Water : 3/4 cup or as required
Instructions
Sieve the whole wheat flour (gehu ka atta) in a large mixing bowl.
Add ajwain, turmeric powder, red chili powder, coriander powder, oil and salt to taste and mix well all ingredients.
Pour water and knead into puri dough.
Keep the puri dough aside for resting for atleast 10 minutes.
Divide the dough into small lime size dough balls.
Take a dough ball and place it on rolling board. Roll the dough into small 2-3 inch wide wheat puris.
Repeat this step and roll puris with remaining dough.
Now heat oil in a kadhai for deep frying.
Once oil is hot carefully add rolled puri and start frying it.
Tap on the upper surface using skimmer and puff the poori.
Flip the poori to other side and cook until it turns golden in color.
Take the fried poori off kadhai and place it on kitchen napkin.
Repeat above steps and deep frying remaining pooris.
Puri is ready to serve. Serve puri along with sookhi moong dal, aamras and shrikhand.