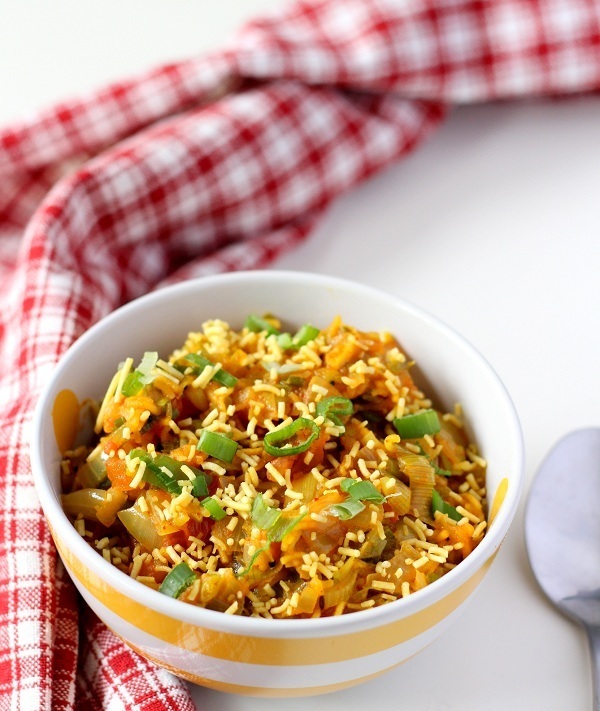 Sev Pyaz ki Sabzi recipe – This is an easy curry recipe of spring onion. Not always we get chance to cook with spring onions also known as hari pyaaz in Indian recipes. Mostly it is used in Indochinese dishes but often we do use this nutritious ingredient.
With spring onion I had experimented once and made roasted tomato and spring onion curry. It turned out really well. But not so often we try new things and stick to old recipes. Sev aur pyaaz ki sabzi which means fried gram flour vermicelli & spring onion curry is one such recipe.
The sev (fried chickpea flour vermicelli) is commonly used in Indian street food like chaats but is also common in many Gujarati/Maharastrian curry recipes like sev tamatar ki sabzi. It comes in so many different varieties. The one that fits for this recipe is a slightly thicker version which does not easily get mussy.
This is an easy to cook Indian curry recipe. It hardly take minutes to cook and yet taste delicious. I cook this sev pyaaz ki sabzi at for lunch and serve it with chappatis.
Let us check the step by step easy recipe of sev pyaz ki sabzi.
Recipe of Sev Pyaz ki Sabzi (Sev Pyaaz Curry)
Take a cup of sev (fried gram flour vermicelli) for this recipe. We will use thicker sev so that it doesn't get mussy.

Also rinse the spring onion and chop into pieces. Also use green part of spring onion. Now wash and chop the tomatoes. For one part of spring onion we use 1/2 part of tomatoes.
Finely chop green chilies and ginger also.
Now heat a tablespoon of oil in pan and add cumin seeds (jeera). Let the cumin seeds get crackles. Then add chopped green chilies and ginger. Saute for a minute or so until the raw flavor of ginger goes away.
Add chopped spring onion (pyaaz) along with its green part and cook for 2 to 3 minutes. Once the spring onion gets soften, add coriander powder (dhaniya), red chili powder (lal mirch) and turmeric powder (haldi). Mix well the spices and let the spices get cooked for 2 more minutes.
Throw in the chopped tomatoes and also add salt to taste. Mix all the ingredients well and let it cook on low flame for 4-5 minutes till the tomatoes get soften.
The gravy for sev pyaz curry is ready.
Now just before serving add the sev (fried vermicelli) in spring onion gravy and mix well.
The tasty sev pyaz ki sabzi is ready to serve. Serve hot with chappati or phulkas.
Sev Pyaz ki Sabzi Recipe, How to make Sev Spring Onion Curry
Sev Pyaz ki Sabzi - Tasty Indian curry of fried (sev) gram flour vermicelli and (pyaz) spring onion cooked with Indian spices.
Ingredients
Sev: 1 cup, thick
Spring Onion (hari pyaz): 1 cup, chopped
Tomato: 1/2 cup chopped
Green chili: 1 tsp, finely chopped
Ginger: 1 tsp, finely chopped
Cumin seeds (jeera): 1 tsp
Red chili powder: 1/2 tbsp
Turmeric powder: 1 tsp
Coriander powder: 1 tbsp
Salt: to taste
Instructions
Rinse the spring onion thoroughly and chop. Also wash tomatoes and chop into pieces.
Peel off the skin of ginger & finely chop ginger & green chilies.
In a pan heat oil and add cumin seeds (jeera) and let it crackles.
Add finely chopped green chilies and ginger in hot oil & saute for a minute.
Now put chopped spring onion (hari pyaz) and mix it well. Let it cook for 2-3 mins.
Put turmeric powder, coriander powder and red chili powder and mix well. Cook for 2 mins.
Now add chopped tomatoes and salt to taste. Cook until tomatoes softens.
Finally add sev (fried chickpea vermicelli) and mix well.
Sev aur pyaz ki sabzi is ready to serve. Serve hot with phulkas, chappatis or roti.