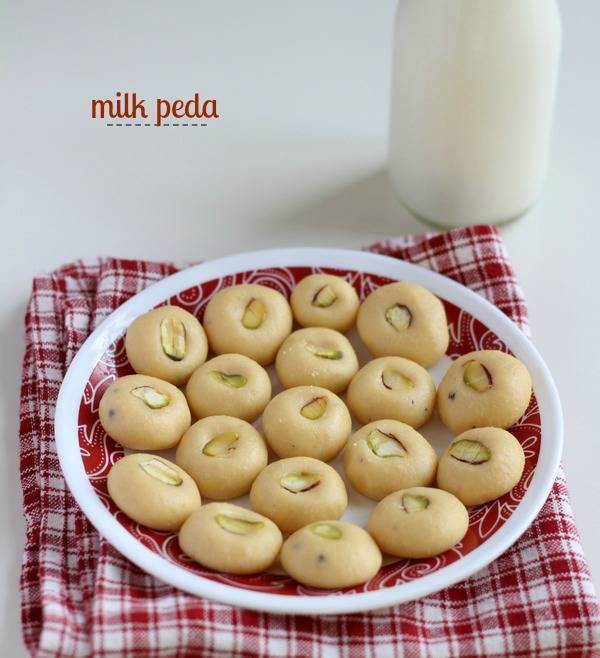 Milk Peda Recipe without Condensed Milk: Peda or pedhe are like soft milk fudge which has a slight grainy  texture. The word "peda" or "pedha" usually means round balls made from khoa or any dough. We say make peda out of anything. However the word peda is synonymous with traditional Indian milk fudge sweet. I guess peda might even be the oldest traditional sweet in India dating back for centuries.
The history of peda predates most of Indian sweets. According to wikipedia, peda were originated in the state of Uttar pradesh and the variety available in the city of Mathura is considered to be the best one. And to my pleasant surprise peda where also prepared during the same time in the state of Saurashtra which is now a province in Gujarat state (Peda are called "Penda" in Gujarati language). I guess that's why Peda from city of Rajkot and Bhavnagar are so delightful and popular in India. During later part of century the recipe spread out across India and now you cannot find a town where peda is not made.
Traditional peda is made from sugar and khoa or khoya. Khoa is prepared by drying out milk in an open iron pan by heating the milk. The dry milk solids are then combined with different flavoring agent like cardamom, saffron etc. It give distinct flavor to peda. Peda can also be made using milk as I have shown in this recipe. Although it takes longer time compared to peda made from khoa but the result is more or less similar.
Being considered as an auspicious sweet, milk pedhe are also served as prasaad or prasadum in religious services.

You can even make these delicious sweet peda with condensed milk. The recipe is simpler then milk peda. In this recipe the condensed milk is combined with milk powder. I will publish the recipe of peda using condensed milk very soon.
Tips to make milk peda
Always grease the pan/ kadai with ghee before heating milk in it. This way milk will not stick to the pan/kadai.
You can add citric acid instead of yogurt in milk. However adding yogurt will result in smaller granules that gives soft texture.
Let the milk reduces to half of its original quantity and then add curd in it.
After the peda mixture is done leave aside and let it cool down completely.
Instead of kneading peda mixture with hand you can use mixture grinder as I have done here.
Let us check the step by step recipe of milk peda or doodh peda with photos.
Recipe of Milk Peda step by step with pictures
Grease the pan with ghee so that milk does not stick to the pan/kadai.
Now add milk in the pan/kadai and start heating it.
Once the milk starts boiling add sugar and let it simmer.
Let the milk get simmer on low/medium flame until it reduces to half of its original quantity. Keep stirring the milk while its boiling. Scrape the sides of the pan and mix the malai into the milk.
Now add yogurt to the milk and keep stirring.
After adding yogurt the milk will start to curdle.
Keep strring as you can see milk has started to thicken.
Cook until the whey evaporates and milk solids remains. Take it off the heat and let it cool off.
Once the mixture is completely cool down take the mixture in a mixture grinder and grind it to smooth paste.
Now add cardamom powder and mix well. With the help of measuring spoon divide the mixture into equal balls.
In the below picture you can see I have divided the peda mixture into equal size balls using a spoon. This way all the peda will come out equal in size.
Take milk peda mixture in hand and roll it to a round ball . Press it from the center and place the chopped pistachio in center.
Milk peda is ready.
Milk Peda Recipe Box (Doodh Peda)
Milk Peda Recipe (Doodh Pede)
Milk Peda Recipe (Doodh Pede): A traditional Indian sweet milk fudge prepared during auspicious occasions or religious ceremony.
Ingredients
Milk: 1 liter
Sugar: 1/4 cup
Yogurt / Curd: 2 tbsp
Cardamom powder: 1/2 tsp
Pistachio: 1 tbsp slievered
Instructions
Grease the pan/kadai with ghee and add milk in the pan. Heat the milk.
Once the milk starts boiling keep stirring it continuously.
Add sugar and let the milk get simmer.
When the milk reduces to half add curd and keep stirring.
Milk will start to get curdle once the yogurt is added and becomes thick.
Let the milk gets cooked until all the moisture evaporates from it. Turn off the gas and let the mixture cool off.
Once the peda mixture cools down completely take it into a mixture jar and grind until smooth.
Take the grinded peda mixture in a bowl and mix cardamom powder into it.
Divide the mixture into equal balls and start making balls by pressing it between hands.
Give round shape to peda mixture and keep the pede in a plate.
Gently press the peda in center and make a dent. Place the slivered pistachio in the dent and press a little.
Delicious sweet milk peda are ready.
Other sweets recipe similar to milk peda