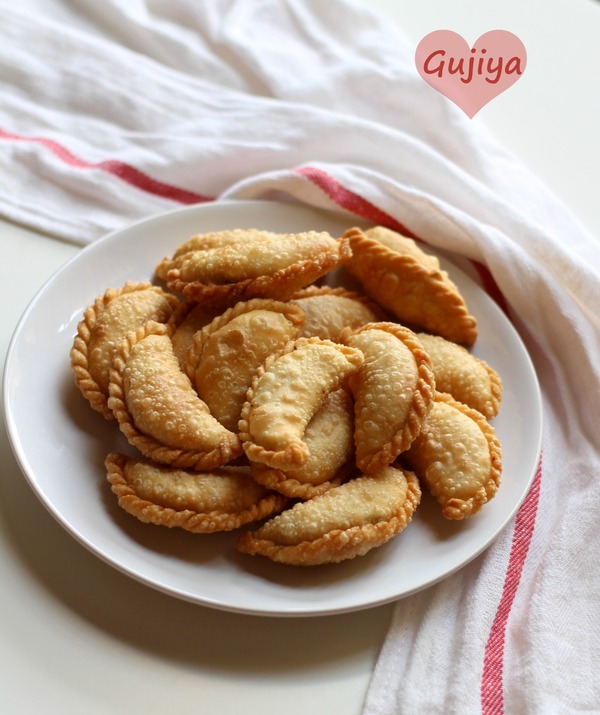 Gujiya Recipe or mawa/khoya gujia recipe – Step by step – A festival without sweet is not possible in India. We Indians love our festivals and also the sweets served during festive season. Let it be holi, diwali, uttrayan/makarsankranti or even maha shivratri; sweets makes integral part of indian culture. Gajar halwa, churma ladoo or gehu ke laddu , suji halwa, kheer etc are must for any festival in India. There is yet another sweet which also doubles as snack as this sweet is not very sweet. Yes I am talking about "Gujiya" – A fried crispy flaky pastry stuffed with sweet filling made from khoya and desiccated coconut.
Gujiyas are known by several names in different parts of India. For example in Gujarat they are known as Ghughra. Karanji in Maharastra, Kajikalayu in Andhra, Nevries in Goa, Karachika in Tamil nadu, etc. The recipe is almost same for all these with slight variation in the stuffing. Normally khoa/khoya is used for stuffing. Lot of people add desicatted coconut powder in stuffing. Sometime people use samolina/rava/suji too. You can use readymade khoya for this recipe or even make khoya at home.

Gujiyas or karanji is usually made on auspicious occasion of holi festival. As gujiya remains fresh for several days (around 5-7) they are prepared in advance for holi festival. During holi a lot of other dishes like rajasthani malpua and thandai which is very popular in North India. The festival of color is not complete without these mouth watering sweets.
Gujiya or ghughra are known for its typical pleates folded along the edges. By folding gujyas this way we make sure the filling does not come out while frying. However if you are unable to make pleates as shown here you can always seal the gujiyas with fork or even use ready made gujiya mould to fold them.
Let us check few simple tips to make perfect mawa gujiya or karanji.
Tips to make perfect Gujiya recipe
While making the pastry/dough add ghee as mentioned here. If added more, the dough will become soft and gujiya can break/open while frying.
While sealing/closing the gujiya apply water on side and seal properly this way gujiya will not open.
Do not over fill the gujiya with stuffing otherwise they might open while frying.
Always try to handle the gujiya with soft hand or else it may break.
Do not leave the dough or gujiya open. It will get dry so always cover with damp cloth.
Fry gujiyas on low flame so that the outer layer becomes crisp.
Let us now check the step by step recipe of sweet mawa filled gujiyas with photos.
Gujiya Recipe with Step by Step pictures
To make these delicious sweet gujiya we will need following ingredients. Plain flour/maida, powdered sugar, ghee/clarified butter, raisins, khoya/khoa/mawa, desiccated coconut and dry fruits (pistachio, almond etc).
Let us begin with the first step of making gujiya pastry or dough.
1. Gujiya Recipe – Steps to make Gujiya Pastry/Dough
To make gujiya pastry or dough take the maida/all purpose flour in a mixing bowl and add ghee. Using your palm incorporate the ghee into maida well. Now add water and knead a semi-hard dough for gujiya pastry. Cover the dough using a damn kitchen towel/cloth and keep aside to rest.
Let us proceed with second step of making sweet stuffing or filling for gujiya. The stuffing of gujiya is made from khoya/khoa/mawa, desiccated coconut and sugar.
2. Gujiya Recipe – Steps to make Gujiya Stuffing/Filling with Khoa/Mawa
The stuffing of gujiya is also known as "Kasar". To make gujiya stuffing or Kasar heat the khoa/khoya in a non-stick pan. You can grate the khoa if its hard. I have used homemade khoya to prepare stuffing for gujiya but you can use ready made khoa too.
Using a spoon or spatula break the khoa into uniform mixture. Once separated turn off the heat.
Take out the khoya into a bowl and add powdered sugar, slivered dry fruits like pistachio almond, raisins (kismis) , desiccated coconut powder and cardamom/elaichi powder.
Using a spoon mix well all the ingredients. The gujiya filling or stuffing is ready.
Let us now prepare/fold the gujiya and fill it with the sweet stuffing.
3. Gujiya Recipe – Steps to prepare and seal Gujiya
Divide the plain flour gujiya dough into lemon size balls. Take a ball on rolling board and using a rolling pin roll into circular disc approximately 3-4 inch in diameter. Using a small bowl / katori press and remove the circular dough pastry. You can roll a large disc and then separate out 3-4 small circles using katori.
Now let us fill the gujiya with stuffing. Take a small pastry disc in hand and put a portion of sweet stuffing also known as "kasar" into it. Fold the edges as shown in below picture. Seal the edges by applying water and pressing it against each other. Now fold the edges as shown here to give gujiya its traditional look. You can use gujiya mold to prepare gujiya however I have just folded them by hand.
Gujiya is stuffed with filling and folded now.
Repeat the above steps and fold the remaining gujia.
Now the final step. Let us deep fry the gujiyas. You can also bake the gujiya in oven. Baked gujiya are healthier but they don't taste as good as fried once.
4. Gujiya Recipe – Frying Gujiya
To deep fry the gujiya heat oil in a frying pan. Traditionally ghee/clarified butter is used to fry gujiyas. However I like them fried in oil too. Once the oil is hot enough submerge each gujiya carefully in hot oil and let them fry on medium-low flame until they become golden in color.
Let the gujiyas fry in oil until they become golden in color.
Remove the fried gujiyas from frying pan and place them on absorbent paper/paper napkin to let excess oil get soaked.
Delicious sweet mawa or khoya gujiya are ready.
Let us check the recap recipe of khoa gujiya with list of ingredients
Mawa or Khoa Gujiya Recipe Box
Gujiya Recipe, Mawa Gujiya Recipe
Gujiya Recipe or mawa gujiya recipe - A sweet deep fried pastry filled with mawa/desiccated coconut filling.
Ingredients
For pastry or dough for Gujia
Maida / All purpose flour : 1 cup
Ghee / Clarified butter : 2 tbsp
Water : 1/3 cup
For sweet mawa filling for Gujiya
Khoya / Khova : 50 grams
Coconut powder (dessicated) : 2 tbsp
Sugar powder : 1/2 cup
Dry Fruits : 2 tbsp
Cardamom powder : 1/4 tsp
Other ingrediets
Instructions
To make pastry or dough for Gujia
In a bowl take mainda/all purpose flour.
Add ghee/clarified butter to madia and mix well both the ingredients.
Add water to flour and knead into dough. (Note: add little water at a time and knead so that dough does not get too soft )
Once the dough is kneaded cover the dough with damn cloth and keep aside for 25 min to rest.
To make sweet mawa filling for Gujiya
In pan take the mawa/khoya and cook for about 2 min or till the khoya changes its color.
Turn off the gas. Once the khoya cools down transfer it in a bowl.
Now in the khoya add powdered sugar, dry fruits, dry coconut powder and cardamon powder mix well.
The stuffing or filling for gujiya is ready.
Steps to fold gujiya without gujiya mold
Once the dough is rested for about 25 min it is time to roll out gujiya.
Make small round equal balls out of dough and cover it with damn cloth.
Now take one round ball and place it on the rolling board and with the help of the rolling pin roll it to a flat puri like shape approx 3-4 inch in diameter.
Cut the puri with the help of katori / cookie cutter. This way your gujjiya will have equal size.
Fill the stuffing inside. Don't add too much of filling just add a tbsp.
In corners apply some water and seal the sides properly.
Fold into pleats the edge by pressing and folding it. This way gujiya will get sealed properly. You can also use ready made gujiya mould or shaper.
Now repeat the same process for remaining gujiya and cover them with damn cloth.
To deep fry the gujiyas
Heat oil in a frying pan and once hot place gujiya carefully in it.
Fry the gujiya on low flame so that the outer crust is nice crisp.
Remove the gujiya on kitchen napkin/paper towel once they become golden in color.
Let the gujiya gets cool down. Sweet mawa filled gujiya are ready now.
You can store the gujiyas in air tight container.
Few snacks and sweets recipes similar to gujiya.
Some Indian snack recipes similar to Gujiya