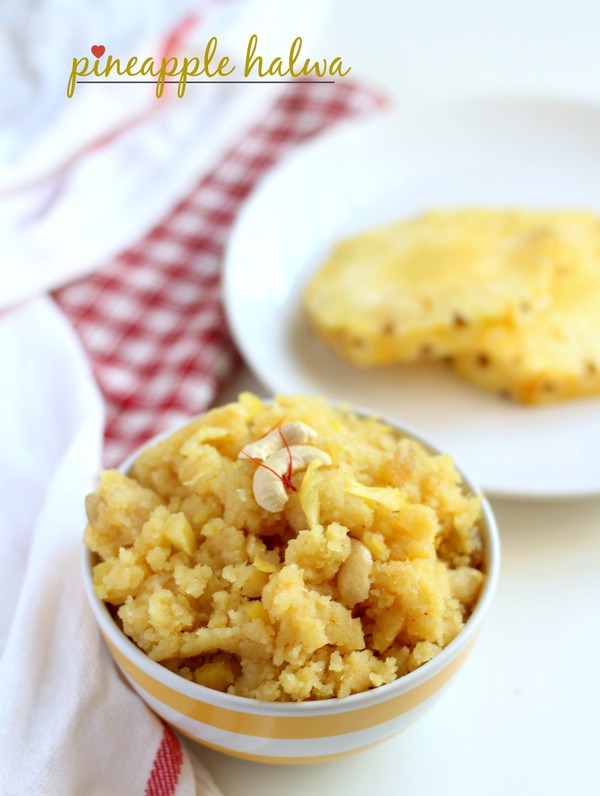 Pineapple sheera recipe or pineapple suji sheera recipe – Do you get bored of eating plain old rava halwa or sooji sheera? Well, this recipe is exactly for you. Try this delicious creamy pineapple flavored halwa and you will never touch old sheera ever. Trust me.. I know cos everyone in my family.. from elders to kids love this sheera. They even ask me to make pineapple sheera or halwa in "prashad" for pooja instead of regular one.
We Indian cook so many dessert recipes (we called them sweets) at home. Whatever the occasion but we make sure there is one sweet prepared at home to suit the occasion. Kheer, churma ladoo, gajar halwa, gujiya are just few of gazillions of sweets recipes that we prepare at home. Mostly cooking sweet is a regular task. We follow the old grandma recipe and the result is always perfect. Sometime you might want to diverge from your course and indulge in experimenting with traditional recipes. This pineapple halwa is one such kitchen experiment that you must try 🙂 a twist to plain old sheera.
Related: rava sheera/sooji halwa | gajar ka halwa
This pineapple flavored halwa is so easy to make at home and it requires very few ingredients. All you need is some fresh pineapples besides regular sheera ingredients. Even not so fresh pineapple can be used to make pineapple halwa. We need to cut pineapple into small small pieces as well as we can use the center hard circular disc by making it puree in grinder and using it in recipe. That way whole of pineapple is used in this recipe.

In the state of Tamil Nadu this pineapple halwa is very popular as it is served in wedding and is called "pineapple kesari". It is known by many names.. pineapple halwa, ananas sheera, etc etc Whatever you call it but do try once.
There are so many ways people cook this sheera as some people add just water instead of milk, some add water and milk or just add the pineapple chunks only and pineapple essence and the other way is as I made. So you can make your own choice and innovate in this pineapple halwa recipe. If you not sure what way to follow then simply make the pineapple halwa the way I made it here. Believe me you won't regret it 🙂
Before we dig into step by step recipe of pineapple halwa, let us check few tips and tricks that you help you nail this halwa recipe.
Tips to make perfect pineapple halwa/sheera
Always roast the suji before making the sheera.
Cut the sides of the pineapple for the chunks and make the puree of middle part as it is little hard.
By adding pineapple puree you don't need to add the artificial pineapple essence.
Always add enough quantity of ghee to the sheera. That way it will become soft and creamy.
Kesar/saffron give natural yellow color to pineapple halwa. This way we can avoid artificial coloring.
Always add the sugar at the end so that your halwa/sheera will not become sticky.
You can even make this sheera in water. However I like my sheera cooked in milk. That way it becomes really soft and creamy.
Let us check the step by step recipe of pineapple halwa or ananas sheera with photos.
Recipe of Pineapple Halwa (Ananas Sheera) with step by step pictures
To make this delicious pineapple halwa recipe we will need following list of ingredients. Pineapple cut into chunks and purée, samolina/rava/sooji, sugar, milk, raisins, cashew nuts and saffron/kesar. Prepare the pineapple by peeling off its skin and chopping into small pieces. Also use the center part of pineapple to make puree. This way whole pineapple can be used in halwa. Also soak some saffron/kesar in warm milk or water and keep aside.
You can find quantities of each of these ingredients in recipe box at the end of this article.
Let us start with the recipe. First heat clarified butter/ghee in a non-stick thick bottom pan. Once the ghee is hot.
Once the ghee starts melting reduce the flame and slowly add samolina/sooji.
Roast the rava/sooji in ghee on low flame stirring it continuously till it becomes golden in color. Once cooked properly the Suji will give nice aroma.
Once the suji is roasted add pineapple chunks / pieces. Mix well.
Cook the pineapple chunks for 1 minute.
Also add pineapple purée into sheera / halwa and cook for 1 minute.
Now pour milk in pineapple halwa. Mix nicely.
Also add soaked kesar/saffron along with the water in halwa.
Let the milk comes to boil and cook on low flame while stirring occasionally.
Cook until milk evaporates and suji is nicely cooked.
Add sugar and incorporate it well with pineapple halwa. Add sugar according to your taste and as per the tartness of pineapple. If you are using over ripe pineapple then you might need to add less sugar. Thus check the pineapple before adding sugar.
Garnish the pineapple halwa with dry fruits (cashew nuts, raisins etc).
Sweet pineapple halwa or sheera is ready to serve. Serve this halwa warm.
Let us check the recap recipe of pineapple halwa or pineapple sheera.
Pineapple Halwa Recipe Box
Pineapple Halwa Recipe (Pineapple Suji Sheera)
Pineapple Sheera Recipe or Pineapple Suji Sheera - A tasty pudding recipe of pineapple and roasted samolina/rava.
Ingredients
Pineapple chunks: 1/2 cup
Pineapple puree : 1/2 cup
Suji / Rava / Samolina : 1/2 cup
Milk: 1 cup
Ghee/Clarified butter : 3 tbsp
Sugar: 1/2 cup
Cashew nuts: 5 pieces
Kismiss : 1 tbsp
Saffron / Kesar : 6 strands
Instructions
Pre-preparations
Peel off the pineapple carefully and cut the soft side into small chunks.
Separate the middle hard part of pineapple and puree it in food processor / mixer grinder.
Heat around 2-3 tbsp of water or milk and soak the saffron / kesar in it and keep aside.
Making Pineapple sheera
Heat clarified butter/ghee in a thick bottom non-stick pan.
Once ghee starts melting lower the flame and start adding samolina or suji/rava.
Roast the suji in ghee on low flame by continuously stirring it till it becomes golden brown.
Leave aside few pineapple chunks for garnishing and add remaining chunks in sheera. Mix well and let pineapple chunks get cooked for 1 min.
Add pineapple puree in sheera and mix well. Let the pineapple cook for 1 min.
Now add milk and mix well.
Add soaked saffron / kesar and combine well with sheera. This will give nice yellow color to pineapple sheera.
Cook on low flame for 3-5 min until the milk evaporates and suji is nicely cooked.
Add sugar according to the taste of pineapple. Combine well into sheera.
Let pineapple halwa gets cooked on low flame until milk evaporates and sooji is nicely cooked..
Pineapple suji sheera is ready. Garnish with pineapple chunks, cashew nuts, kismis/raisin and serve hot or warm.
Also check these
Indian sweets recipes
.