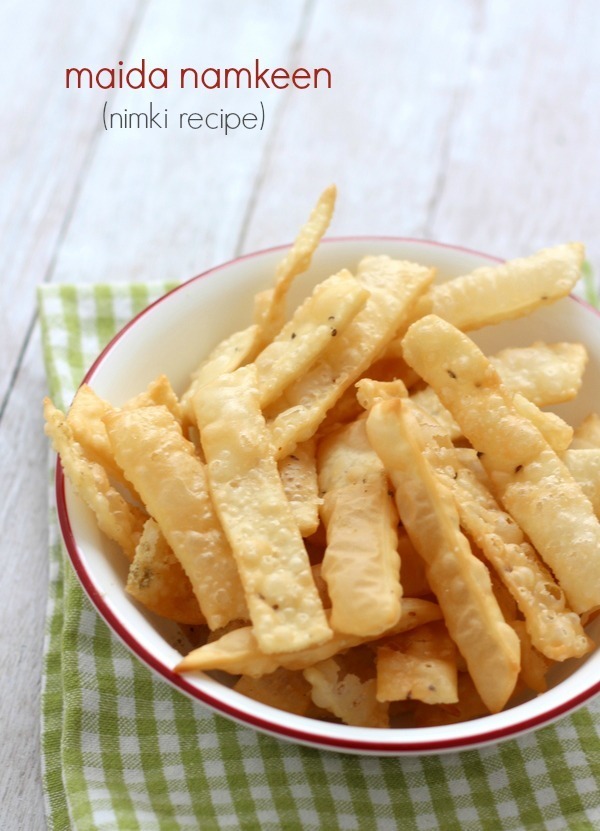 Crisky maida namkeen recipe or nimki recipe with step by step pictures – Crispy, crunchy savory made from deep-fried refined flour and carom seeds served during diwali festivals.
Today I am sharing with you a delicious tea time snacks recipe that is normally prepared during Diwali or Holi festival. But since summer vacation is going on, I have two very cute nephews at home. So I thought of making this delicious savory of maida namkeen. Kids love this snack.
The recipe of namkeen snacks is quite popular in North and Western Indian states. Like this namkeen other maida reicpes like crispy maida puri, rajasthani mathri etc. All these delicious snacks are served during tea time.
In this recipe of maida namkeen, I have added ajwain (carom seeds). A lot of people add kalonji or jeera (cumin seeds) also. But since we are making this nimki recipe using refined flour or maida, it is good to add ajwain as it helps in digestion. Also it gives nice flavor to maida namkeen.
Although this is a deep fried recipe of namkeen, you can also bake this nimki in oven to make a healthier version. Baked namkeen will have similar texture and taste but little lesser shelf life. So make it fresh and consume it within few days.

This maida namkeen can be made in advance and store in an air tight container. It remains fresh for around 2 months. So you can also put this crispy namkeen in tiffin box/lunch box for kids or even take this namkeen as snack for long journey.
Let us check the step by step recipe of maida namkeen or nimki.
Recipe of Maida Namkeen or Nimki with step by step pictures (Diwali Recipe)
Sieve refined flour or maida in a big mixing bowl.
Add salt to the flour. Season the flour according to your taste.
Also add ajwain or carom seeds in the maida.
Add 1 tsp of oil in the flour now.
Mix the flour with salt, ajwain and oil using hand.
Now adding little water in refined flour start kneading the dough for namkeen.
Knead the dough for maida namkeen or nimki.
Pound the dough using hands so that it becomes soft. Keep the dough aside for 10 min to rest.
Divide the dough into small balls roughly size of lemon. Take one ball and roll it into thin roti.
Roll the maida dough into thin roti of 6-7 inch diameter.
Now using a knife or pizza cutter, cut the dough into 1 – 1.5 cm thick slices as shown in below picture.
Now turn the rolling board and make cuts perpendicular to other cuts. Cut the roti into 2 or 3 equal slices. Namkeen is ready to be fried.

Now for frying, heat oil in a kadhai. Check if the oil is hot enough for putting a small piece of dough in oil.
Now add the namkeen dough in oil and deep fry the namkeen.
Fry the maida namkeen or nimki till it become golden in color.
Once the maida namkeen is fried take it out of oil using a frying spoon. Delicious namkeen or nimki is ready.
Maida Namkeen Recipe or Nimki Recipe Box
Maida Namkeen Recipe (Nimki Recipe)
Maida Namkeen or Nimki - A tasty cirspy snack recipe loved by kids and served during Diwali festival.
Ingredients
Maida : 1 cup
Salt : 1/2 tsp
Ajwain : 1/2 tsp
Oil : 2 tsp
Water : 1/3 cup or as required
Instructions
In a large mixing bowl sieve the maida flour (refined flour).
Add salt, ajwain (carom seeds) and oil in the flour.
Now while adding little water at time start kneading dough for namkeen.
Knead the dough for maida namkeen. The dough should be a bit softer than roti dough. Once kneaded keep the dough aside to rest for 10 min.
Now divide the dough into equal size balls.
Take a maida dough ball on rolling board and roll into round 6-7 inch wide roti.
Now using a knife or pizza cutter cut the dough into 1-1.5 wide strips.
Rotate the rolling board and cut roti into half so that strips of maida dough remains.
Now to fry the maida namkeen, heat oil in a kadhai.
Check if oil is hot enough by adding a small piece of maida dough.
Once the oil is ready add the maida dough slices of namkeen into oil and deep fry it.
Fry the namkeen or nimki until it becomes golden in color.
Once fried, take the namkeen out and place it on kitchen towel or paper for soaking extra oil.
Delicious namkeen is ready.
Other interesting snacks recipe