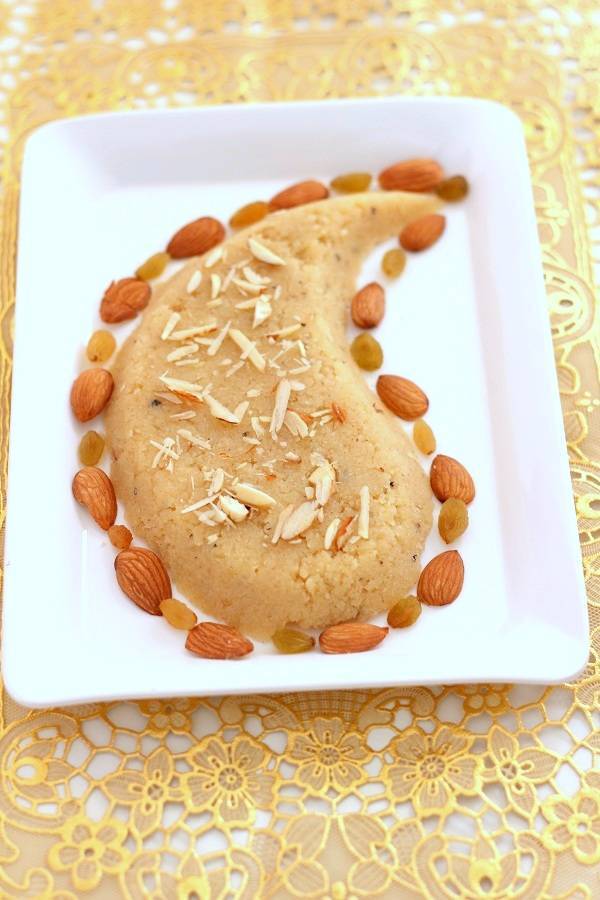 Rava Sheera or Sooji Halwa recipe – Quick and easy Rava sheera recipe: Every special occasion needs a special treat. And we Indians are great in celebrating any occasion however small or big 🙂 My mother used to make rice kheer whenever I passed flying colors in exams. She used to make sheera in my kid bro's birthday. So here is recipe of my favorite dessert that I make almost every month rava sheera or sooji ka halwa.
Related recipe: Pineapple Sheera Recipe
Rava sheera is quite commonly made during auspicious occasion or a pooja. This is one of the traditional Indian dessert which is made in any festival / occasion like diwali. Also this sheera is made during satyanarayan katha or pooja – without this suji halwa the prasad is incomplete. In Southern India they call this halwa as Rawa Kesari as it has orange color and they add water instead of milk. In South India almost in all the marriage they serve this kesari as sweets.
There are different ways of making the halwa as some people will prefer to make halwa in only water or some will prefer making in milk. Even you can combine both milk and water. You can even add the saffron / kesar to this halwa then it will become kesar halwa. You can even add the edible camphor to the halwa like other sweets.
Let us check the step by step recipe of rava halwa with pictures.
Recipe of Rava Sheera / Sooji Halwa with photos
To make this delicious sooji halwa or rava sheera we need few common ingredients that you might already have in your kitchen. Ingredients for this recipe are rava / sooji / samolina, milk, clarified butter (ghee), sugar, cardamom powder (elaichi) and dry friuts of choice like almond, cashew nut, pistachio etc.
In a deep bottom pan heat the milk. As I mentioned earlier heating milk will let it mix easily with rava and will not make rava sheera sticky. Turn off the flame once the milk gets a boil.
Now take a non-stick pan and heat clarified butter (ghee) in it. Once ghee melts reduce the flame and slowly add sooji / rava.
Keep the gas on low flame and continuously stir the rava to avoid getting it stick. Roast till the color of rava changes to light pink / brown and releases aroma. Roast atleast for 6 to 8 minutes at very low flame otherwise it will become dark in color or burn.
Now pour hot milk that we were boiling earlier. Using a spatula mix the milk with roasted sooji.
Along with the milk add sugar. This way sugar will melt in hot milk and dissolves with suji.
Now with lid open stir the rava sheera continuously with spatula. Keep the gas on low flame while stirring.
If you keep on stirring the rava sheera in some time the sheera should start loosing the edges and separate from pan.
Cook till the moisture evaporates from sooji halva and the halva starts separating from spoon and pan.
Now add cardamom powder (elaichi), sliced almond and other dry fruits of your choice.
Mix well the dry fruits in rava sheera. Sooji halva is ready to serve.
Delicious rava ka sheera is ready. Garnish the sheera with sliced more dry fruits and serve warm.
Here are some tips to make perfect rawa sheera.
Some tips to make perfect rava sheera / sooji halwa
You can make this sheera just by adding water instead of milk. But adding milk will enhance the texture and make this halwa creamy and tasty.
Once you add sooji in hot ghee stir continuously without stopping. Sooji tends to burn if cooked unattended.
Also when you add milk do stir and mix well otherwise it will form lumps.
Add sufficient amount of ghee otherwise the halwa will become dry.
Only add warm / hot milk to avoid it getting sticky.
Add dry fruits of your choice. Add almond, cashew nuts, pistachio, kismis etc.
Rava Sheera / Suji Halwa Recipe Box
Rava Sheera Recipe, Sooji Halwa
Rava Sheera Recipe (Sooji Halwa) - A traditional Indian dessert made from samolina served during auspicious occasion or religious festival.
Ingredients
Rava / Sooji / Samolina: 1 cup
Ghee: 1/2 cup
Sugar: 3/4 cup
Milk: 3 1/2 cup
Cardamom powder: 1 tbsp
Cashew nut: 1 tbsp
Almond: 1 tbsp
Kismis (Raisin): 1 tsp
Instructions
In a deep bottom pan heat milk till it get boil once.
Now take a thick bottom non-stick pan and heat some clarified butter (ghee) in it.
Once the ghee melts reduce the flame and add samolina / rava / sooji.
Roast the Rava on low flame while continuously stirring it till it becomes light pink and release strong aroma.
Keep on roasting the rava atleast for 6 to 8 minutes on very low flame otherwise it can turn dark.
Now pour the hot milk in rava while stirring it. Keep on stirring about one minute to avoid lumps. If any lump forms than break it with spatula and mix well.
Also along with milk add sugar and mix it well.
Stir it continuously till sheera begins to separate away from the sides of kadhai or pan and spatula.
Add cardamom powder, almonds, cashew nuts and kismis or raisin in suji halwa.
Turn off the flame and take the pan down and serve the suji halwa in a bowl.
If you are looking for Indian dessert recipes then do check out rice kheer, chocolate kheer and fada lapsi.