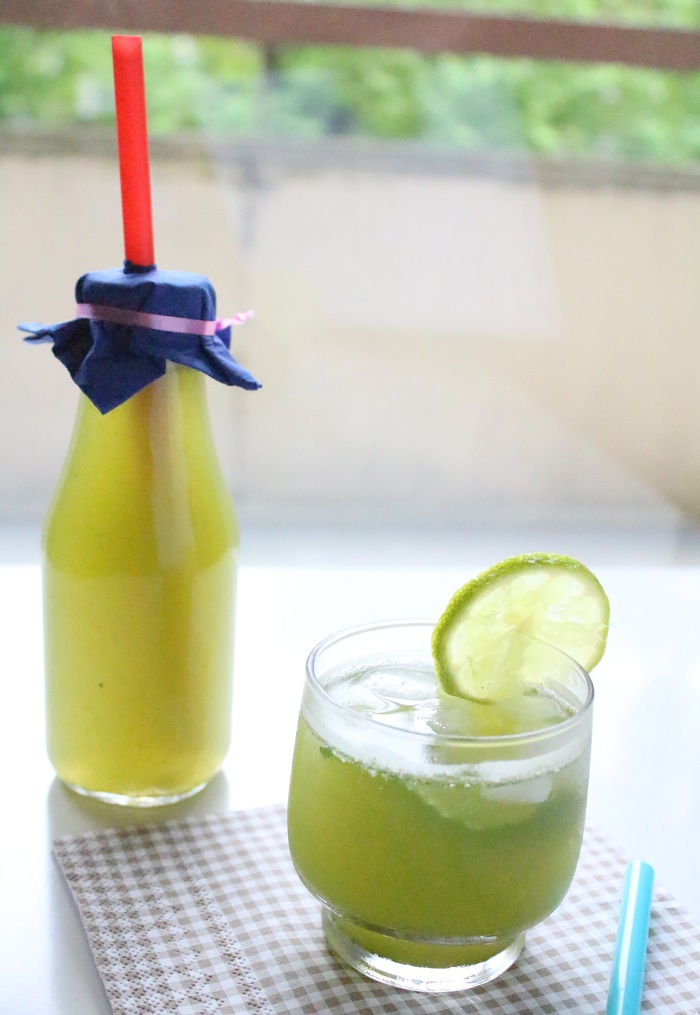 It's April end and summer is already at its peak. While the mercury is rising constantly, it is a good idea to keep oneself hydrated and drink as much water as possible. A refreshing cooler is best for a hot summer afternoon. I posted a couple of days ago a fine rejuvenating cooler: Pomegranate and Mint Juice. Today let us check yet another tangy and tasty juice recipe that you can prepare in no time and serve chilled: Mint Cucumber & Lemon Juice.
Fresh mint leaves have great medicinal values. It is a very good cleanser for the blood. Taking mint in small portion in your regular diet will clear up the skin and reduce any skin related disorders. This mint cucumber and lime juice is so healthy that it acts as a natural detox for the body. Drink a glass and it will cleanse your body from impurities. So all in all; add this wonderful herb in your daily routine. 
For this cooler I have used fresh mint leaves, cucumber and lemon. Also to add sweetness I have added some honey. Honey is world's best sweetener 🙂  Avoid adding sugar to your drinks and if you like it to be sweeter just add a tablespoon of honey. This sweetens the drink naturally without adding any empty calories of sugar. The lemon and honey give a tangy taste to this Mint Cucumber Lemon juice.
Mint Cucumber and Lemon Juice
1 In blender add mint leaves, cucumber, honey, salt, water and blend it.
2. I have added a table spoon of honey in the blender before making juice. Feel free if you like to add honey in the juice after filtering through sieve. Add lemon Juice in the blended mixture an mix it well.
3. Now filter the juice through a sieve and taste it. If required add salt or honey.
Enjoy the refreshing Mint Cucumber Lemon Juice with lots of icecubes 🙂
Mint Cucumber Lemon Juice | Mint Cucumber Lime Cooler
Mint Cucumber Lemon Juice - A rejuvenating cooler with fresh mint, cucumber and lime.
Ingredients
Mint leaves: 1 cup
Cucumber: 1/2 cup
Lemon juice: 1 1/2 tbsp
Water: 2 cup
Honey: 1 tbsp, to taste
Salt: 1/2 tsp, to taste
Instructions
In blender add mint leaves, cucumber, honey, salt, water, blend well .
Add the lemon juice after blending and mix well..
Filter the juice through a sieve and check the seasoning and add if required. serve chilled with ice cubes.