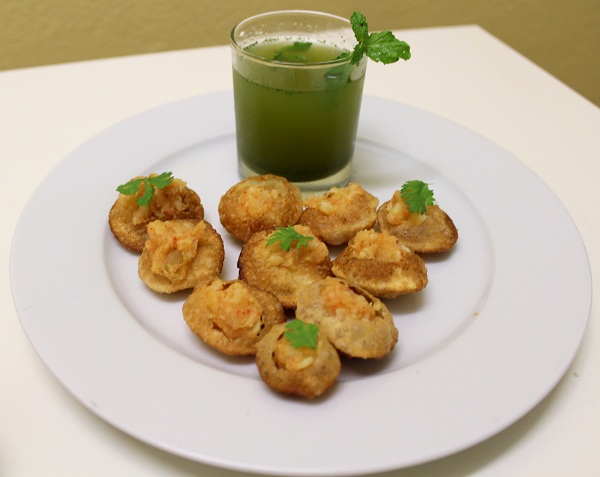 Home made pani puri recipe – Pani puri is one of the most loved street food in India. You will hardly find a corner in India without Pani puri thela (a road side pani puri stall).  Pani puri is called by different names in different part of India but the dish is same. Gol gappe, Bataasha, Phuchka, Gup Chup, Pani patasha, Pakodi etc are just few names of Pani puri in various parts of India.
With little preparations it is very easy to make this mouth watery snack at home. The most difficult part in this recipe is to prepare Puris. Other then that everything else is just piece of cake. Normally in India you'll find a pack of these puris in super market. But if you stay abroad it is not that easy to get hands on. However these days in U.S., Australia and most part of Europe   you find these puris in Indian grocery stores.
In this tasty pani puri recipe, I have prepare the Puris from scratch. You can try this at home if the regular ready to eat puris are hard to come by.
Lets get started with yummy home made pani puri recipe.
Pani Puri Recipe – Home made pani puri
Let's get started with pani puri recipe. There are three main parts to this recipe. Fry the puris, prepare the pudina pani and make the aloo masala. Let us go through them one by one.
How to make Suji Puri
1. Take Suji/Rawa (Samolina) in a bowl and add few drops of lemon juice and water. Mix it well and make a dough out of it. The dough should neither be too hard nor soft. Cover the dough and keep it aside for 1 hour. Resting the dough is important as it allows suji to absorb moisture and become soft.
2. Once the dough is properly rested for an hour, make small roundels and flatten it in round disc shapes approximately 1 – 1.5 inch in diameter using rolling pin (belan). Alternatively you can also shape the suji dough in roti size discs and then use a small round shape cutter approx 1 inch in diameter to cut puris out of it. A lid of small jar can do this painlessly.
One thing to note here is that whenever you are rolling puris from dough, keep the remaining dough covered in wet cloth. Also keep the prepared puris in wet cloth. The idea here is to not let the puri get dried. If it is dry, it wont puff in the hot oil and you will get a flat fried puri that is useless for this recipe 😉  (although flat puris can easily used in other Indian street snacks like chat puri, dahi puri or they goes really well with simple chai – nothing is wasted).

 3. Take oil in a frying pan and heat it on medium flame. One by one, slip the puris in hot oil.Tap the puri in center using frying spoon. This way the puri will puff from center. Reduce the flame to avoid burning of puris and make them crispy. Turn the puri and let other side and get fry well.
 4. Once the puri looks light brown and crispy, take them out and let the extra oil get drain on kitchen towel.
How to make Pudina Pani
1. In a pan, gently roast cumin seeds (jeera) on low flame. We don't want to burn the cumin seeds, just let it roast for sometime so that it gives nice aroma. Once roasted, put the jeera aside and let it get to room temperature.
2. In a mixer / blender; add mint leaves,  coriander leaves, green chilies, roasted cumin seeds and grind it. Add little water and salt to taste and make a fine paste.
Now just mix this paste into water and add some rock salt / black salt. Squeeze some lemon and mix it well. Optionally you can add Pani puri masala that is readily available in market to the pani.
3. Drain the pudina pani that we just prepared in above step using a sieve. Take the pani in a serving bowl or a glass.
How to make Aloo Masala
1. Boil the potatoes, peel the skin off and mashed them. Add salt to taste and red chili powder to mashed potato. Mix it well. Optionally you can add finely chopped onions.
We are good to go now. Our home made pani puri is almost ready. Just assemble the pani puri quickly: Gently tap the puri and make a hole. Add potato masala in puri and pour pudina pani. Enjoy the pani puri 🙂
Pani Puri Recipe - Home Made Pani Puri from scratch
Pani Puri Recipe - Home made pani puri from scratch. How to make pani puri/gol gappe from scratch at home
Ingredients
For rava/suji puri
Samolina (suji / rava): 1/2 cup
Lemon juice: 1 tsp
Water: 1 cup
For pudina pani
Mint leaves (phudina): 1/2 cup
Green chilli: 1 tsp
Green coriander leaves (cilantro): 1 cup
Lemon juice: 1 tsp
Water: 2 cups
Cumin powder (jeera): 1/2 tsp
Rock salt: 1/2 tsp
Salt: to taste
For aloo masala
Potato: 1 cup, boiled
Red chilli powder: 1/2 tsp
Salt: to taste
Instructions
To make puri of pani puri
In a bowl take the suji (rava), add few drops of lemon juice and water as needed.
Mix the mixture well and make it as a dough and the dough should be not too hard nor too soft.
Let the dough rest for about 1 hrs.
Take the dough and make small round balls .Take balls and roll out thin. Note: don't make the dough gets dry, hence keep the dough in the wet muslin cloth.
Heat the oil in the pan, ensure that the oil is hot if not the puri will not puff and also soak excess of oil. And oil should not be smoking hot otherwise the puri will become dark soon and will not be crispy.
While putting the puri in the oil press the puri in the center and allow them to puff. Turn the flame to slow once the puri is submerged in oil. Also gently tap it with spatula, this way the puri will puff.
Now flip the puri to the other side and let it cook. When the puri is light brown and crispy take it in the kitchen towel to drained excess oil. Store it in an air tight container.
To make phudina pani of pani puri
In a blender add the mint leaves (phudina), green chilli, salt, coriander leaves and lemon juice and grind it well till it become fine paste.
In a jar add water and the fine past of mint leaves (phudina) then add the cumin powder and rock salt and stir it. Adjust it to your taste by adding rock salt, cumin powder etc.
Strain through a wire strainer so that rough bits will be removed. And keep the pani in the fridge for 1 hrs.
To make masala of pani puri
Boil the potato, once cools peel off the skin.
Smash the boiled potato, add salt and red chilli powder and mix it well.
You can also add finely chopped onion in the pani puri masala.