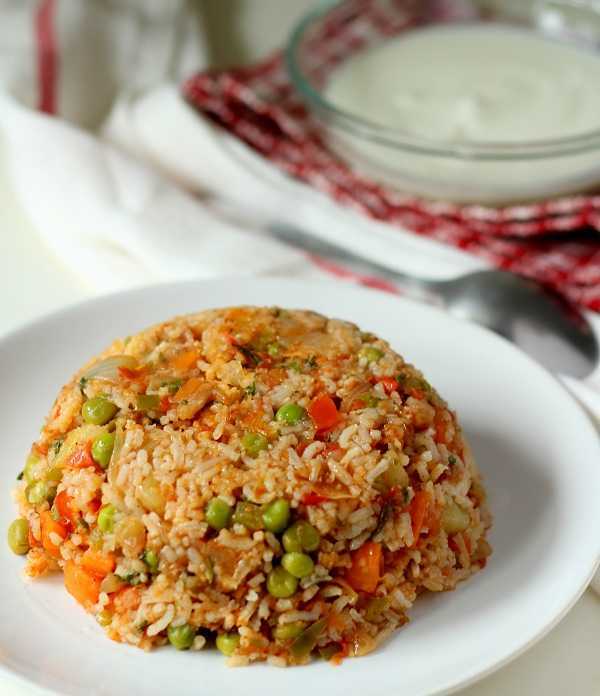 Tawa Pulao Recipe (tava pulav): So you love Pav bhaji but are not a great fan of having it with plain-flour (maida) based pav! You can have your bhaji with rice instead. This is how they serve a very well known street food dish called Tawa pulao on streets of Mumbai.
Pulao also known as Pilaf, Pulav, Pilav, Plov etc is a South Indian rice dish that has so many variations. It is cooked in so many different ways in different parts of world. But in context of India, pulao usually is a rice dish tempered with seasonal Indian spices such as cloves, cinnamon, bay leaf etc and occasionally cooked with meat or vegetables. In India there are varieties of way a pulao is prepared. Some well know basmati rice based pulao recipes are plain pulao, matar pulao, gobi pulao, etc.
One of the variation which is famous in streets of Mumbai is Tawa pulao. Tawa pulao is made on same big flat tawa on roadside along with the favorite Indian street food pav bhaji. Tawa pulao is basically boiled basmati rice mixed with pav bhaji masala and some vegetables. This rice dish has unique flavor all thanks to generous amount of pav bhaji masala being used in it.
Tawa pulao recipe that we are making here is the home version of popular streen food. Often the street food tastes great as it is cooked on high flame making it crispier rather soggy. Cooking dish like this on low heated pan often make it mussy. So do as the romans do 😀 I mean do as the street food vendors do. Cook the tawa pulao on maximum hot tawa to bring out that nice flavor. At the same time be extra cautious as it might be burned. So give it a stir every now and than.
Before we see the recipe of tawa pulao lets check few tips and tricks which will make your home made tawa pulao really stand out.
Tips to make perfect Tawa Pulao
Par boil the vegetables before adding them to tawa pulav so that it will not become soggy. Do not pressure cook the vegetables as it makes them over cooked.
While boiling vegetables once they are par boiled, strain the excess water and pass cold running water in vegetables to stop them getting over cooked.
If you are boiling rice just for this recipe and not using left over rice, you can add a little oil while boiling so that rice grains remains nicely separated giving distinct texture to tawa pulav.
In the end when adding boiled rice to tawa pulav mix using two spoons instead of one spatula. That way rice will get mix evenly without getting pressed.
Let us now begin with Mumbai style step by step tawa pulao recipe with images.
Step by step recipe of Tawa Pulao (tawa pulav) with pictures
We will use basmati rice for this recipe of tawa pulao since the long grains of basmati really enhances the flavor of pulao. Rinse the basmati rice and par-boil them in a deep bottom pan. While boiling you can add a tsp of oil in rice to separate them evenly. We don't have to over cook the rice. Cook only till they are semi-boiled. Once boiled strain the excess water in a strainer and keep aside.
Along side boil potato, green peas and carrot. We do not want them to be over cooked. Just boil them till they have slight raw side (Al dante). Once the potatoes are boiled, let them cool and peel off the skin carefully without burning your hands 🙂
For the tawa pulao gravy we will use tomatoes and onion along with some green chilies, ginger and garlic. Finely chop the vegetables as shown in below picture. We will directly cook capsicum (bell pepper) in tawa pulao gravy instead of par boiling them. So finely chop them too as shown here.
Now lets begin the cooking process. In a tawa or flat non-stick pan heat a tablespoon of butter. This recipe taste great if cooked in butter. So please use it instead of oil.
Once the butter melts add sliced onions and saute them till they become translucent.
Now add grated ginger and garlic to the onions and saute them till the raw flavor is gone.
Add chopped capsicum (bell pepper) and fix well. Cook for a minute.
Throw in the chopped tomaotes along with some finely chopped green coriander leaves (cilantro). Some of the coriander leaves will be keep aside for garnishing. The flavor of coriander cooked in tomatoes really enhances the tawa pulao. Cook until the tomatoes are nice and soft.
Let the onion tomatoes get cooked until tomatoes are soft.
Now throw in the par-boiled vegetables: green peas, carrot and coarsely mashed / cut potatoes. Mix well and let the vegetables get cooked for 1 minute.
Once the vegetables nicely blends with tawa pulao gravy add the dry spices. In this case we are using only 1 dry spice; the pav bhaji masala. Pav bhaji masala gives the distinct aroma & taste to tawa pulao. Also season it with some salt.
Add finely chopped green chilies to heat up the tawa pulao.
Add a little water (2 – 3 tbsp) and cook until all the spices blends well with tawa pulav masala.
Finally complete the recipe by adding boiled rice and some chopped coriander leaves (cilantro). Mix well the tawa pulao using two spoons so that rice is evenly covered with the gravy.
Let the tawa pulao get cooked on tawa (pan) for 1-2 minute on high flame. Occasionally stir the pulav to avoid getting it stuck to pan.
Tasty delicious pav bhaji flavored Tawa pulav is ready. Serve it hot with plain curd/yogurt, simple cucumber raita, tomato onion raita, masala papad or some salad.
Tawa Pulao Recipe (Tawa Pulav)
Tawa Pulav (Tawa Pulao): A spicy Indian road side rice dish recipe with pav bhaji masala and vegetables. A perfect Indian street food recipe of tawa pulao.
Cuisine:
Indian, Street Food
Ingredients
Basmati Rice: 1 cup, boiled
Butter: 1 tbsp
Onion: 1/2 cup, sliced
Ginger: 1 tsp, grated
Garlic: 1 tsp, grated
Capsicum: 1/3 cup, finely chopped
Tomato: 1/2 cup, chopped
Coriander leaves (cilantro): 1/2 cup
Green peas: 1/3 cup, boiled
Potato: 1/3 cup, boiled & mashed
Carrot: 1/3 cup, boiled
Green chili: 1 tsp, chopped
Pav bhaji masala: 1 1/2 tbsp
Salt: to taste
Instructions
Rinse the rice and boil them till they are semi cooked. Drain the excess water and let rice gets cool down.
Alternately you can use left over rice for this tawa pulao recipe.
Peel off the onion and cut in slices. Also chop tomatoes, capsicum, carrot.
Boil the potato. Remove skin and coarsely mash or chop the potatoes.
Par boil or microwave carrot and green peas in water till they are semi-cooked (around 75% cooked).
In a tawa or flat bottom non-stick pan add a tbsp of butter and let it melts.
Add onion slices and cook till they become translucent.
Now add grated ginger and garlic and saute for a minute till the raw flavor goes away.
Throw in the chopped capsicum (bell pepper) and cook for a minute.
Then add chopped tomatoes and some of chopped coriander leaves (cilantro) and cook till tomatoes become soft.
Add pav bhaji masala and salt to taste. Mix the gravy well and cook for some time.
Throw in all the par boil vegetables in tawa pulao gravy: boiled potato, green peas and carrot. Cook for 1 minute.
Also add chopped green chilies. Saute for 1 minute.
Add very little water (around 2 tbsp) in tawa pulao gravy. Cook for another 1/2 minute.
Now just mix the boil rice and some chopped green coriander leaves (cilantro) with the tawa pulav gravy. Use two spoons to mix the rice with vegetable gravy.
Let the tawa pulav get cooked for 2 to 3 minutes.
Tawa pulav is ready. Drizzle some lemon juice and serve it hot with curd, raita, vegetable raita or salad.