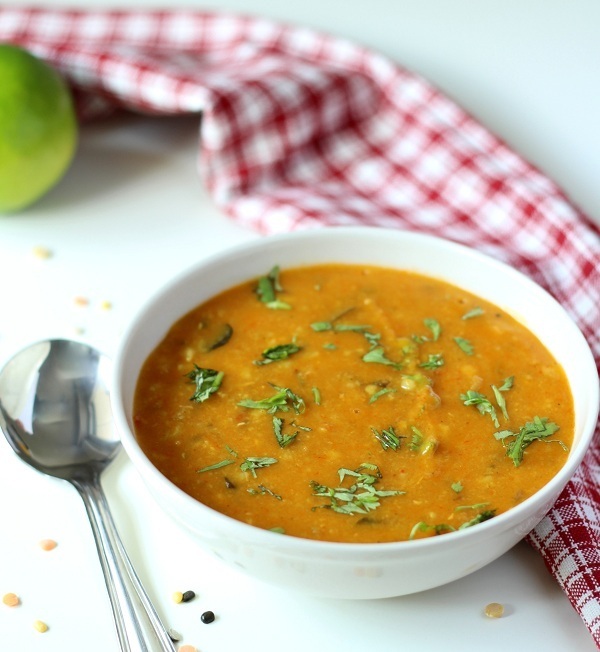 Mix Dal fry recipe (Punjabi Style): Lentils or daals are considered to be one of staple food of Indian cuisine. Whatever region you belong to, you'll have at least one local dish prepared from lentil or dal. It is considered to be great in protein and for vegetarians often dal is one of few protein source.
Lentils and pulses are good source of protein. These little protein rich seeds comes in great variety and colors. Green, red, black, yellow lentils are cooked in different dishes in India and around the world. I was surprised to read that worlds top lentils / pulses producer is not India but Canada! India comes second in world lentil production (source: Wikipedia).
There are so many different varieties of dishes that can be prepared from lentils. Right from soups, snacks, salads, sabzis etc. As the dal takes a while for cooking they are normally soaked in water for overnight and soften. This way it takes lesser time to cook dals. Also most Indian family cook dals in pressure cooker. This makes life easy and reduce the cooking time.

Here is my favorite dal dish, Mix dal fry. This spicy tasty dal taste so yummy that I cook it often. Whenever there is Jeera rice there is mixed dal fry in menu. The mix dal fry goes well with any kind of rice dish. But the classic combination is jeera rice and dal fry.
Also check out the sprouted green bean salad recipe which is healthy and rich in protein.
Step by step Restaurant style Punjabi mix dal fry recipe
Traditionally for Dal fry only two kinds of dals are used: chana dal (bengal gram / split chickpea) and toor dal (pigeon pea). However I like to add three more types of lentils in small quantities in this dal fry. The lentils I have used are chana dal, toor dal, moong dal (green gram), masoor dal (red lentil) and urud dal (black gram). A mixture of all these dals gives great flavor to dal fry.
1. Take a cup full of mixed dals/lentils and wash thoroughly with water. Soak the mixed dals in 2 1/2 cup of water and keep it aside for some time.
2. Put the soaked mixed dals in a pressure cooker and add turmeric and salt to taste. Pressure cook the mixed dal for 10 minutes till it gets nicely cooked.
3. We will be adding tomato and onion based tadka to our mix dal fry. Finely chop onion, tomatoes and slices the green chilies. Grate some ginger and garlic as well. This tadka is similar to that of dal fry or dal tadka. Most of the Punjabi daals use onion and tomato based gravy for dal.

4. For tadka, heat some oil in a pan. Once hot, add mustard seeds and cumin seeds and let them temper in hot oil. Once the seeds crackles add pinch of asafoetida, dry red chili, cinnamon stick, cloves, bay leaf and curry leaves. These spices give a great flavor to mixed dal fry.
5. Add finely chopped onions to the spiced oil and cook till they become transparent. It should take around 3-4 minutes on low flame for onion to get cooked. Once the onions are done; add chopped tomato, turmeric powder, red chili powder, coriander powder (dhaniya), garam masala powder, green chili and grated ginger and garlic and salt to taste. Optionally instead of grated ginger garlic you can add ginger garlic paste.
6. Cook for another 4-5 minutes till all the flavors of spices blends with onion and tomato. Now add boiled mixed daals and some water and mix everything well. Punjabi style mixed dal fry is ready.
Serve the Punjabi style Mix dal fry with plain rice, jeera rice, roti, chappati, paratha etc.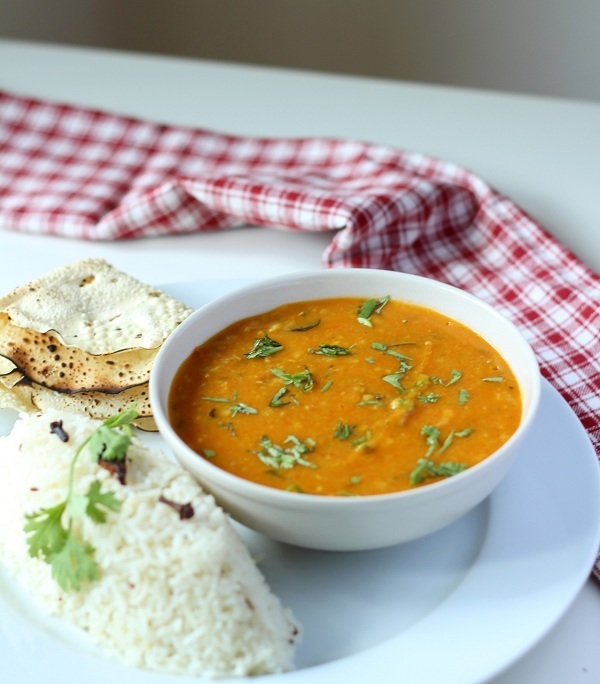 Dal Fry Recipe, Punjabi Style Dal Fry Recipe
Dal Fry Recipe: An easy to cook punjabi style recipe of dal fry, an indian stew with mixed lentils cooked in onion tomato gravy.
Ingredients
To boil mix dal
Mix lentils/dals (moong dal, toor dal,chana dal, masoor dal(red lentil), urad dal):1 cup
Turmeric : 1 tsp
Water: 2 1/2 cup
Salt: to taste
To make tadka
Oil: 1 tbsp
Mustard seeds: 1 tsp
Cumin seeds (jeera): 1 tsp
Cloves (laung): 2 piece
Cinnamon stick (dalchini): 1/2 inch piece
Dry red chili: 1 piece
Bay leaves (tej patta): 1 leaves
Curry leaves (kadi patta): 5 leaves
Green chili:1 piece finely chopped
Onion: 1 cup, chopped
Tomato: 1 cup, chopped
Turmeric: 1 tsp
Red chili powder: 1 tbsp
Coriander powder: 1 tbsp
Garam masala: 1 tsp
Ginger: 1/2 inch piece, grated
Garlic: 2 cloves, grated
Coriander (Cilantro): 1/2 cup chopped
Asafoetida (hing): 1/4 tsp
Lemon juice as per the taste (optional)
Salt: to taste
Instructions
To boil dal
Mix all dals in equal quantity and rinse thoroughly with water. Soak in 2 1/2 cup of water.
In a pressure cooker put the soaked dal and add some turmeric powder and salt and cook for about 10 min. Keep the boiled dal aside.
To make tadka
In a pan heat oil. Once the oil is hot, add mustard seeds and cumin seeds and let it temper. Then add pinch of asafoetida, dry red chili, cinnamon stick, cloves, bay leaf, curry leaves and cook for a min .
Add onion and cook for about 3 min and add tomatoes, turmeric powder, red chili powder, coriander powder, gram masala, grated ginger, grated garlic, chopped green chili and salt to taste.
Cook till all the flavors of spices are blended in onion and tomato.
Add the boiled dals in it and mix well and add some water to it.
The dal fry is ready to serve. Garnish it with chopped green coriander (cilantro).