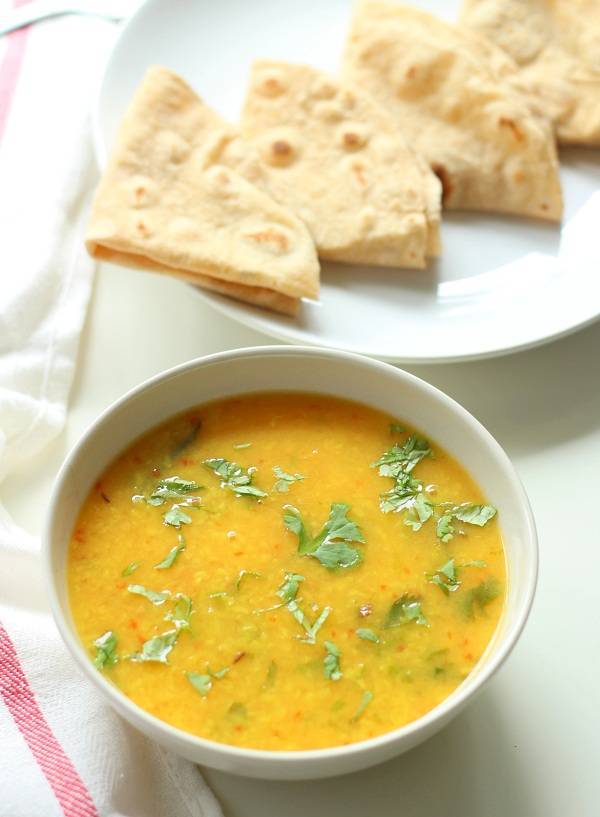 Sindhi Moong Dal recipe – A simple & delicious dal recipe of moong dal which can be used for every day cooking. This moong dal recipe is cooked in Sindhi style by adding tomato puree and tempered with some jeera and curry leaves.
Like in many Indian household I tend to cook dal almost everyday. Being vegetarian it is very important to have sufficient protein intake. And lentils & legumes are really great source of vegetarian protein. Also mostly I cook traditional Gujarati dal at home but some times I  break the routine and cook Punjabi dal or marwadi style dal. This Sindhi style moong dal is one such break-the-routine recipe for me. Generally we eat tuvar dal or chana dal. But moong dal cooked in this way taste really great plus its light on your tummy too.
This easy moong dal recipe is a satvik recipe and can be consumed if you are following a simple satvik diet. The Sindhi moong dal (mung daal) is easy on stomach and protein rich too. The yellow moong dal as such is easily digested compared to other daals. Also moong dal khichdi is a similar dish that is easy to digest and often recommended to sick persons.

If you do not want to cook heavy dal recipe like Punjabi dal fry this Sindhi moong dal recipe is ideal for light lunch. Let us check step by step recipe of Sindhi moong dal.
Step by step Sindhi Moong Dal recipe with pictures
Wash thoroughly yellow moong dal and soak in water for 20 to 30 minutes.
We will need very few ingredients to make this Sindhi style Moong dal. We will need yellow moong dal soaked in water, tomato puree, chopped ginger and green chilies. You can also use ginger green chili paste instead.
In a deep non-stick pan take the yellow moong dal add some water and cook for 5 minutes or until the moong dal become soft. Now add chopped green chilies and ginger in dal.
Along with ginger green chilies add turmeric powder and salt to taste.
Give a quick stir so that turmeric mix well with moong dal.
Now let the dal gets boiled for 20 to 30 minutes. We will slow cook the moong dal in open pan until the dal is cooked nicely. Cook until dal becomes soft.
Now using a hand blender mash the yellow moong dal.
Mash well using hand blender and make nice smooth puree of moong dal.
Now add tomato puree in moong dal.
Stir and mix tomato puree with moong dal. Also add freshly chopped coriander leaves (cilantro).
Mix well tomato puree and coriander with moong dal and cook for 10 minutes till the tomato fuses with dal.
The Sindhi style moong dal is almost ready. We need to quickly temper the dal before serving. To temper, heat a tbsp of oil in a tadka pan and add cumin seeds. Once the cumin seeds turns brown add Asafoetida (hing) and Curry leaves.
Quickly add the tadka to moong dal and mix well.
Sindhi style yellow moong dal is ready. Serve it hot with roti, chappati or plain boiled rice.
Sindhi Moong Dal Recipe details below:
Sindhi Moong Dal Recipe
Sindhi Moong Dal Recipe: Yellow split lentil based soup recipe cooked with tomato puree in Sindhi style.
Ingredients
For Sindhi Moong dal
Yellow moong dal: 1 cup, soaked
Green chili:1 chili, chopped
Ginger: 1 tsp, chopped
Tomato puree: 1/3 cup
Turmeric powder:1/2 tsp
Coriander leaves:1/3 cup, chopped
Salt: to taste
For tadka
Oil:1 tbsp
Curry leaves:5 leaves
Cumin seeds:1 tsp
Asafoetida (hing):1/4 tsp
Instructions
To make Sindhi moong dal
Wash the yellow moong dal in running water and soak for about 20-25 min till the dal becomes soft.
Chop the ginger and green chili. Make the puree of the tomatoes.
Now in the vessel add soaked moong dal and water and cook for about 5 min then add the green chili, ginger, turmeric powder, salt to taste and cook for about 30 min till the daal is cooked well.
Once the dal is cooked mash it with the hand blender. Mash till the dal is reduced in smooth puree and no grains are left.
Then add tomato puree and coriander leaves and cook till the tomato puree blends well in the dal or let it cook for about 10 min.
Now the dal is ready so lets prepare the tempering for the dal.
To temper Sindhi moong dal
In a tadka pan heat the oil and add cumin seeds. Once the cumin seeds turns brown add the asafoetida and curry leaves.
Now pour the tadka on the dal and mix it well.
Add some coriander leaves on top for garnishing.
Sindhi moong dal is ready. Serve it hot with chappati, phulka, rice etc.