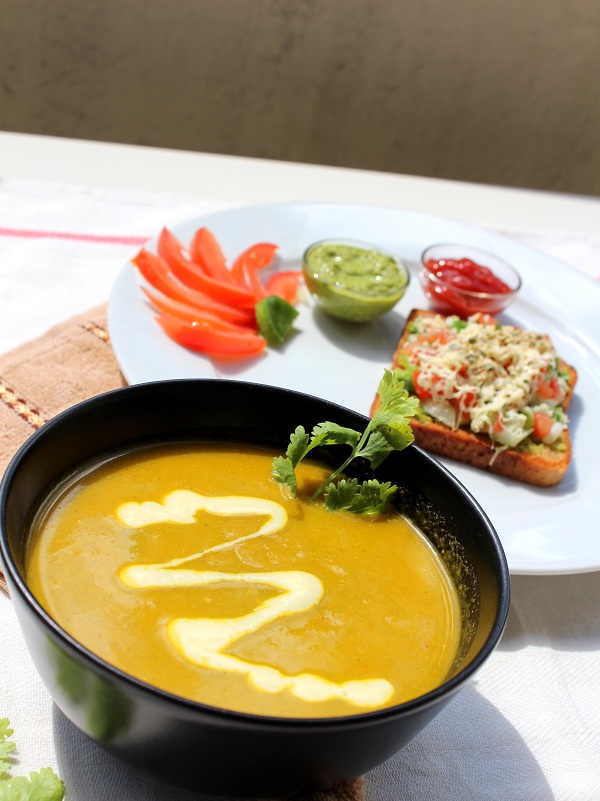 Carrot Coriander soup recipe is one of the easy soup recipe which is both delicious and healthy. The carrot soup is usually the one which is commonly prepared but this one has one more flavor of fresh coriander leaves (Cilantro).
This mouth-watering carrot coriander soup is really healthy and those who are looking their weight should very well include this in diet. Carrot is rich in anti-oxidants and vitamin-A which is good for skin and overall health of body. On the other hand fresh Coriander (Cilantro herb) is rich in antioxidants, essential oils, vitamins, and dietary fiber which help reduce bad cholesterol while increasing good cholesterol levels.
The carrot cilantro soup is quite tasty too. We have added bay leaf and garlic in this soup to enhance the flavors. Use the stem part of fresh coriander (cilantro) which is rich in flavor and nutrition.
Let's check the nutritive recipe of Carrot Coriander Soup.
Carrot Coriander Soup recipe – Step by step
1. Roughly chop the carrot and the stem of the coriander . Then chop the onion and garlic.

2. In pan add butter , bay leaf, garlic and onion . Saute the onion  and then add carrot and sugar and stir it. Sugar enhance the color of carrot and also give a mild sweet taste. Those who are on strict diet may very well avoid adding Sugar.
3. Add chopped fresh coriander stem, white pepper powder, salt to taste and stir it . Then put little water and let the carrots get cooked well.
4. Once the carrot is cooked drain the water using a strainer and keep the water aside. We need to use the strained water in Soup later on. Remove the bay leaf from carrot coriander mixture and then blitz the mixer in blender/food processor. Make a nice paste.
5. Taste the carrot coriander pulp and season it with salt / pepper if required. Add the soup water that we strained and kept aside in carrot coriander mixture as needed. Stir the soup boil it till the right consistency is achieved. Now add some cream and lemon juice to the soup. Cook for around a minute.
The carrot coriander soup is ready.
Carrot Coriander Soup Recipe
Carrot Coriander Soup recipe: A quick health carrot coriander soup recipe. Cilantro and carrot are nutritive and healthy too.
Ingredients
Carrots: 1/2 cup, chopped
Onion: 1/2 cup, finely chopped
Coriander stems: 1/2 cup
Bay leaf: 1 piece
Butter: 1 tbsp
Garlic: 1/2 tbsp
White pepper powder: 1 tsp
Lemon juice: 1 tsp
Sugar: 1 tsp
Cream: 1 tsp
Salt: 2 tsp or to taste
Instructions
In a pan heat a tablespoon of butter and add bay leaf, garlic, chopped onion and cook till onion become translucent.
Then add chopped carrot, sugar, chopped coriander, salt, white pepper powder and water.
Let the carrot get cooked for sometime. Turn off the flame and drain the water with the strainer and keep water aside.
Now in grinder put carrot and coriander mixture, remove the bay leaf and make a fine paste.
Take the mixture in pan and add the drained water and cook for about 5 min and at last add the cream and lemon juice.
The tasty carrot coriander soup is ready to serve.