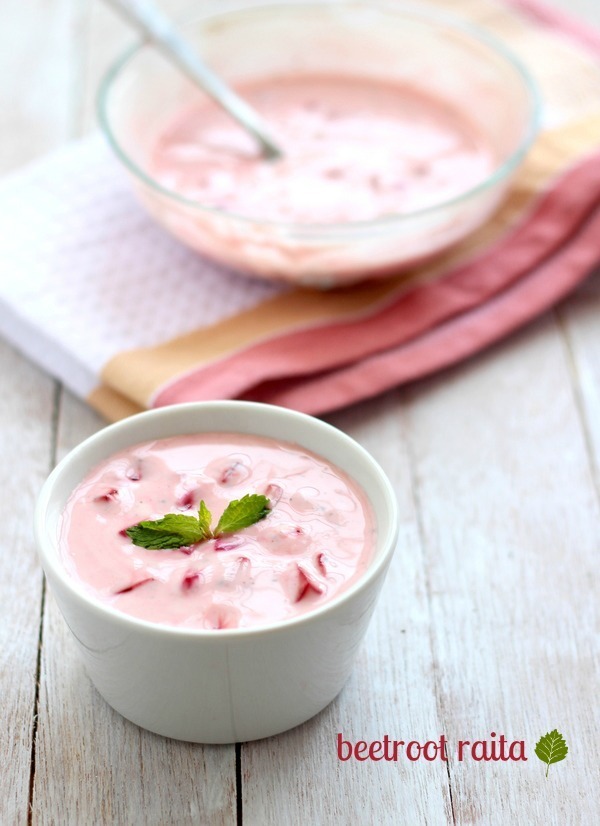 Beetroot Raita Recipe with step by step pictures – A very easy & healthy dahi raita made from beetroot (chukander) and few Indian spices.
A very basic dahi raita recipe that is easy to prepare and very tasty to be served as side dish. Beetroot raita is a best side dish you can prepare for lunch on a hot summer afternoon. Yogurt combined with beetroot is simply superb for body in summer season.
Don't miss: pineapple raita and strawberry raita
Yogurt or curd is must at my home in summers. We consume it in form of dahi raita recipe, buttermilk (chaas) or kadhi. Normally when I making dahi raita, I just quickly look in refrigerator and whatever vegetable or fruit is available, I just cut and mix it with curd along with few spices. And mostly I have carrot or beetroot in my refrigerator. That's why I make carrot raita or this beetroot raita often. Raita goes really well with any rice dish like tawa pulao or capsicum pulao, biriyani or even with parathas.
When you make raita with other vegetables & fruits they tend to look white and take color only from cumin powder. However beetroot has strong color due to which raita will become colorful and eye pleasing. Once you mix the beetroot in yogurt, the raita starts getting color. As time passes the raita becomes darker and flavorful. The sweetness of beetroot also get enhanced. I make this raita and pack it for lunch box for my hubby. By the time he opens it, it becomes dark pink and creamy 🙂
Beetroot has many health benefits and you should definitely eat it every once in a while. I was reading about health benefits of beetroot and was surprise to see so many good things. For example:
Beetroot lowers the blood pressure.
It also boost once stamina and fight inflammation.
It acts as a natural detox and reduce toxins from blood
Coming back to the simplest raita recipe, let's make beetroot raita.
Recipe of Beetroot Raita with step by step pictures
To make delicious healthy beetroot dahi raita we will need 1 cup yogurt or dahi, 1 medium size beetroot peeled & boiled, 1 tsp roasted cumin powder, 1/2 tsp black salt (kala namak) and 1 small green chili finely chopped. I have used homemade yogurt to make this raita. You can use any store bought plain yogurt also.
Take yogurt in bowl and whisk it thoroughly. Add a tsp of roasted cumin powder. To make roasted cumin powder you can dry roast the cumin on a skillet or tawa for 30-40 secs and then once they cool down, pound them to make coarse powder. Freshly roasted cumin powder taste much better so if possible roast the cumin before making raita and use it.
Add 1/4 tsp of black salt (kala namak).
Also add finely chopped green chilies. If you like spicy raita then you can increase the quantity of green chilies. Since we are not adding red chili powder in this raita, green chili will give heat and flavor to beetroot raita.
Now whisk and mix all spices in yogurt.
Add small pieces of beetroot which is peeled and boiled. By boiling the beetroot it becomes tender and a bit sweet. Hence it will balance the spices and green chili in yogurt.
Whisk again and mix everything together. The beetroot raita is ready. Taste the raita and adjust the salt or cumin powder if require.
Delicious healthy beetroot raita (chukandar raita) is ready to serve. Serve this dahi raita as side dish for any main course meal. Also you can serve this dark pink color beetroot raita with mooli paratha, ajwain paratha, pulao or biriyani.
Other dahi raita recipes that you can serve as side dish
Beetroot Raita Recipe Box (Chukandar Raita)
Beetroot Raita Recipe, How to make easy Beetroot Raita
Beetroot Raita Recipe - A healthy yogurt raita made from beetroot and Indian spices.
Ingredients
Beetroot : 1 medium size
Yogurt : 1 cup, whisked
Roasted cumin powder : 1 tsp
Black salt : 1/4 tsp
Green chilies : 1 small piece, finely chopped
A few Mint leaves for garnishing
Instructions
Peel and boil the beetroot in pressure cooker for 10 minutes until it becomes tender.
Cut the beetroot in small dices and keep aside. You can even grate the beetroot if you like grated vegetables in raita.
Finely chop the green chilies.
Take yogurt or curd in a bowl and whisk well using whisker so that no lumps remains.
Add 1 roasted cumin powder, black salt and finely chopped green chilies.
Mix well the yogurt and spices together.
Add beetroot dices in yogurt and give a gentle mix. Taste and check the seasoning.
Beetroot raita is ready to serve. Serve beetroot raita as side dish for any Indian main course dishes.